The weather is getting warmer and the internet is abuzz with springtime recipes, one of them being asparagus topped with a poached egg.  Food52, Food and Wine, and food bloggers alike are all posting their asparagus and poached egg recipes.  It was like everyone was telling me to get my butt on the bandwagon!  I don't always like jumping on bandwagons, but when I do, I like to change it up and make it my own.  Ooo, I'd use miso butter – genius!  I thought I was SO original, but a quick search online proved otherwise – it's an original idea…until it's not, right?  Of course, it was David Chang of Momofuku who already came up with this combination (must you always be so wonderfully innovated, Chang?)  Then there are the countless variations that other foodie sites and bloggers have posted.  Ok, so I'm not that original.  Chang came out with this recipe at least 5  years ago, so not only am I unoriginal, I'm also late to the party (why do I feel like this is the story of my life?)
In any event, the fact that so many people have recreated Chang's Pan-Roasted Asparagus recipe must mean it's pretty damn good – so I'll suck it up, get in there with all of the others and make some asparagus with miso butter and a poached egg.  Then I had a thought, roasted garlic with miso butter sounds awfully good!  And it was!  It really rounded out the flavor and added a nice depth.  I'm fairly certain the addition of roasted garlic is not an original notion either, but I dare not conduct an Internet search in an effort to save what was left of my ego.  I will however say, after finding and reading Chang's Pan-Roasted Asparagus recipe, I totally ripped off the addition of a vinegar element to the miso butter to give it that tang similar to hollandaise, a brilliant and delicious combination! Tip: You only need half of the roasted garlic miso butter for this recipe.  The unused portion can be refrigerated and saved for several days.  Try it on toast, roasted corn, green beans, etc.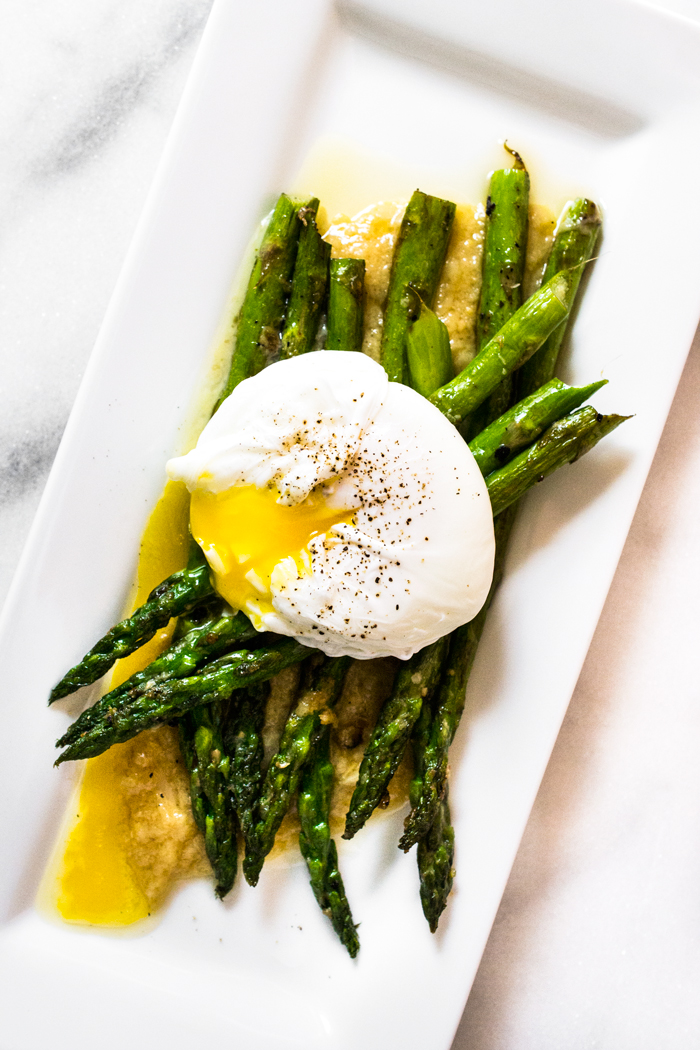 Asparagus with Poached Egg and Roasted Garlic Miso Butter
Author:
Asparagus with a Poached Egg and Roasted Garlic Miso Butter
Ingredients
1 whole garlic bulb
3 tablespoons extra virgin olive oil
kosher salt and freshly ground black pepper
1/2 cup (1 stick) unsalted butter, softened
1/4 cup white miso
2 tablespoons rice vinegar
1 bunch asparagus, on the thinner side, ends snapped off
kosher salt
2 eggs
Instructions
Preheat the oven to 300 degrees F. Gently separate the cloves of the garlic, but do not peel them. Place the cloves on a sheet of aluminum foil, drizzle with 1 tablespoon of olive oil, and season with salt and pepper. Wrap the garlic in the aluminum foil and place in the oven. Cook for 50 – 60 minutes. When the garlic is very soft, remove from the oven. Once the garlic is cool enough to handle, squeeze the cloves out of the skins and mash.
In a small bowl, combine the butter, miso, and roasted garlic. Mix until smooth.
In a small sauce pan over medium heat, warm 1 tablespoon of the rice vinegar (about a minute). Turn the heat down to low and add half of the roasted garlic – miso butter. Stir until just warmed through, you don't want it melted. Set aside and keep in a warm place.
In a large skillet over medium-high heat, heat 1 tablespoon of olive oil. Working in batches if needed, add the asparagus to the skillet (do not crowd the pan). Cook for 2 minutes, turning them occasionally. Add 1 tablespoon of the roasted garlic miso butter and cook the asparagus for another minute (the asparagus should be tender but not soft). Add a pinch of salt, give them another toss and then transfer them to a plate lined with paper towels.
While the asparagus is cooking, fill a deep saucepan with water and the remaining tablespoon of rice vinegar. Bring to a boil. Meanwhile, crack the eggs into separate bowls. Once the water comes to a boil, turn off the heat. Using a spoon, swirl the water in one direction creating a whirlpool effect. Holding the bowl containing one of the eggs just above the surface of the water, carefully slide the egg into the center of the whirlpool. Do this again with the second egg. Cover the pan with a lid and let it cook for 3 minutes (no peeking!) Once cooked, use a slotted spoon to gently lift the eggs out of the water. Transfer to a paper towel to drain.
Divide the warmed roasted garlic miso butter between two plates. Add the asparagus and top each with an egg. Season with freshly ground black pepper, and serve immediately.
Notes
You only need half of the roasted garlic miso butter for this recipe. The unused portion can be refrigerated and saved for several days. Try it on toast, roasted corn, green beans, etc.