Naan. Chicken Tikka Masala. Sounds like the makings of a pretty kick-ass pizza to me.
I don't know what it is about leftovers, but I always want to make them into pizzas – Spaghetti Pizza, Chicken Satay Pizza, BBQ Chicken Pizza… they were all made from leftovers. Why reheat the same dish over and over, when you can make it into something new like a pizza!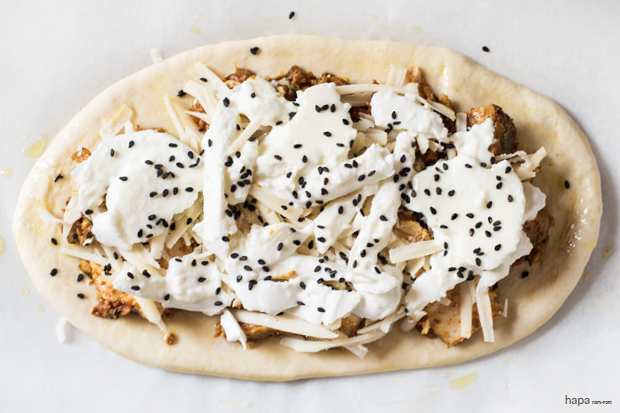 It turns out that naan makes an incredible pizza dough! In fact, I may start using it in lieu of regular pizza dough from now on. It was just a touch crispy on the outside and soft and chewy on the inside – it was perfect!
Chicken Tikka Masala also makes for a perfect pizza topping. The creamy tomato sauce in the dish equates to the tomato sauce on a pizza. Between that and the naan, it's a combination screaming to be made into a pizza!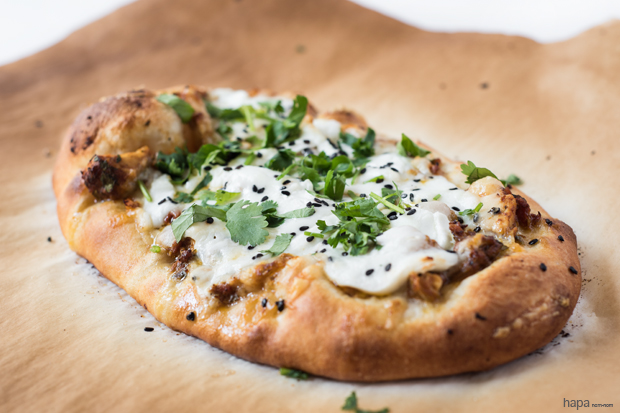 Generally when I make a pizza, I add the sauce, then layer on the cheese, and then top with extras like meat and/or veggies – pretty standard. In this case, because the 'pizza sauce' is already incorporated with the chicken, I've placed it at the bottom. Then I layered on the cheese and other toppings.
I did not specify the measurements of ingredients, because this is a recipe based off of the assumption that you have Chicken Tikka Masala leftover. And since that may vary depending on how much of it you enjoyed the first night, I have left the amount of the ingredients up to your individual needs and desires.
Chicken Tikka Pizza is not just a way to use up leftovers, it's a whole new and wonderful meal! And if you like Chicken Tikka Masala and Naan, you're going to love it as a pizza!
Chicken Tikka Pizza
Author:
Ingredients
[url href="http://hapanom.com/naan/" target="_blank" title="naan"]Naan[/url] dough
[url href="http://hapanom.com/chicken-tikka-masala/" target="_blank" title="chicken tikka masala"]Chicken Tikka Masala[/url], shredded or roughly chopped
fresh lime juice
provolone cheese, grated
buffalo mozzarella, torn (regular grated mozzarella is ok too)
black sesame seeds
cilantro, roughly chopped
extra virgin olive oil
Instructions
Place a pizza stone or baking sheet on the middle rack and preheat the oven to 500 degrees F.
Following the [url href="http://hapanom.com/naan/" target="_blank" title="naan"]naan[/url] recipe, divide the dough into 8 pieces (per step 4 of the naan recipe), and working with one ball of dough at a time, roll out to a 1/4-inch thickness (keep the balls of dough you are not immediately using under a tea towel). Transfer the rolled out piece of dough to a piece a parchment paper.
Brush the edges of dough with the olive oil.
Top the rolled-out dough with the leftover Chicken Tikka Masala (it can be right out of the fridge). Squeeze a bit of fresh lime juice overtop of the chicken. Sprinkle with the provolone, mozzarella, and black sesame seeds.
Carefully move the pizza to the oven, using the parchment paper. Place the pizza (including the parchment paper) on to the pizza stone or baking sheet. If using a stone, cook for 8-10 minutes, until the cheeses are melted and the crust is lightly browned. If you're using a baking sheet cook for 10-15 minutes.
Remove from the oven and sprinkle with the cilantro. Serve and enjoy!