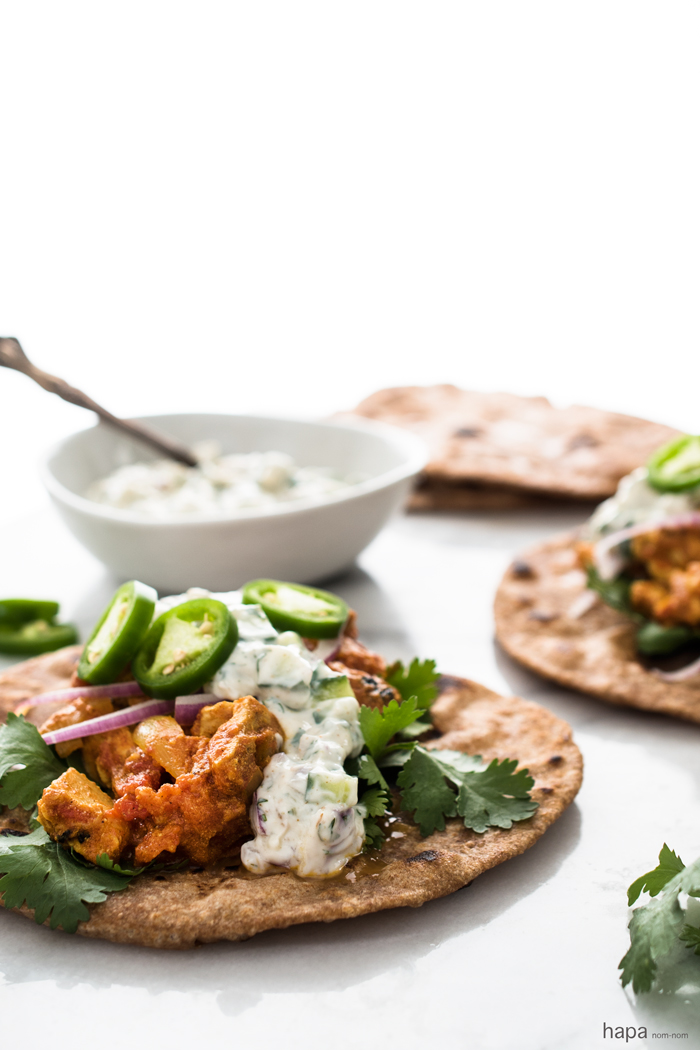 Leftovers are great, but I always like to transform the previous nights dinner into something new. Enter Chicken Tikka… Redux. I was home alone, Mr. HapaNom was in Belgium all week for a conference. So when I had a hankering for some Chicken Tikka Masala I had leftovers, a lot of leftovers, enough leftovers for several meals!
I made Chicken Tikka Pizza – delicious! But I still had leftovers. Then it hit me – I'll make Chicken Tikka Tacos! I included a few standard taco toppings – cilantro, onion, and jalapeños; though feel free to add whatever you like – tomatoes, avocados, perhaps even some basmati rice. Trying to keep the dish balanced with some more Indian flavors, I topped the tacos with Raita –  a cool yogurt sauce, this condiment pairs beautifully with bold and/or spicy flavors. As far as the vehicle to carry all of this incredible flavor, I chose chapati- a flat unleavened bread that when cooked properly, puffs up over heat and then flattens back out as it cools. It takes a little practice so don't worry if it doesn't quite puff like it should, it will still taste great! If however, making your own chapati is not in your cards, no worries! Simply use tortillas, or an alternative pliable flatbread such as lavash (most major grocery stores will carry this).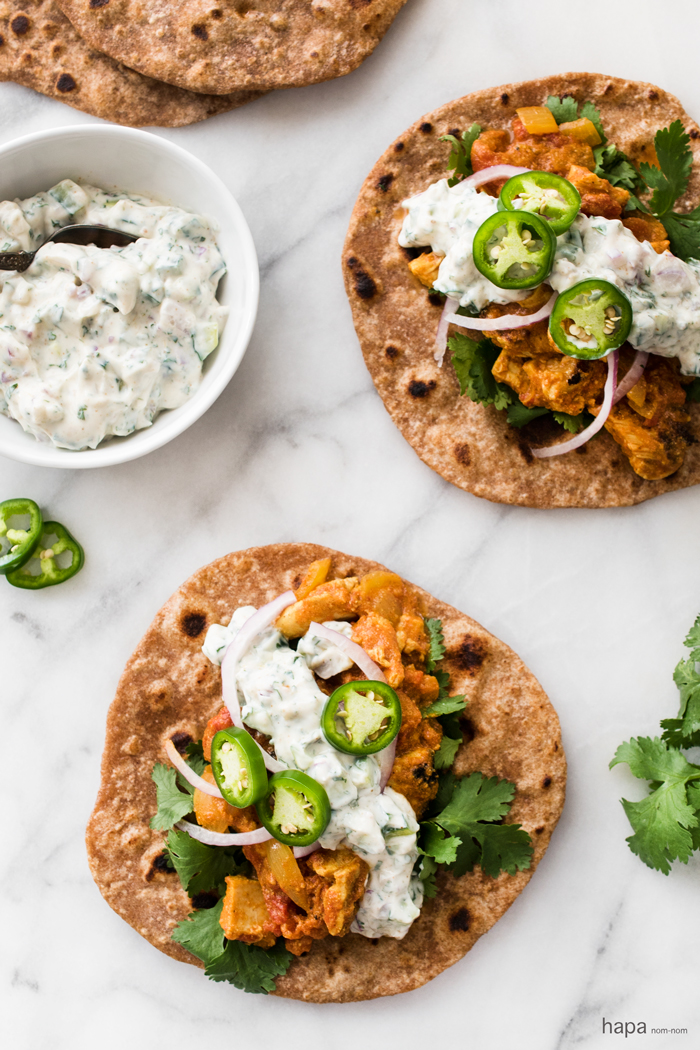 You obviously don't have to wait until you have leftovers to make this dish, so if you make it all at once I would suggest preparing the chapati before you start making the Chicken Tikka Masala, as the dough will need to rest for 30 minutes before you can roll it out. By the time the you've completed cooking the chicken, the chapati will be ready roll and cook on the stovetop.  
Chicken Tikka Tacos
Author:
Kathleen | Hapa Nom Nom
Tender, juicy pieces of Chicken Tikka Masala topped with a creamy yogurt sauce, red onions, jalapeños, cilantro, all atop pillowy chapati.
Ingredients
Raita: (you can make this the night before if you like)
1 cup Greek yogurt
½ English cucumber, seeded and finely chopped
¼ cup red onion, small dice
2 tablespoons mint, finely chopped
½ teaspoon ground cumin
½ teaspoon Kosher salt
⅛ teaspoon cayenne pepper
Chapati:*
1 cup whole wheat flour, plus more for rolling
a large pinch of Kosher salt
1 tablespoon vegetable oil
½ cup water
ghee or vegetable spray, for cooking
Toppings:
¼ red onion, sliced
2 jalapeños, sliced
1 small handful cilantro, roughly chopped
1 lime
Instructions
If you haven't already done so, make the Chicken Tikka Masala.
In a small bowl, combine all of the ingredients for the Raita. Cover and refrigerate until ready to use.
To make the Chapati, add the flour and salt to a large bowl. Slowly add the water and oil while you gently mix with your other hand - moving around in a circular motion. As the dough begins to solidify, turn the dough out onto your work surface and knead until soft and smooth - the dough should still be slightly sticky. Cover with a clean tea towel and allow to rest for 30 minutes.
Once you're ready to roll the chapati, divide the dough into 6 equal pieces. Lightly flour your work surface. Roll each piece between your palms into a ball and then gently flatten with the palm of your hand. Using a rolling pin, roll out each disc into approximately 4-inch circles.
Heat a skillet over medium-high heat. Add a ¼ teaspoon of ghee or spray with the vegetable oil. Working with one at a time, add the chapati to the hot pan. When small bubbles start to form, brush or spray the top and flip. It should start to puff up. When it inflates a bit more, flip again and gently press the air from the puffed sides into the flattened parts, until the entire chapati puffs up. (When the chapati puffs up, it becomes light and flaky on the inside. It takes some practice, so if this doesn't happen for you, don't worry - it will still taste great). Transfer the chapatis to a plate to cool.
To assemble the 'tacos', add the chicken tikka masala to the chapati (or tortillas, if you're using those), top with the Raita, red onion, jalapeños, cilantro, and serve with a lime wedge. Enjoy!
Notes
I think the Chapati adds a nice element to the dish, but if you would prefer, you can buy corn/flour tortillas or
naan
en lieu of making the Chapati.