I am not a baker. I wish I were one of those people that could build a perfectly level 3 tiered cake, someone who could make a pie crust without it falling apart, or even ice a cake without it looking like it fell upside down on the floor. You would think with my background in fine arts that I could at least decorate a cookie. Nope… totally suck at it! I don't know what it is, baking is like my artistic kryptonite. So when I looked at the calendar and realized that Easter is just around the corner and I should probably start thinking about what to make, my mind immediately went to something savory, like a honey baked ham. But then I thought, I really should take this opportunity to add more desserts to my blog (my blog is significantly lacking in sweet treats, given the issues mentioned above).  And then I thought, crap. What can I make that isn't going to look like… crap? Sorry, I probably shouldn't curse – particularly in an Easter post.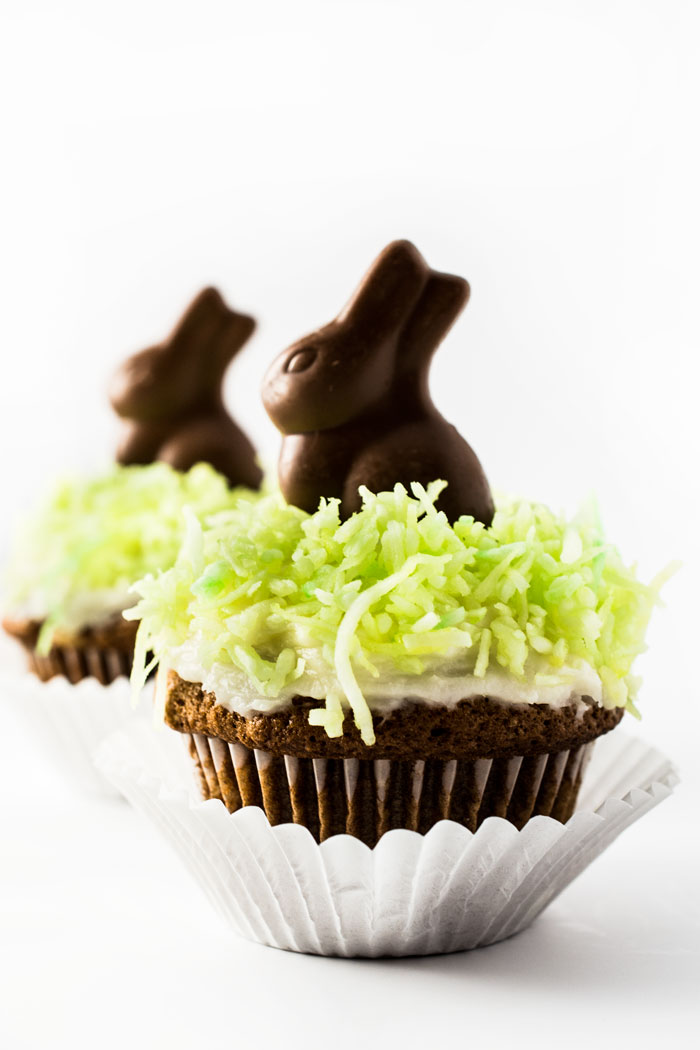 Originally I thought about making Marshmallow Peeps. The original shape of the chicks should be simple enough to make, right? Then I had visions of marshmallow blobs dancing in my head – chicks that looked like they may have had a stroke. No child wants to wake-up to find that in their Easter basket. Then I thought, cupcakes – I can make those! Once I settled on the cupcake, I immediately envisioned coconut "grass" with a mini chocolate bunny on top (the coconut grass would hide my obvious inability to apply frosting to anything and make it look good).  The next question is what type of cake?  I could use chocolate… it could look like dirt under the coconut grass.  Nah.  What about carrot cake?  That would be fitting with the chocolate bunny in an sort of, "what's up doc?" scenario.  And then I thought about another spice cake… Hummingbird Cake.  The pineapple and banana would be a perfect compliment to the coconut. Have you had Hummingbird Cake?  It's a uniquely southern U.S. dessert and my personal favorite.  The first known publication by L.H. Wiggin was published in the February 1978 edition of Southern Living magazine and it has since been their most requested recipe. If you're not baking inclined, (such as myself) this recipe is perfect! Easy to make, insanely delicious, and if I can make these cupcakes look super cute… so can you.  Happy Easter, ya'll.
Cupcakes
Author:
Kathleen | HapaNom
Prep time:
Cook time:
Total time:
Ingredients
3 cups flour
2 cups sugar
½ teaspoon salt
2 teaspoons baking soda
1 teaspoon ground cinnamon
3 eggs
1¼ cups vegetable oil
1½ teaspoons pure vanilla extract
1 8 ounce can crushed pineapple, well drained
1 cup chopped pecans
2 cups ripe banana, chopped
24 paper cupcake liner cups
vegetable spray
Instructions
Preheat the oven to 350 degrees F. Sift the flour, sugar, salt, baking soda, and cinnamon into a large bowl or the bowl of standing mixer. Add the eggs and vegetable oil and combine until just incorporated. Stir in the vanilla, pineapple, and the pecans. Finally, stir in the bananas.
Line the muffin tins with the paper liners and spray with vegetable oil. Spoon the mixture into the cups, filling ¾ of the way. Bake for 20 - 25 minutes, or until a toothpick inserted into the center comes out clean.
Cool in the tins for 10 minutes before removing. Cool completely before frosting.
Cream Cheese Frosting and Topping
Author:
Kathleen | HapaNom
Ingredients
8 ounces cream cheese, softened
½ cup unsalted butter, room temperature
16 ounces confectioners sugar
1 teaspoon pure vanilla extract
16 ounces shredded coconut
green food coloring
24 mini chocolate bunnies
Instructions
In a large bowl or the bowl of a standing mixer, combine the cream cheese and butter. Cream until smooth. Add the confectioners sugar, and whip until fluffy. Add the vanilla and whisk until combined.
Put the coconut in a zip top bag. In a small bowl, combine 2 teaspoons of water and 6 drops of green food coloring (add more if you want a deeper color). Pour the liquid evenly over the coconut, close the top, and shake the bag to distribute the coloring.
Frost the tops of each cupcake and sprinkle with the coconut. Top each cupcake with a mini chocolate bunny. Enjoy!