We've all seen green beans served 6 different ways to Sundays… and then some.  Personally, I like them to be served simply so I can really enjoy the delicate flavor of fresh green beans.  A little olive oil, fresh lemon juice, crushed red pepper, a pinch of salt and black pepper – and that's all she wrote.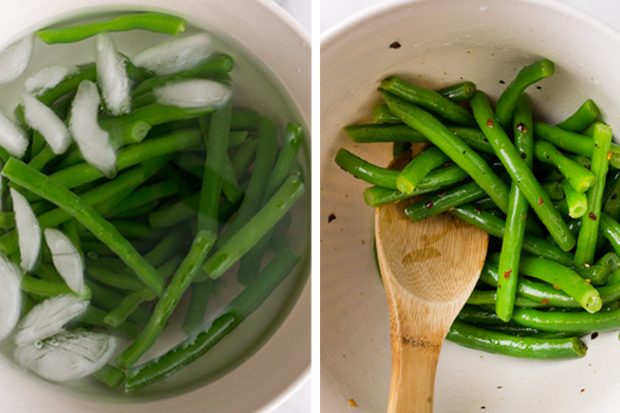 Ok so I didn't literally mean, 'that's all she wrote'.  Obviously this wouldn't be much of a post if stopped after 3 sentences.  And… I do have one more requirement from my green beans, or any green vegetable for that matter – they must retain their wonderful and vibrant green color!  This is achieved by 'shocking' the greens, or plunging them into a bath of ice-water to halt the cooking process and preserve the color and texture of the vegetable.  After you have shocked and then dressed the green beans, simply sauté them in a large pan just until they're hot.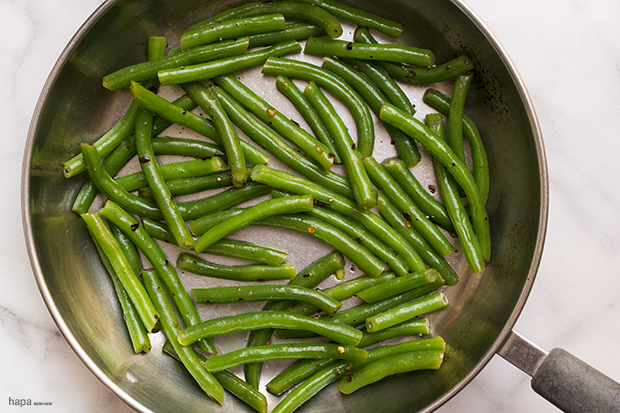 I serve these fresh green bean dish at least once a week at home.  It's healthy, super quick, easy, and it tastes great!  This dish is also great for guests as it can be easily doubled and makes for a simple and elegant dish.
[amd-zlrecipe-recipe:112]