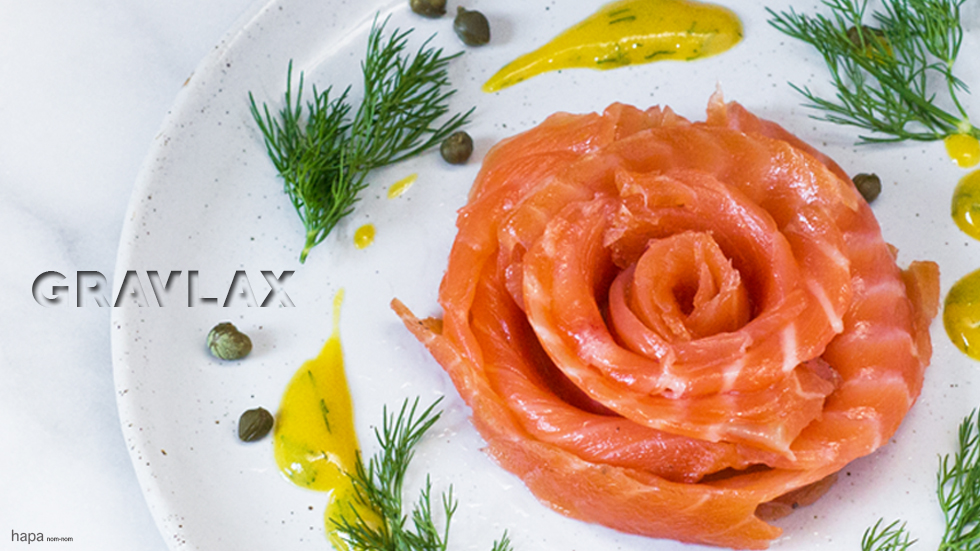 When you think of Sweden, what comes to mind?   Swedish meatballs?  ABBA?  Or perhaps marauding Vikings raiding trendy modular furniture stores?   When I think of Sweden, the first thing that pops into my head is gravlax.  Being part Japanese and part Swedish, it's practically in my DNA to love this stuff!  I have eaten it my entire life, but had never made it for myself.  I always assumed that it would be a difficult process, when in all actuality, the most difficult part is waiting the 48 to 72 hours for the fish to  cure.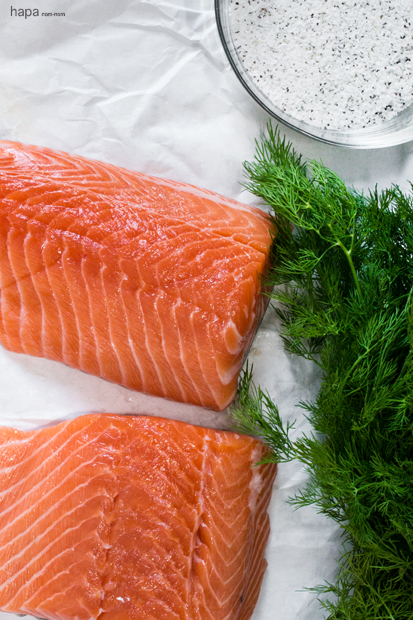 When I told my husband I would be making gravlax, his face contorted into a look of disgust.  He said, "I don't like it.  It tastes and smells fishy".  His disdain for the dish led him to  "affectionately" dub them, "craplax".  But, he is a trooper and said that if I made it, he would try them.  As my punishment for his willingness to have an open mind about this, for three days, all I heard were questions and statements about the "craplax".  "When are the craplax going to be ready?  Is the house going to smell like craplax?  Excuse me,  I have to go take a craplax".
Finally the day had arrived when the craplax…..I mean gravlax, were cured and ready to eat.  I rinsed off the curing agents, patted it dry, and sliced a thin piece off the end.  I placed it on my tounge and it just melted in my mouth with its silky texture and delicate flavor.  This, I thought quietly to myself, was really, really good!   Anxious for my husband to try the very thing that he had been harassing me about for the last few days, I fed him the next piece I cut.  His face was obviously tense when I placed the piece of salmon in his mouth, but as he chewed, his face softened and look of surprise washed over him.  He stiffened back up and said, "it's terrible."  Then gave me a sheepish smile and promptly reached for another piece.  "I think I need to taste another…just to make sure.  Yep,  it's awful," he confirmed – saying this as he reached for  another piece, and yet another, and another.
After a healthy "sample" of gravlax, my husband finally declared,  "I didn't think I would say this, but this is really good!  It tastes fresh and not at all fishy".   Homemade gravlax get an intense floral aroma from the fresh dill,  it's oiliness is replaced with a silky texture during the curing process, and it's far less expensive than store bought.  So, you get a far superior product and for significantly less money…what's not to love?  While my husband still refers to them as craplax (and I must admit, the nickname does crack me up), the next  time I made them, I heard no complaints.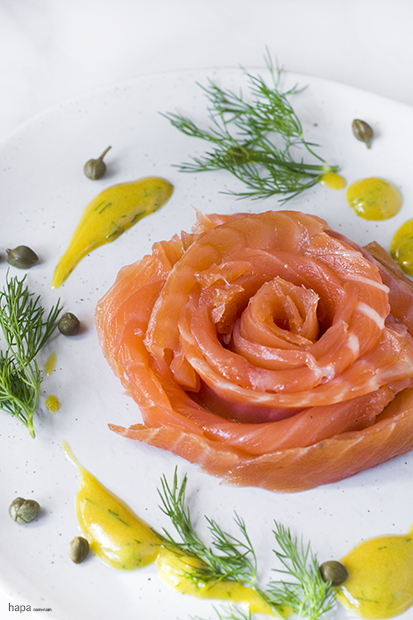 Gravlax
Author:
Kathleen | Hapa Nom Nom
Recipe type:
Appetizer, Entree
Adapted from my Uncle Roger's recipe
Ingredients
2 - 1 pound salmon fillets, skin on, bones removed, rinsed and dried
4 tablespoons sugar
½ cup kosher salt
1½ tablespoons freshly cracked pepper
2 bunches dill
dill mustard sauce for serving
Instructions
Place the salmon fillets on a work surface, skin side down. Sprinkle evenly with sugar, salt, and pepper. Place the dill on top of one half and then, like a book, fold the two halves together. Carefully and tightly wrap plastic wrap around the fillets and place it in a baking dish. Place a slightly smaller dish on top weighted down (I like to use a sack of flour). Refrigerate for 2 - 4 days, flipping the wrapped fillets each day.
Remove weights and discard the wrap. Gently rinse the salmon under cold water, removing the all of the salt, pepper, sugar, and dill.
Slice the salmon at 45 degree angle, as thinly as possible. Serve with a dill mustard sauce and pumpernickel bread.