Do you have a dish that you love to make and then for one reason or another it fell off of your radar? Lemongrass Chicken with Asparagus is one of those dishes.  Before my husband and I were married, I frequently made this during the work week.  It's quick, easy, full of flavor…and best of all the clean-up after you've enjoyed this meal is minimal.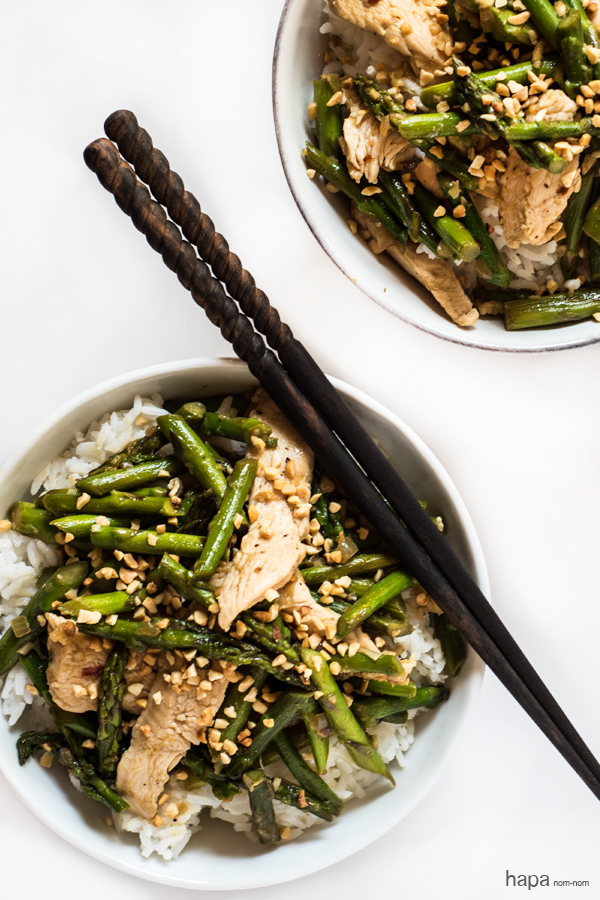 I realized I hadn't made this since we moved from DC to Atlanta, which was almost a year ago!  It's funny how a food can bring back a flood of memories – where you were, what you were doing, who you were with.  My husband took one bite and a nostalgic look washed over his face.  He said, 'you haven't made this since we were in DC!'  He paused for a moment with that thought, a slight smile across his lips, and then he continued to devour the meal in like he hadn't eaten all day – the ultimate compliment.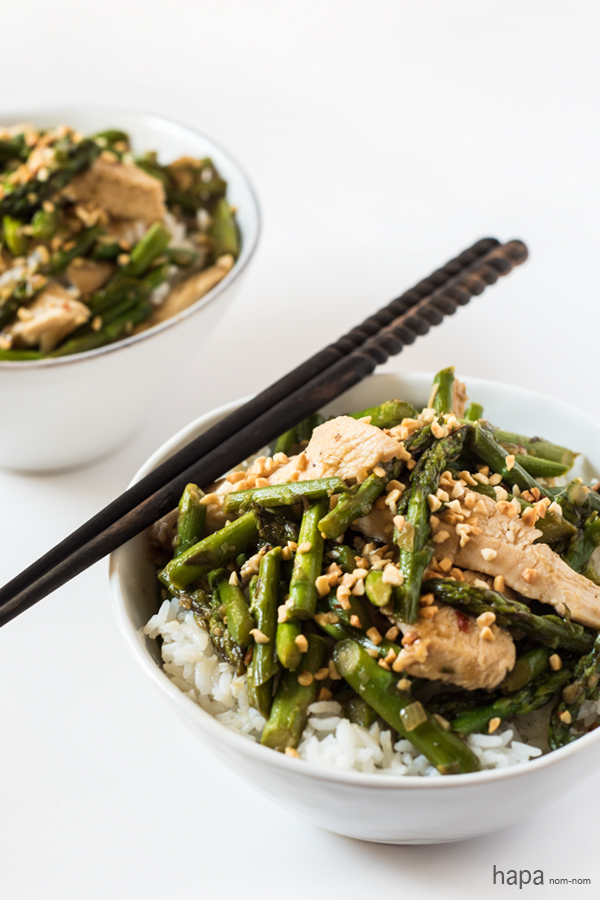 This recipe is for two, since it's just my husband and I.  However, you can easily double the recipe if needed.  

Lemongrass Chicken with Asparagus
Ingredients
1 cup white rice
2 tablespoons vegetable oil, divided
2 chicken breast, boneless and skinless, cut into strips
salt and freshly ground black pepper
1 medium shallot, finely chopped
1 lemongrass stalk, tough outer portion removed, bulb finely chopped
1 tablespoon fresh ginger, minced
3 gloves garlic, minced
1 bunch asparagus, tough ends removed and sliced diagonally
1 tablespoon soy sauce
2 teaspoons rice vinegar
⅛ teaspoon crushed red pepper flakes
¼ cup cashews, roughly choppped (optional)
Instructions
Cook the rice in a rice cooker. If you do not have a rice cooker, heat two cups of water in a medium saucepan over high heat. Once boiling, reduce the heat to low and add the rice. Give it a quick stir and cover the pan with a lid. Cook for 18-25 minutes, or until the water has evaporated and the rice is tender. Once done, remove the lid and fluff with a fork.
While the rice is cooking, heat 1 tablespoon of oil in a large skillet over high heat. Season the chicken generously with salt and pepper, and add to the pan. Cook for 2-3 minutes, tossing frequently. Once the chicken is cooked through, transfer it to a bowl.
Turn the heat down to medium-high and add 1 tablespoon of oil. Add the asparagus, cooking for 3 minutes, tossing occasionally. Add the shallot and lemongrass, cook for 1 minute. Then add the ginger and garlic – cook for another minute, stirring frequently.
Add the soy sauce, rice vinegar, and red pepper flakes. Reduce the heat to medium-low and add the chicken. Toss to heat through.
Spoon the chicken and asparagus over the rice and serve.