Have you tried pork belly? Essentially it's bigger, thicker, uncured bacon. If you're a fan, then this is something you need to make!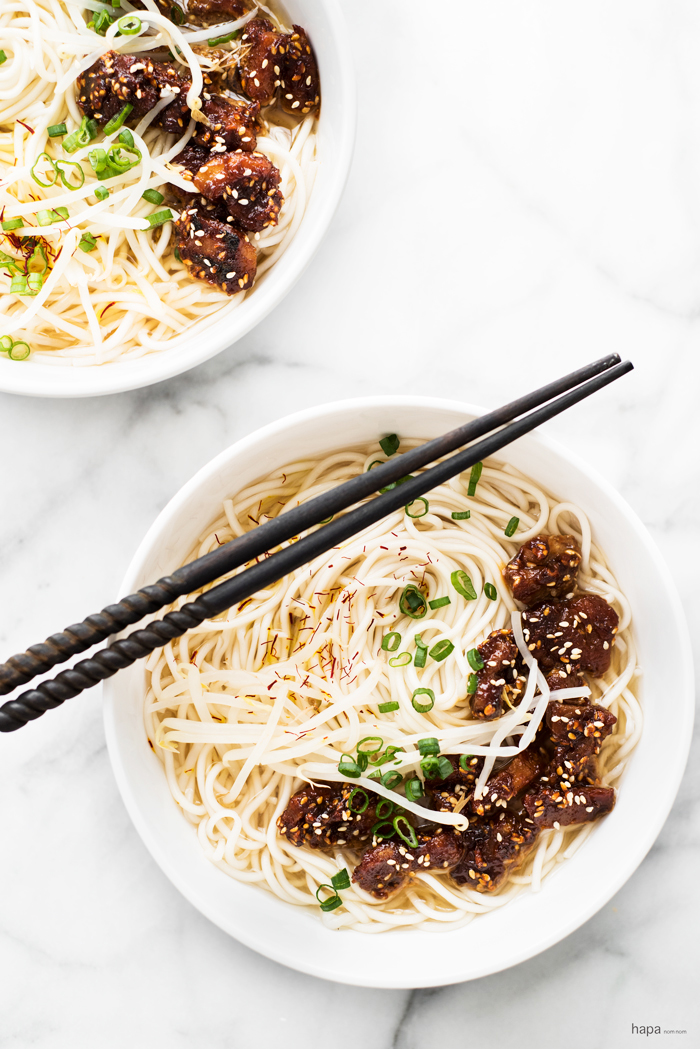 I was going up and down the aisles of my local grocery store when a sexy little magazine cover caught my eye. No, it wasn't that kind of magazine. Or maybe it was… I suppose it depends on where your mind goes. That sexy little thing seductively looking back at me was a big bowl of Noodles in Dashi with Miso-Coated Pork Belly, in the most recent issue of Saveur magazine.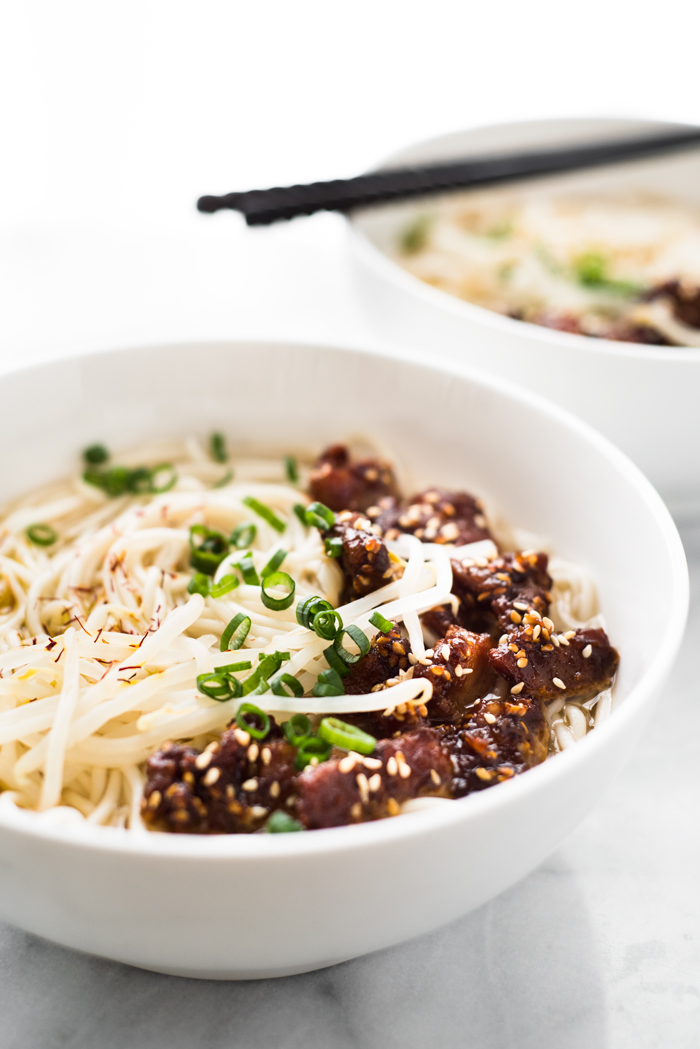 The dish was warm, comforting, and omg is the pork belly fantastic! I made a few adjustments to the dish for the ease of purchasing ingredients and also layering in a more flavor. To the miso mix, I added gochujang, a Korean fermented chili paste that adds incredible depth of flavor as well as a kick of heat to dishes. It's one of my favorite ingredients to use and it really adds another dimension to the pork belly. Instead of using dashi, a Japanese broth made with kombu (kelp) and katsuobushi (fermented skipjack tuna), I made a simple ginger infused chicken broth. I really liked the richness of the chicken broth and the way the ginger adds such wonderful aroma and zest to balance out the flavors.
There's only 1 cup of broth allotted to each bowl with all of those noodles.  What gives, is this a soup or what? Well, not perhaps in the traditional sense. The broth is really there to make the noodles perfectly slurp-able while adding a nice layer of flavor. You may have noticed that in the video, I fill up the bowl quite a bit with the broth. You may have also noticed that I removed some of the broth in the following shot. You'll have to forgive me, I'm still tweaking my newly acquired video skills. You really want just enough broth to coat the noodles, so they're wading in the broth rather than swimming. So while I polish up on my video skills, you can  be polishing off a bowl of crispy miso-coated pork belly, with super slurp-able noodles. Enjoy!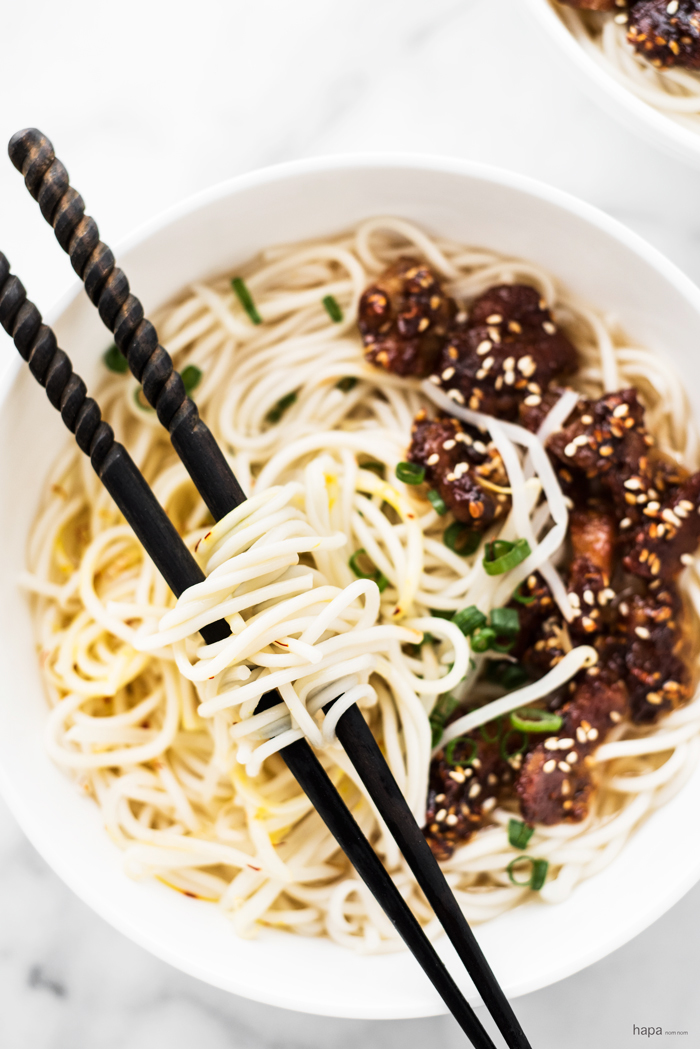 Miso-Coated Pork Belly with Noodles in Broth
Author:
Prep time:
Cook time:
Total time:
Incredibly rich pieces of miso-coated pork belly, on a bed of slurptastic noodles, in a delicate pool of ginger-chicken broth.
Ingredients
2 cups chicken broth
1/2 inch ginger, thinly sliced
1/2 pound skinless pork belly, cut into 1/2-inch pieces
1/4 cup red miso paste
2 tablespoons sake
2 tablespoons mirin
2 tablespoons dark brown sugar
1 tablespoon [url href="http://hapanom.com/gochujang/" target="_blank"]gochujang[/url]
1 tablespoon toasted sesame seeds, plus more for garnish
2 ounces mung bean sprouts
2 bundles of somen noodles (about 6 ounces), or other wheat noodle
2 scallions, thinly sliced
2 pinches saffron threads (optional)
Instructions
Pour the chicken broth and ginger slices into a small saucepan and bring to a simmer. Turn off the heat, cover with a lid, and allow to sit.
Pat the pieces of pork belly dry. Heat a large, heavy-bottomed pan over medium heat. Once the pan is hot, add the pork belly and 1/2 tablespoon of water. Allow to cook, flipping the pieces occasionally, until the outside is golden-brown and the fat has rendered – about 10 – 15 minutes. Using a slotted spoon, transfer the pork to a plate lined with paper towels and wipe the pan clean.
While the pork is cooking – in a medium sized bowl combine the miso, sake, mirin, brown sugar, and gochujang. Toss the cooked pork belly in the bowl, making sure to coat each piece.
Transfer the miso-coated pork to the pan, set over medium heat. Cook until the sauce thickens and the pork gets a sticky glaze on it – about 5 minutes. Turn off the heat and stir in the sesame seeds.
Bring a medium saucepan of water to a boil. Add the mung beans and cook for 1 minute, until tender. (Don't pour out the water or turn off the heat). Remove the mung beans with a slotted spoon and transfer to a plate lined with paper towels.
Add the noodles to the pot of hot water and cook according to the package directions (erring on the lower time for a more al dente noodle). Drain the noodles and divide them evenly among the bowls. Remove the ginger from the chicken broth and pour the liquid over the noodles. Add the miso-coated pork belly, mung beans, scallions, and saffron. Serve and enjoy!
Notes
* Recipe adapted from Saveur Magazine, [url href="http://www.saveur.com/dashi-noodles-with-miso-coated-pork-belly-recipe" target="_blank"]Noodles in Dashi with Miso-Coated Pork Belly.[/url]