Super Crispy Pork Schnitzel with Mushroom Gravy – battered, tender pork, fried until golden-brown and topped with a creamy mushroom gravy.

I understand my father in-law makes an incredible schnitzel.  I have yet to try it, but there's a sincere adoration from the other members of the family who have tasted this delectable dish.  (Perhaps I'll get to try it the next time we come for a visit…*wink, wink, nudge, nudge*).
My husband grew up  in Germany .  In fact being a part of the U.S. military,  his parents are still there. Each Christmas we fly into Frankfurt and almost immediately begin our drive to Italy for a week of skiing. We stop overnight in southern Germany, just before crossing into Austria and then finally into Italy. While we're there, I make certain to order a pork schnitzel.  Battered, tender pork, fried until golden-brown with a squeeze of lemon on top – to die for!  Throw a good German beer in there, and I'm in heaven.
In some areas you may see schnitzel served with pommes frites (fries), however I prefer it to be served with spaetzle – little egg dumplings tossed with butter.  This is most certainly not a low- calorie dish.  But it's good… damn good.  And it's worth it!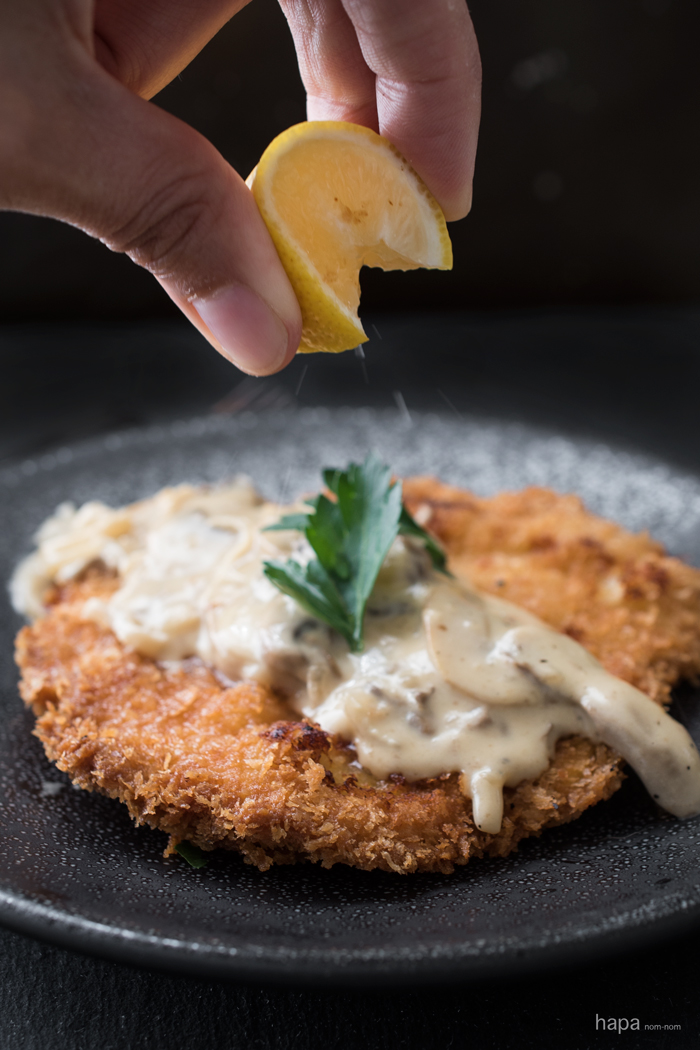 Pork Schnitzel with Mushroom Gravy
Author:
Prep time:
Cook time:
Total time:
Battered, tender pork, fried until golden-brown and topped with a creamy mushroom gravy – incredibly delicious!
Ingredients
[b]Schnitzel[/b]
4 boneless pork loin chops, trimmed of fat
1 tablespoon Kosher salt
1/4 teaspoon black pepper
1 cup all-purpose flour
2 eggs, beaten
1 1/2 cups panko
vegetable oil for cooking
[b]Mushroom Gravy[/b]
2 tablespoons unsalted butter
1/2 yellow onion, sliced
8 ounces button mushrooms, sliced
2 tablespoons all-purpose flour
1/4 cup white wine
1/2 cup chicken stock
1/2 cup heavy cream
kosher salt
freshly ground black pepper
[b]To Serve[/b]
1 lemon, quartered
parsley for garnish, optional
Instructions
Pound the pork loin chops to 1/4 inch thick.
Prepare 3 large plates – place the flour, salt, and pepper in the first plate, the eggs in the second, and panko in the third. First, dredge both sides of the pork in the flour and shake off the excess. Second, dip the floured pork into the egg, coating both sides. Third, repeat the process of dredging the pork in flour and dipping it in egg. Then lay the pork on the panko. Pile the panko on top of the pork loin, pressing the bread crumbs into the chop. Repeat the process with the rest of the pork.
Fill a cast iron pan or other heavy-bottomed pan with vegetable oil to a height of a 1/4 inch. Attach a thermometer to the side of the skillet. Heat the oil to 350 degrees F. While the oil is heating, prepare a cooling rack or a plate lined with several paper towels to drain the cooked schnitzel.
When the oil has reached 350 degrees F, carefully slide the breaded pork chops into the skillet. Work in batches, depending on the size of your pan. (Keep in mind, the more you add to the pan at once, the more the temperature will initially drop).
Regulate the heat to maintain the appropriate temperature. Cook for 2 minutes on each side, until golden brown. Transfer to the wire rack or paper-lined plate.
To make the mushroom gravy, melt the butter in a saute pan. Add the onions and saute until softened, approximately 3 minutes. Add the mushrooms and saute for 2 minutes. Add the flour and stir frequently for 2 minutes, until lightly-brown. Stir in the wine and reduce by 1/3. Then stir in the chicken stock and cream. Simmer until thickened, about 5 minutes. Season with salt and pepper to taste.
Serve the pork schnitzel with the mushroom gravy, a wedge of lemon, and garnish with parsley. Enjoy!
Notes
Schnitzel is traditionally made with European or American-style breadcrumbs. However, I made this dish with Panko – a Japanese-style breadcrumb that is larger and yields a very crispy exterior. This schnitzel is prepared in much the same way as one would make tonkatsu (basically the Japanese version of a schnitzel).