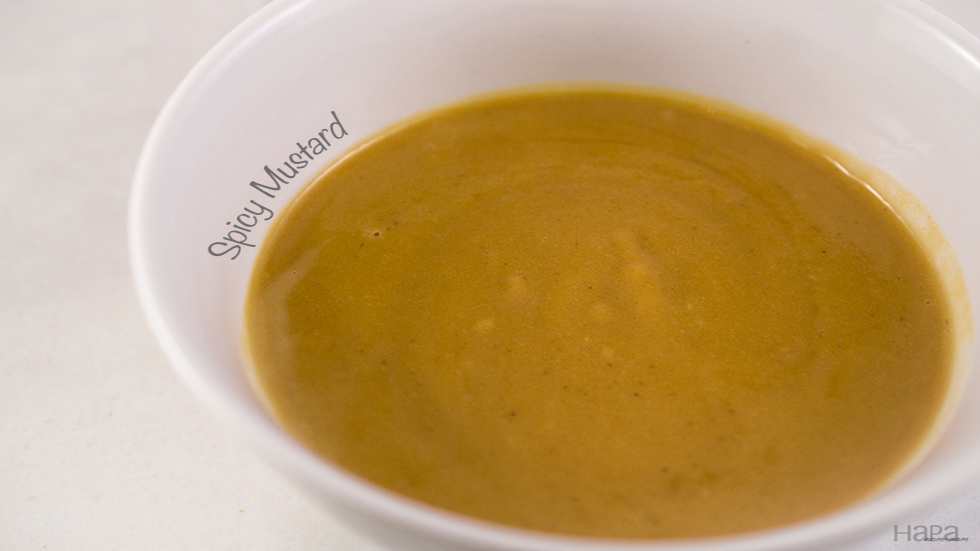 This is a spicy mustard packs some punch.  It's great slathered on sandwiches, ham, wursts, and for dipping your chicken tenders.
Spicy Mustard
Author:
Source – Bon Appetit, Hirsheimer's [url href="http://www.bonappetit.com/recipe/hirsheimer-s-hot-and-sweet-mustard" target="_blank"]Hot and Sweet Mustard[/url]
Ingredients
3/4 cup light brown sugar, packed
1 4-ounce tin Colman's mustard powder (you can add as little as 2-ounces if you do not want the mustard spicy)
1 cup apple cider vinegar, good-quality
1/4 cup honey
3 large eggs, beaten
Instructions
In a large bowl, combine the brown sugar and mustard powder. Add the vinegar and honey, whisk well. Strain through a fine-mesh sieve, using a spatula to press the contents into a large metal bowl. Add the eggs and whisk until all ingredients are fully incorporated.
Using a [url href="http://hapanom.com/double-boiler/" target="_blank"]double boiler[/url], set the bowl over a large saucepan of gently simmering water (do not allow the bottom of the bowl to touch the water). Whisk the ingredients constantly, making sure to scrape the bottom of the bowl frequently. Whisk until contents have thickened and the temperature reaches 160 degrees F, approximately 5 minutes.
Store mustard in sterilized jars. Can be kept refrigerated for up to 2 months.