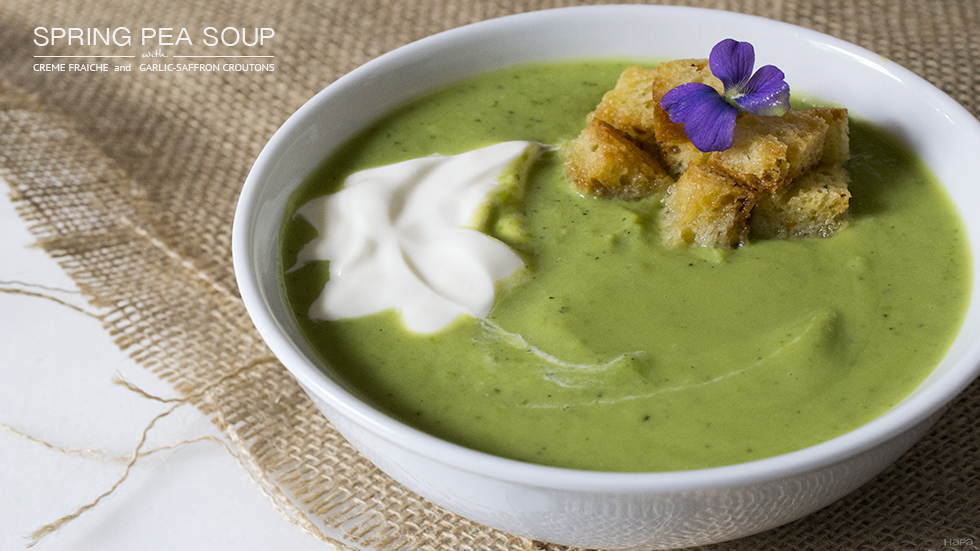 Let's be honest: Fresh peas are a bit of work. But their sweet and complex flavor is so delicious, they're worth the effort it takes to shuck each pod – especially for this delicious Spring Pea Soup.  Many people already know about the importance of seasonality in cooking, which is why, as much as I love food (especially fresh food) I'm a bit embarrassed to say that I have never worked with fresh peas.  They're sweet and tender, quick to cook, and incredibly versatile – fresh peas…where have you been my whole life?!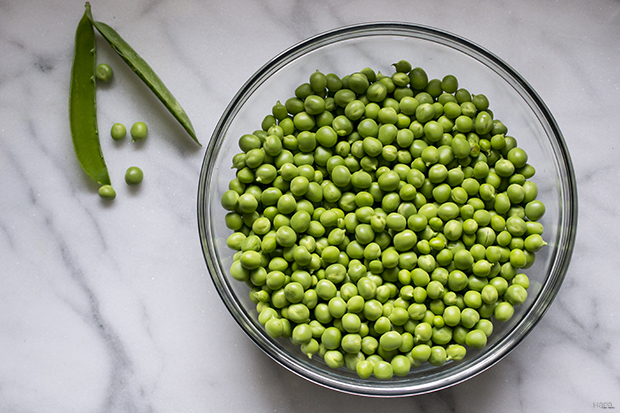 Very fresh and young peas only take a few minutes to cook, so they are the perfect ingredient for a weeknight dinner.  In fact, the best way to keep the sweetness and the bright-green color is to cook them as little as possible, just long enough until they're tender.   The peas' mild sweetness is perfectly complimented with the tang of creme fraiche and the bold crunchy texture of the garlic-saffron croutons.  With all of its flavor components, the dish is complex – both delicate and rich, light yet satisfying, its elegant – it's like spring.  And like spring, it is enjoyed hot or cold.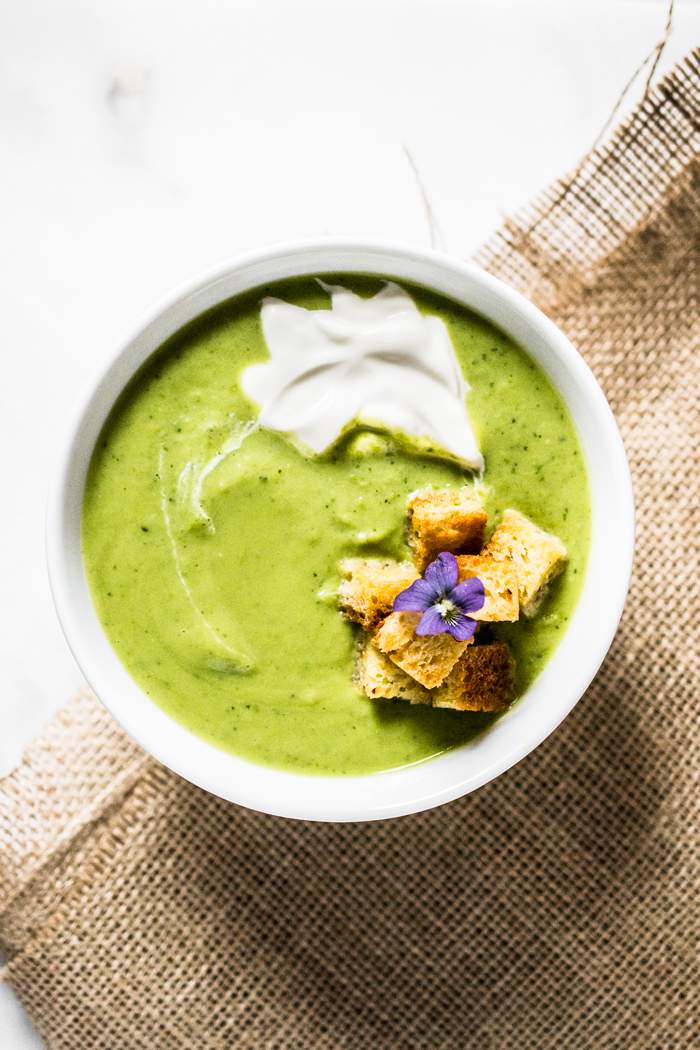 Spring Pea Soup
Author:
Fresh Spring Pea Soup served with tangy creme fraiche and crispy garlic-saffron croutons. Adapted from Ina Garten, [url href="http://www.foodnetwork.com/recipes/ina-garten/fresh-pea-soup-recipe.html" target="_blank"]Fresh Pea Soup[/url]
Ingredients
[b]Garlic Saffron Croutons[/b]
4 tablespoons unsalted butter
¼ teaspoon saffron threads
2 cloves garlic, minced
3 slices of good quality white bread, crust removed and cut into ⅓ inch cubes
[b]Spring Pea Soup[/b]
2 tablespoons unsalted butter
1 1/2 cup leeks white and light green parts, cleaned and chopped
1 large shallot, chopped
1 clove garlic, crushed
3 1/2 cup good quality chicken stock or vegetable stock
1/2 cup heavy cream
5 cups peas (preferably fresh, young peas)
1/2 cup mint, chopped
1 1/2 teaspoon kosher salt
1/2 teaspoon freshly ground black pepper
1/2 cup creme fraiche
Instructions
Preheat the oven to 350 degrees F.
In a large saute pan over medium-low heat, melt the butter to make the croutons. Crumble the saffron and add the garlic. Gently cook for about 1 minute to infuse the oil with the saffron color and garlic flavor. Watch your heat; saffron and garlic can burn quickly.
Add the bread cubes and toss to coat. Then spread the bread cubes on a baking sheet and bake for 15 minutes, or until golden brown and crisp.
To make the soup, in a large saucepan over medium-low heat, melt the butter. Add the leeks, shallot, and garlic and cook for 5 – 10 minutes, or until the leeks are tender.
Add the chicken stock and increase the heat to high, bringing the contents to a boil.
Add the heavy cream and fresh peas – cook for 5 minutes (if using frozen peas, cook for 3 minutes).
Remove the saucepan from heat and add the mint, salt, and pepper.
Blend in the saucepan using an immersion blender. If you are using a traditional stand-up blender, work in small batches.
Serve either hot or cold with creme fraiche and garlic-saffron croutons.