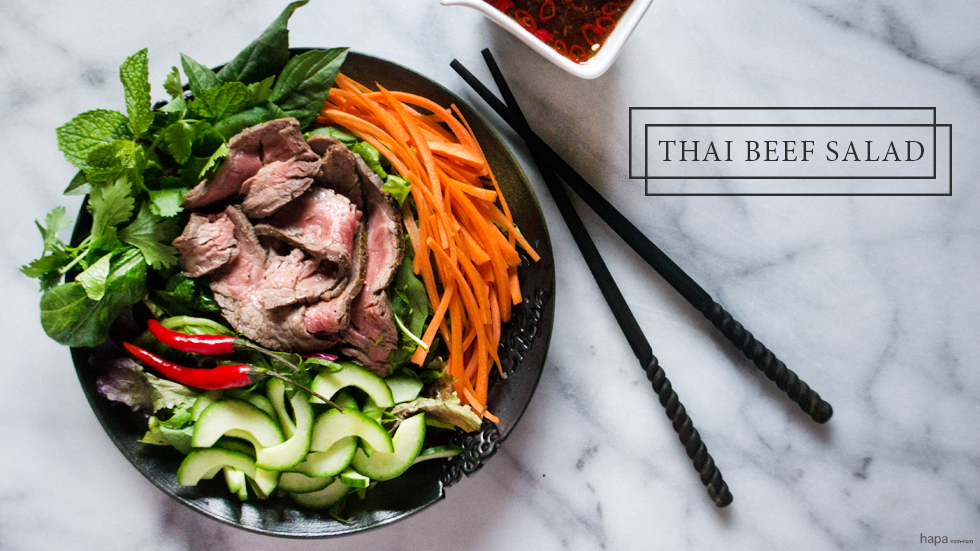 Thai Beef Salad, or Yam Neua has as many variations as there are Thai cooks… or so I've heard.  One thing is for certain, the beef is always grilled.  Well… I'm going to break that cardinal rule by broiling the steak.  Think of your broiler as an upside-down grill.  You're cooking the food using direct heat which sears the outside while keeping the inside tender.  It's clean, easy, and it's my go-to method when I don't have the time or patience for preparing coals. Or if the weather is just not conducive for grilling.
Another benefit to the broiler, is that if you have an oven, you have a broiler – no extra piece of equipment is needed!  You may use a grated broiler pan (which allows air to circulate under the food), however  you can accomplish the same thing by turning the steak half way through the cooking time.
Broiling is super easy, but there are a few tips to keep in mind:
Move the oven rack to the highest possible position.
Most broilers have only two settings, on or off.  However, there are some that have a high or low setting.  If that is the case, use the high setting for this recipe.
Be sure to preheat the broiler as you would the oven.
When you place the food under the broiler, be sure to center the item directly under the flame to ensure even cooking.
This recipe is all about delicious convenience – quick, easy, full of flavor and it's healthy!  I'd say that makes for a perfect weekday meal!
Brush the Flank Steak with Oil and Season with Salt and Pepper: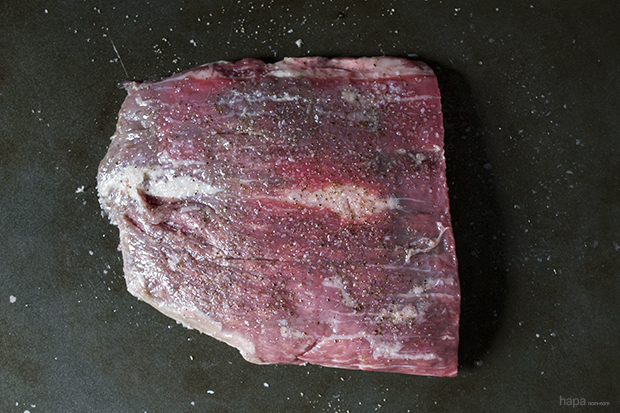 Broil the Steak for 8 Minutes and Allow to Cool Before Slicing: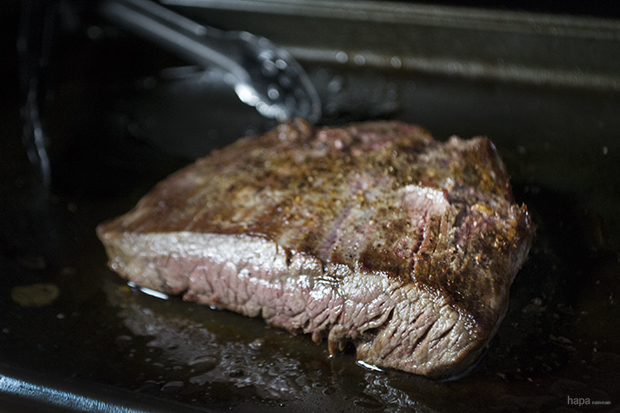 Add the Prepped Veggies to a Large Bowl: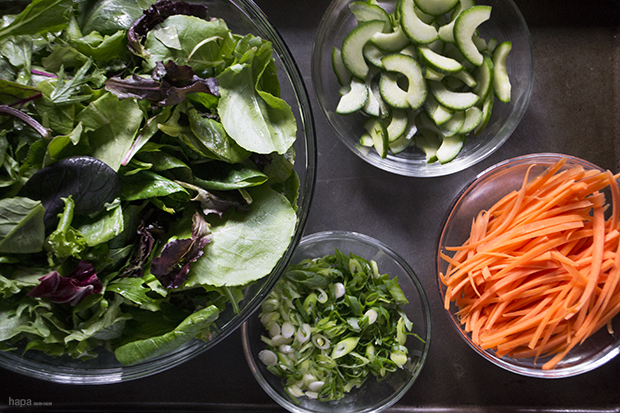 Serve and Enjoy: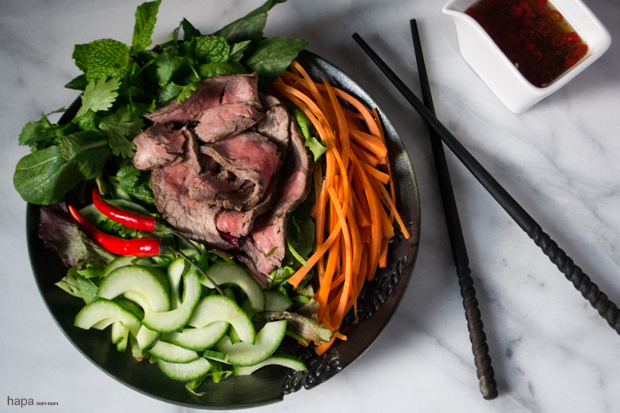 Thai Beef Salad
Author:
Kathleen | Hapa Nom Nom
This Thai Beef Salad is all about delicious convenience - quick, easy, full of flavor and it's healthy! I'd say that makes for a perfect weekday meal!
Ingredients
4 tablespoons fish sauce
4 tablespoons fresh lime juice
2 tablespoons sugar
1-2 Thai chilies, seeded and thinly sliced
1 - 1 pound flank steak
kosher salt and freshly ground black pepper
1 tablespoon vegetable oil
8 ounce mixed greens
1 English cucumber, halved lengthwise, seeded, and sliced
3 scallions, thinly sliced
2 medium carrots, julienned
½ cup fresh mint, torn
½ cup fresh cilantro, torn
½ cup Thai basil, torn
1 lime, quartered
Instructions
Place a rack at the very top of the oven and preheat the broiler.
To make the dressing, in a small bowl, combine the fish sauce, water, lime juice, sugar, and thai chilies. Stir until the sugar dissolves.
Place the flank steak on a sheet pan, brush with oil, and liberally season both sides with salt and pepper. Place under the broiler and cook for 8 minutes, turning once at the 4 minute mark. Remove from the oven and allow to cool 10 minutes before slicing.
Prep the vegetables and add to a large bowl. Toss and then divide among 4 smaller bowls. Thinly slice the steak across the grain and add it to the bowls. Dress the salads, add a lime wedge to each bowl, serve, and Enjoy!
[amd-zlrecipe-recipe:95]