The past week has been grey and rainy.  If you didn't have to leave the cool comforts of the house, you may be reminded of those long winter months.  Except it's not winter – it's the dead of summer.  Open the door to the outside and you'll be quickly reminded of the blast furnace that awaits you as you step out the door.  Between the rain and the oppressive humidity, it's enough to give someone jungle rot on the way to their car.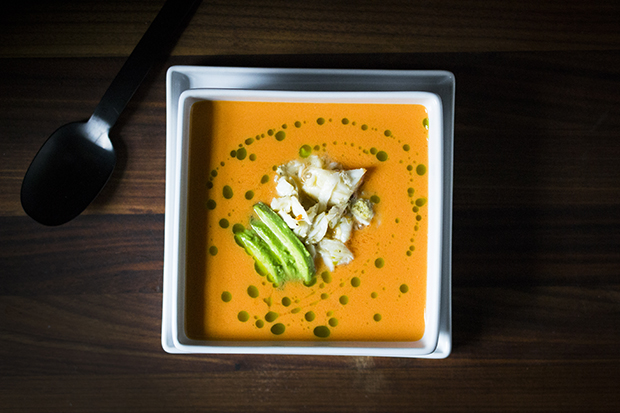 All these grey/humid days, I needed something light and bright to get me out of this rot rut.  I found some beautiful heirloom tomatoes at the farmers market earlier in the week, they would make for a perfect chilled summer soup.  The lump crabmeat makes this dish more substantial, the basil oil adds a wonderful herbaceous component to the soup, and a squeeze of lemon adds an extra pop of brightness to the dish.  This vibrant and refreshing Tomato Soup with Lump Crabmeat soup is a great first course to any meal or perfect as a light lunch.

Tomato Soup with Lump Crabmeat
Author:
Kathleen | Hapa Nom Nom
Adapted from Fine Cooking Magazine - Chilled Tomato Soup with Lump Crabmeat is a vibrant and refreshing dish that's a great first course to any meal or perfect as a light lunch.
Ingredients
2 pounds red heirloom tomatoes
3 tablespoons fresh lemon juice
½ cup plus 1 tablespoon extra virgin olive oil
kosher salt
white pepper
black pepper
½ pound lump crabmeat
1 avocado, sliced
Instructions
Core and quarter the tomatoes. Working in two batches, add half of the tomatoes to the blender with 1 tablespoon of lemon juice and ¼ cup of olive oil in each batch. Season generously with kosher salt and white pepper. Blend on high until smooth.
Strain the contents of the blender through a fine-meshed sieve. Use a spoon to press through all of the liquid, discard the solids. Taste and add more salt and pepper, if needed. Refrigerate until ready to use.
In a large bowl, pick through the crabmeat, removing any bits of shell. Add 1 tablespoon of lemon juice, 1 tablespoon olive oil, salt and pepper to taste. Combine well and refrigerate until needed.
Make the basil oil.
To serve – top the chilled heirloom tomato soup with the lump crabmeat, avocado, and drizzle with basil oil. Enjoy!
Nutrition Information
Serving size:
4 as a first course