I first heard of fried green tomatoes as a child when the namesake movie, 'Fried Green Tomatoes' came out.  I watched it with my parents and as an 11-year-old and I was never really sure what the appeal of the movie was for me. Perhaps it was relating to Idgie Threadgoode's spirited tomboy character, the various 'Towanda!' scenes throughout the movie, or the centrally located Whistle Stop Cafe where so many of the movie's great moments took place – to include the scene where they made fried green tomatoes for the first time.
Ever since seeing 'Fried Green Tomatoes', I was curious as to what the dish actually tasted like.  Growing up in the Washington, DC area, my opportunity to try such a Southern dish never presented itself.  That is, until my husband (boyfriend at the time) took me to his favorite brunch spot at a local Capital Hill restaurant.  Nearly half of the brunch menu incorporated fried green tomatoes in some fashion, and they even offered them as a side dish.  After 20 some years of curiosity, I had to order them.  They came out hot…and I mean HOT!  They were crisp and golden, a wonderful juxtaposition to the tart and juicy tomato.  It was like a taste of a childhood I never knew in reality, but had only known in movies…well, one movie, 'Fried Green Tomatoes'.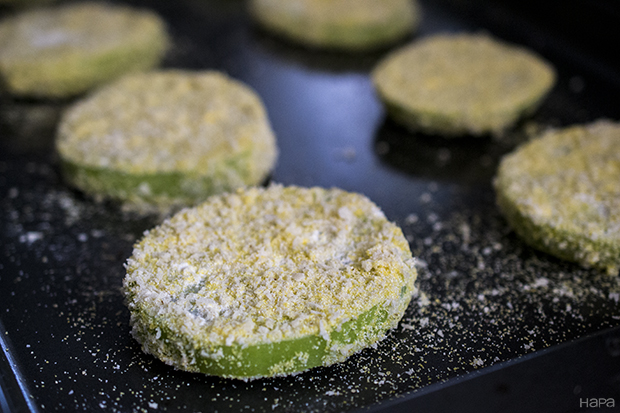 In Atlanta, green tomatoes can be found in most grocery stores.  However, if you are not living in the South, try your local farmers' market, international grocer, or even gourmet grocery store – after all, they are only unripened tomatoes.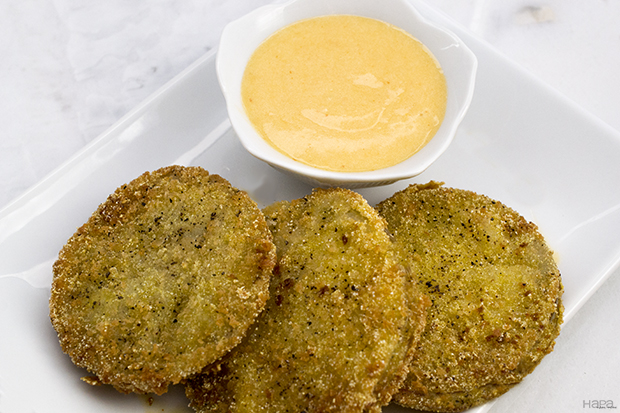 Fried Green Tomatoes
Author:
Kathleen | Hapa Nom Nom
Recipe type:
Appetizer, Side
I first heard of fried green tomatoes as a child when the namesake movie, 'Fried Green Tomatoes' came out. Served with Sriracha Aioli, these crispy delights are sure to please!
Ingredients
4 large unripe tomatoes, cut into ¼ inch slices, ends removed
1 cup yellow cornmeal
1 cup all-purpose flour
1 cup Japanese panko break crumbs
1 Tbs Cajun seasoning
1 cup buttermilk
1 Tb kosher salt
½ tsp freshly ground black pepper
vegetable oil, for frying
1 recipe Sriracha Aioli
Instructions
Preheat oven to 200 degrees F.
Season the tomatoes with salt and pepper.
Whisk together the flour and Cajun seasoning in a large dish or bowl. Whisk together the the cornmeal and panko in a separate dish or bowl.
Set up your dipping station in the order of: flour/cayenne mixture, buttermilk, and cornmeal/panko mixture.
Working with one tomato slice at a time, coat the tomato in the flour (knocking of any excess), then dip into the buttermilk, and then finally in the cornmeal/panko mixture. Transfer the breaded tomatoes to a baking sheet, and repeat with the remaining slices.
Heat ¼ to ½ of oil in a cast iron skillet or other heavy bottomed skillet to 360 degrees F. Working in batches, fry the tomatoes until golden brown, about 2 minutes per side.
Using a slotted spoon or spatula, transfer the tomatoes to a drying rack atop a baking sheet, and sprinkle with salt and pepper. Keep the cooked tomatoes in the cool oven while you fry the remaining tomatoes.
Serve the tomatoes hot, with sriracha aioli.