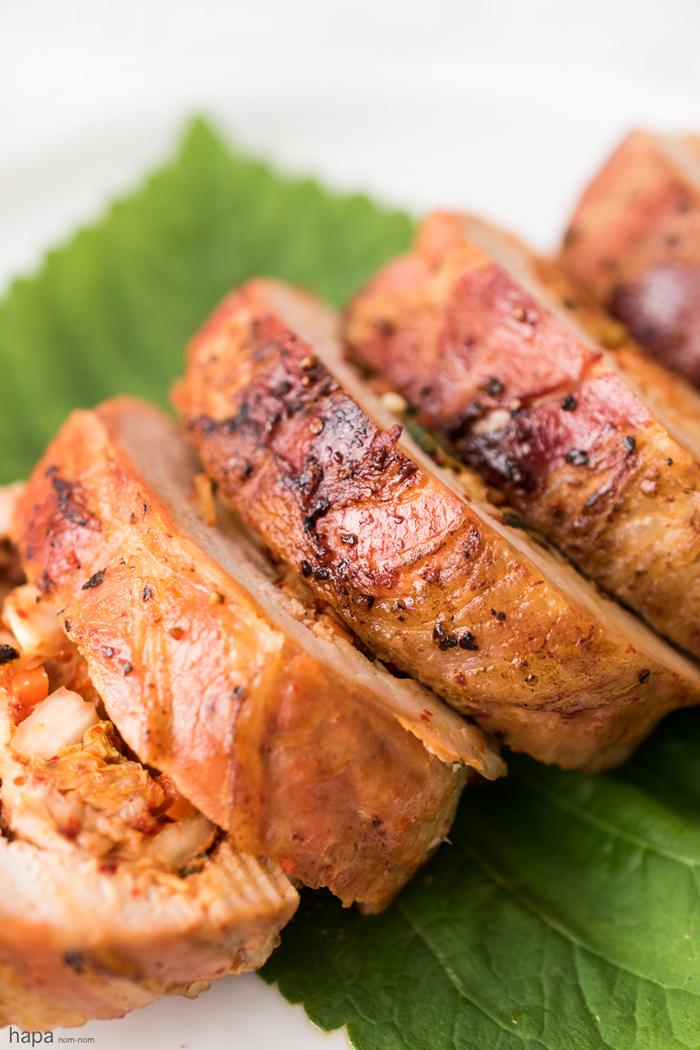 This Pancetta-Wrapped Kimchi Pork Roulade has been a long time coming. When I was living in Atlanta, my friend Seung Hee treated me to my first Korean spa trip. I wasn't sure what to expect – all I knew was that I needed to feel 'comfortable'. If you're not familiar with a Korean spa, essentially there's a strictly male section, a strictly female section, and then a common area for everyone. The gender designated spaces are the treatment areas; while the common area is composed of various saunas for both men and women. There's actually a great and rather hilarious video of Conan O'Brien and Steven Yeun at a Korean spa – the responses are comedic, but the actual treatments they endure are real.   
After our relaxing rejuvenating spa day, we went out for Korean BBQ. This particular restaurant had an angled grill plate in the center of the table; and what I remembered most was the pork belly that was placed at the top of the grill and the kimchi at the bottom – so when the fat rendered from the pork it dripped down to the kimchi below and gave it the most incredible flavor… like eyes rolling in the back of your head, kind of flavor! I wanted to capture that entire dinning experience in one easy dish. Originally my thought was to roll the kimchi in a giant slab of pork belly. Except pork belly isn't always easy to come by for everyone, and when you do find it, it's generally cut into strips.  So I decided to go with a pork tenderloin instead – something that can be found at any grocery store. To add some fat/flavor to the tenderloin, I wrapped the roulade in pancetta. The result, Pancetta-Wrapped Kimchi Pork Roulade – it's like Korean BBQ wrapped into one incredible fusion dish!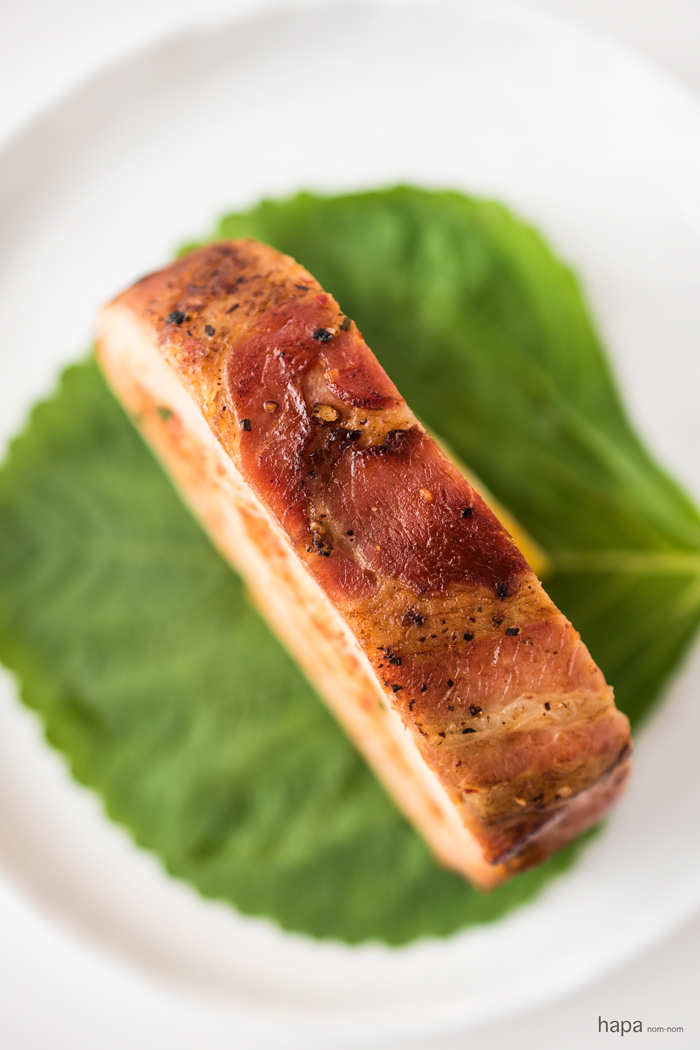 Pancetta-Wrapped Kimchi Pork Roulade
Author:
Kathleen | Hapa Nom Nom
Prep time:
Cook time:
Total time:
Ingredients
Quick Kimchi Ingredients
1 Napa Cabbage (heavy for its size), sliced into ¼ inch strips
water
¼ cup Kosher salt
½ cup gochugaru
1 tablespoon sugar
¼ cup fish sauce
½ bulb of garlic, minced
1 tablespoon ginger, minced
3 scallions, sliced
2 large carrots, julienned
Pork Roulade
1½ pound pork loin, trimmed and butterflied*
4 ounces pancetta
kitchen twine
Kosher salt
black pepper, freshly ground
Dipping Sauce
2 tablespoons low sodium soy sauce
2 tablespoons mirin
2 tablespoons rice vinegar
2 tablespoon lime juice
1 tablespoon toasted sesame oil
1 teaspoon toasted sesame seeds
Garnish
Perilla leaves/sesame leaves**, optional
1 tablespoon vegetable oil, for possible crisping after roasting
Instructions
To make the Kimchi, place the sliced Napa Cabbage into a large bowl. Add enough water to cover the cabbage and add the salt, stir to combine. Let sit for 10 minutes. Combine the remaining ingredients of the quick kimchi in a smaller bowl to make a paste. Rinse the salted cabbage well and pat dry. Add the paste to the sliced cabbage and mix well with your hands (I like to wear food safe gloves). Store the mixture in a jar or plastic container. Press the contents down to protect the kimchi from being exposed to too much air and cover. You may use the kimchi right away, or you can keep it at room temperature to ferment for a few of days – the flavor will intensify if allowed to ferment.
Preheat the oven to 400 degrees F. And prepare a sheet pan by lining it with foil.
Place the butterflied pork between two sheets of plastic wrap and pound with a kitchen mallet to ¼-inch even thickness. Spread the kimchi in a ½-inch thick layer over the meat, leaving a ½-inch boarder on all sides. (You'll have extra kimchi leftover. You can either make another roulade, serve it as a side, or save it to enjoy later). Starting at the narrowest end, roll the pork up like a jelly roll. Then wrap the roulade all the way around with the pancetta. Secure tightly with kitchen twine, being sure to secure the underside and the ends, per this great video tutorial, here. Season the entire roulade liberally with salt and pepper.
Place the roulade on the prepared sheet pan and roast for 30 minutes. If you feel that the pancetta isn't browned/crispy enough, simply heat a large skillet over high heat and add a tablespoon of vegetable oil. Sear the the roulade on each side until golden-brown and crispy (about 30 seconds, per side). Allow the roulade to rest for 5 minutes before slicing.
In a small bowl, combine the ingredients for the dipping sauce.
Remove the twine from the roulade and slice.Serve with the sesame leaves (optional) and the dipping sauce. Enjoy!
Notes
* You can ask the butcher at any grocery store to butterfly this for you, just tell them you're making a roulade. Otherwise, you can easily do this at home. Simply slice the roulade, lengthwise, making sure not to cut it all the way through - you want to slice it so it opens like a book. Check out this video
here
.
** Perilla/Sesame leaves have a grassy, somewhat bitter taste that is served with Korean BBQ. They can be found at any Korean grocery store and most general Asian grocery stores.