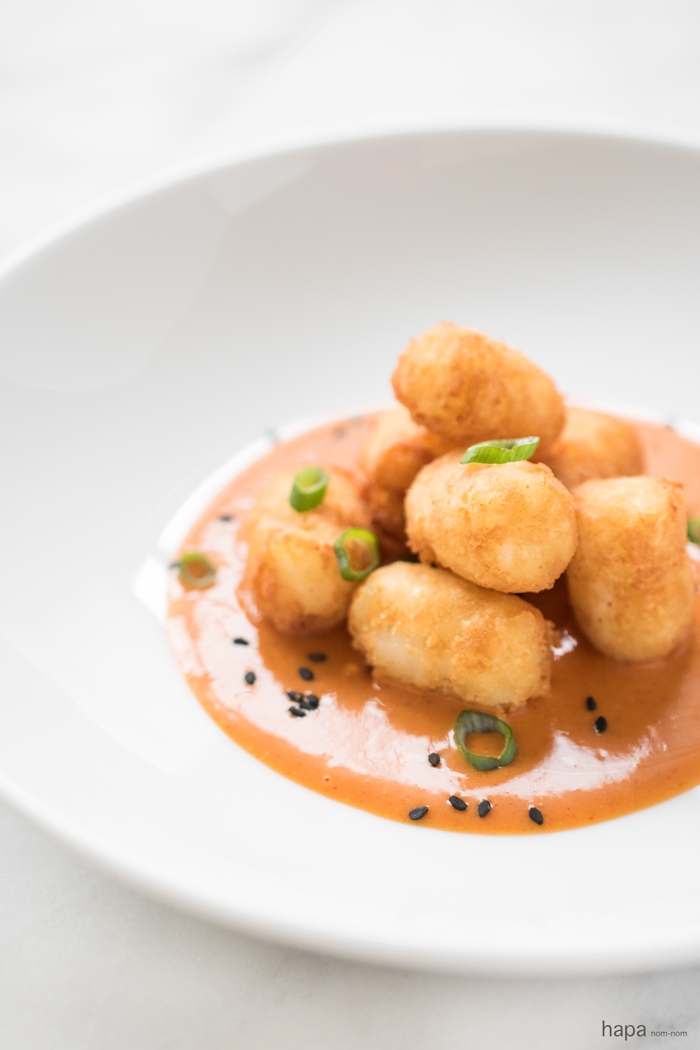 It's been about 5 months since we moved from Atlanta to the San Francisco Bay Area. So far we're loving it, but there are a number of things I miss about our old home – as funny as it may sound, incredible tater tots is one of them. Prior to living in Atlanta, I lived in D.C. I think the last time I had tots served to me, was in the cafeteria lunch line in elementary school. It wasn't until we moved to Atlanta that I was re-introduced to them in a big way. Many of the restaurants we frequented served them as appetizers. These weren't tots out of a bag, these were handmade, sometimes mixed with various spices, and generally served with a variety of sauces. I don't know if it's an Atlanta thing or a southern thing, but I had never seen them elevated in this way, and since moving out of The ATL I haven't seen them served at all. As it turns out, Mr. HapaNom is in Atlanta for business. Perhaps that's what has me reminiscing about gloriously crispy and golden-brown tater tots.
I enjoy making as much as I can from scratch. But sometimes you just don't have the time or energy, and I totally get that! There are days when my grocers freezer is my best friend. So no worries! Feel free to use frozen tater tots, the only thing you need to make is the sauce –  something that's quick and easy. The dipping sauce takes no time at all to make. Spicy and umami rich gochujang (a Korean chili paste), sweet honey, tangy lime, and creamy mayo just to name just a few of the ingredients, all thrown into a food processor and pureed – it's well balanced and makes a perfect dipping sauce for these crispy little gems.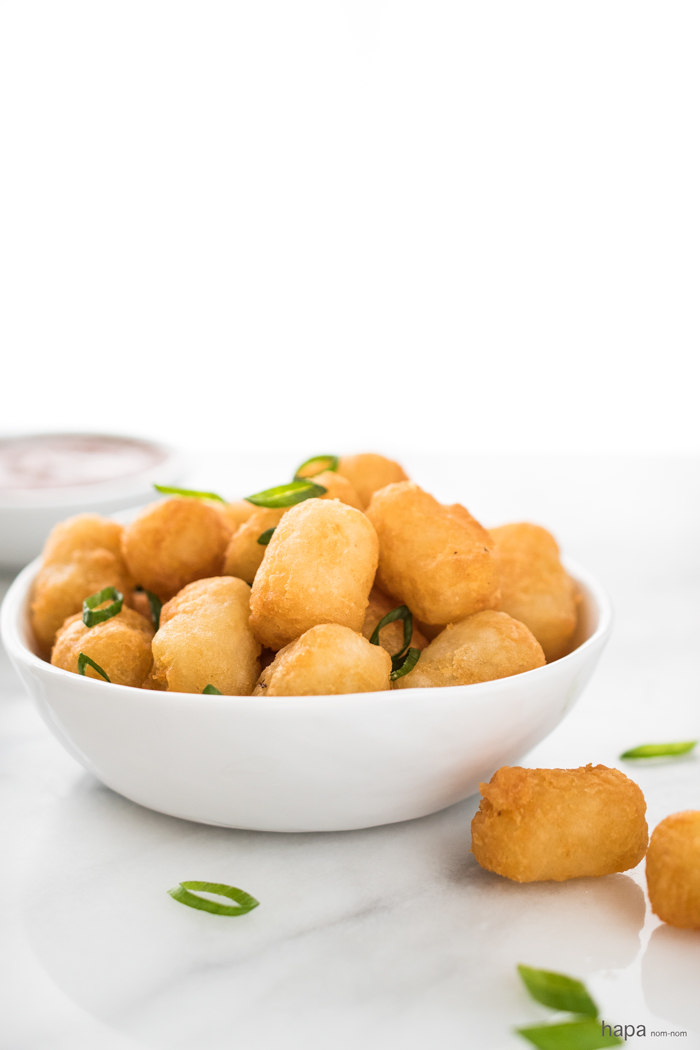 Garlic Tater Tots with a Spicy Asian Dipping Sauce are perfect as a snack or side, they also make a great party appetizer! If you're a big party snacker like myself, just think how easily poppable these tots are – your guests will love them!
Garlic Tater Tots with Spicy Asian Dipping Sauce
Author:
Kathleen | Hapa Nom Nom
Recipe type:
Appetizer, Side
Prep time:
Cook time:
Total time:
Ingredients
Sauce
⅓ cup ketchup
6 cloves garlic
2 tablespoons fresh lime juice
1 tablespoon low-sodium soy sauce
1 tablespoon cider vinegar
2 tablespoons honey
1 tablespoon ginger, freshly grated
3 tablespoons gochujang
¼ cup mayonnaise
Tater Tots*
1½ pounds Russet potatoes (about 2 medium potatoes), scrubbed
1 teaspoon Kosher salt
1 teaspoon garlic powder
¼ cup all-purpose flour
canola oil, for frying
1 scallion, sliced, for garnish (optional)
1 teaspoon black sesame seeds, for garnish (optional)
Instructions
Heat the oven to 450 degrees F. Place the potatoes in the oven and bake for 35 - 40 minutes - you should be able to pierce them easily with a fork when they're done. When cool enough to handle, but still hot, peel the skin using a pairing knife (the skin should peel away easily). Using the large holes of a box grater, grate the potatoes into a large bowl. Add the salt, garlic powder, and mix to combine.
Using a teaspoon, scoop some of the potato mixture into the palm of your hand. Form into a small cylinder - it's less about rolling and more about gentle compression to make each tot. Place them on a sheet pan and repeat with the remaining potato mixture. (I found I didn't need flour in the mix, but If you're having difficultly with the tots taking shape, try stirring in 1 teaspoon of flour). Once completed, gently roll each tot in flour and place back onto the plate. Allow them to rest while you heat the oil.
Line another baking sheet with paper towels. Add ½ inch of oil to a frying pan and heat over medium-high heat. To check to see if the oil is hot enough, submerge a chopstick or wooden spoon into the oil until it touches the bottom - little bubbles should fizz up. When hot enough, carefully add the tots, about 8 - 10 at a time. Cook for 2-3 minutes, or until golden brown. Do not stir them right away, or they will break apart. At the one minute mark, give them a gentle stir. Once done, use a slotted spoon to transfer the tots to the paper towel lined baking sheet.
Serve with the spicy Asian dipping sauce and garnish with scallions and sesames. Serve and enjoy!
Notes
* If you prefer, you can use frozen tater tots. Simply add a 16 ounce bag of frozen tater tots to a large bowl, drizzle with 1 tablespoon of olive oil, and 1 teaspoon of garlic powder. Toss to coat and bake according to the package directions.

*For a semi-homemade alternative, a reader suggested using 'Simply Potatoes, Shredded Hash Browns'. If you find that they're not sticking together to form a little tot, try giving a rough chop if the shreds are too long and adding a teaspoon of flour to the mix to help it bind together.

* If you would like to freeze the homemade tots, cool to room temp, and freeze in a single layer. Then store in an air-tight container or freezer bag. When ready to use, heat the oven to 400 degrees F and bake for 15 - 20 minutes, until crispy and warmed through.