If you've dinned at an Asian restaurant, chances are you have leftover white rice.  Or perhaps you have leftover rice from simply making too much at home.  Whatever the case may be, there is a relatively unconventional way to put those leftovers to use – eat it for breakfast!  When you think of breakfast, fried rice is probably not the first thing that pops into your head.  In fact, it may be no where on your radar.  Growing up with a father of Japanese descent, we always had a pot of cooked rice at the ready and when we had leftovers (which was often), my father would make breakfast fried rice in the morning.  This is my take on a childhood favorite.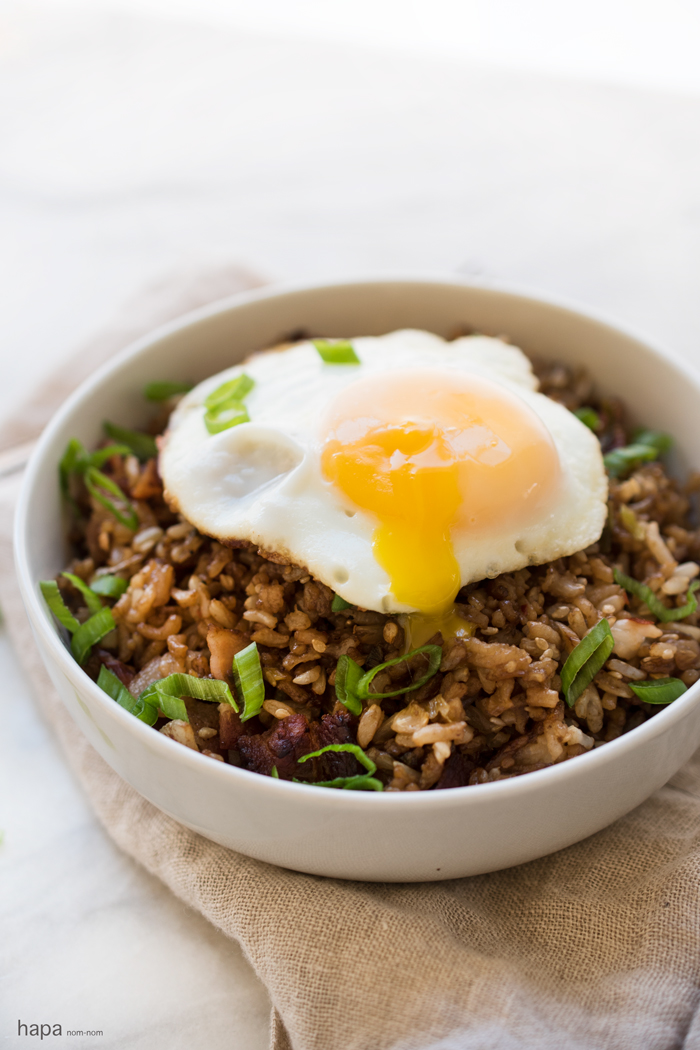 White Rice Tip:
If you grew up with an Asian parent(s) in the home, you probably already know how to cook rice – it's practically a rite of passage.  That being said, I believe I can safely say that every Asian household has a rice cooker on the counter.  Which is why it's almost comical that everyone I know of Asian descent has no idea how to cook rice on the stovetop – I know I sure don't.  When you eat rice everyday, the convenience of a rice cooker is essential.   To properly prepare the rice, you must wash it….repeatedly.  Rinsing the rice until the water runs clear, will remove any excess powder.  The powder that coats each grain can be a mixture of talc, rice powder, or glucose powder; all of which are safe to eat, but can affect the taste and make your rice down right gluey if not removed.  If you're using boxed instant rice…well, just don't – it has a completely different taste and texture.
To rinse the rice, place the desired amount of rice in a large bowl of cold water and swish the rice around with your hand until the water becomes cloudy.  Carefully pour off the water and repeat the process of rinsing and pouring until the water is nearly clear.  If you don't have a rice cooker, click here to learn how to make it on the stovetop:

Breakfast Fried Rice
Author:
Kathleen | Hapa Nom Nom
Prep time:
Cook time:
Total time:
Try fried rice for breakfast with crispy bacon and toped with a fried egg. A hearty breakfast that's quick and easy!
Ingredients
5 slices of bacon
1 tablespoon sesame oil
3 green onions, thinly sliced (set one of three aside for garnish)
3 cups day-old cooked rice, at room temperature
⅓ cup low sodium soy sauce
1 tablespoon rice vinegar
1 tablespoon sesame seeds, toasted
¼ teaspoon crushed red pepper flakes
1 tablespoon unsalted butter
2 eggs
sriracha, for serving (optional)
Instructions
In a heavy-bottomed skillet over medium heat, cook the bacon, turning it until it's browned evenly. Remove the bacon from the pan and let it drain on paper towels. Once the bacon is cool enough to handle, roughly chop and set aside.
In a large skillet over medium heat, warm the sesame oil until shimmering. Add 2 of the sliced green onions, and cook for 2 to 3 minutes.
Stir in the cooked rice, breaking up any large clumps. Add the soy sauce, rice vinegar, toasted sesame seeds, crushed red peppers, and bacon. Stir to fully incorporate the ingredients and cook for 5 minutes, or until warmed through.
In a non-stick skillet over medium heat, add the butter. Once the butter has melted, crack the eggs into the skillet and immediately cover the pan with a lid. Cook until the egg white is cooked through and the egg yolk is barely set, approximately 5 minutes.
Place a fried egg on top of each bowl of breakfast fried rice and garnish with the remaining sliced green onion. Serve immediately, being sure to break the yolk over the rice so it can act like a sauce. Serve with sriracha if desired.