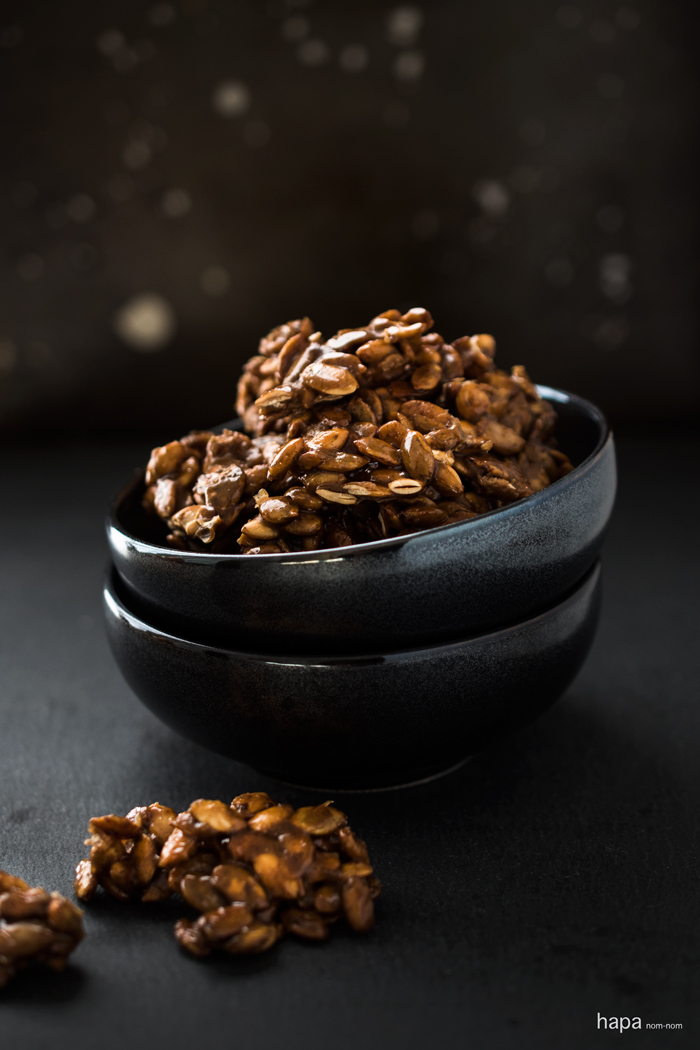 Don't you just love when a complete blunder turns into something incredible?! I had this fantastic idea to make a pumpkin pie spiced pumpkin seed brittle. Sounds great, right?
Just a few minutes into making the brittle, I realized that my measurements were all off – there just wasn't enough thick caramel-like syrup to form into a classic brittle. I muttered a few choice curse words, scraped the contents of the pan out onto a Silpat, and just left it – thinking that I would have to scrap it once it cooled. Except when I tasted it, it was good! Really good! Like I can't stop eating it, kind of good!
Just for the sake of my original idea, I went back to square one and tried to make an actual brittle. With a little tweaking of the recipe, it worked. I made a gorgeous brittle. But after a sampling, I actually much preferred the taste and texture of the clusters I had accidentally made. Talk about a happy accident!
I've been making this all weekend, it's great to snack on, to take with you on a hike, or even tame that midday sweets craving. With the holidays coming up, it also makes a perfect snack for your guests!
Candied Pumpkin Seed Clusters
Author:
Kathleen | Hapa Nom Nom
Prep time:
Cook time:
Total time:
Candied Pumpkin Seed Clusters with pumpkin pie spices - great to snack on and totally delicious!
Ingredients
1 cup raw green (hulled) pumpkin seeds*
½ cup granulated sugar
1 tablespoon honey
2 tablespoons water
1 tablespoon unsalted butter
1 teaspoon vanilla extract
¼ teaspoon ground cinnamon
⅛ teaspoon ground nutmeg
⅛ teaspoon ground ginger
⅛ teaspoon ground allspice
⅛ teaspoon ground cloves
Instructions
Line a sheet pan with parchment paper or a Silpat. Then prep all of the spices measuring and combining the cinnamon, nutmeg, ginger, allspice, and cloves in a small bowl.
Add the pumpkin seeds, sugar, honey, and water to a large heavy-bottomed sauce pan. Place over medium-high heat and stir constantly until the mixture becomes syrupy and a caramel color, about 6-8 minutes.
Remove from heat and add the butter. Stir until melted and then add the vanilla. While stirring constantly, add the spices, and stir until fully incorporated.
Transfer the candied pumpkin seeds to the prepared sheet pan and spread out in a thin layer. Allow to cool, break apart into clusters, and enjoy!
Notes
*The pumpkin seeds I used are raw, green, and hulled (outer casing removed). These can be purchased at any whole food or health store. I have not tried this recipe with seeds straight out of the pumpkin (still in its hull), but I do have a great recipe for
Roasted Pumpkin Seeds
, that uses those seeds freshly scooped from a pumpkin - they're also great to snack on!