Easy and healthy Chicken Tortilla Soup made with fresh tomatoes and topped with avocado and crispy tortilla strips.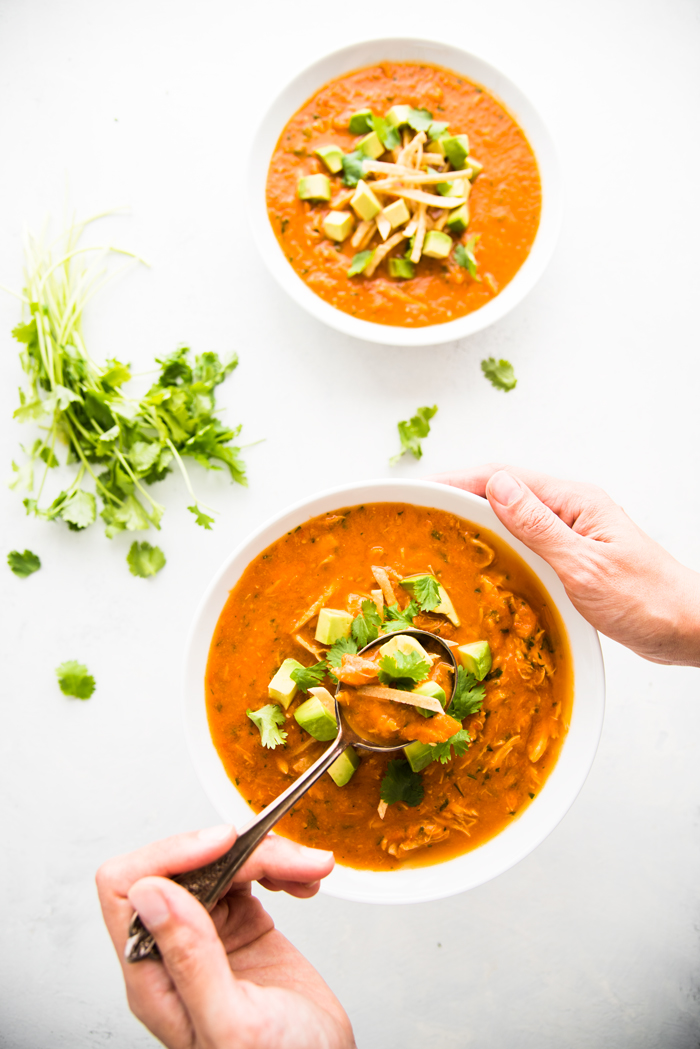 It's cold outside! So I'm thinking about snuggling up by the fire with a warm bowl of comfort food.
Bright and vibrant in both color and taste, this flavor-packed bowl of Chicken Tortilla Soup is both light and healthy!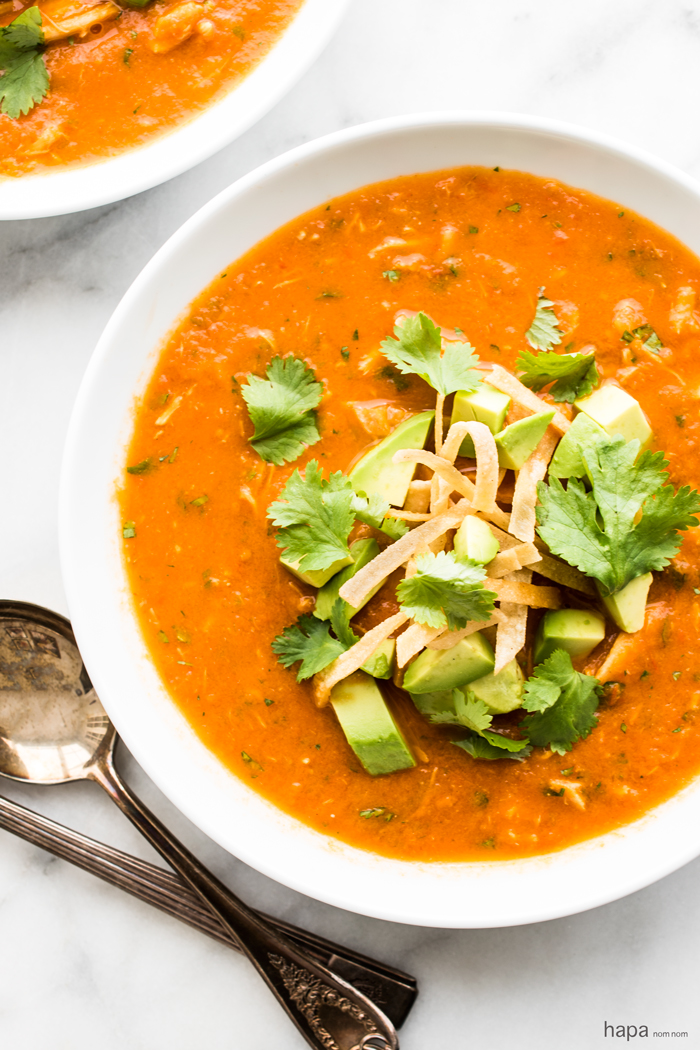 One of the things I love most about this soup, is that it uses fresh tomatoes. So many recipes use canned, and while some brands are excellent, I really love the fresh taste of ripened tomatoes.
Something else I love… using roasted chicken. If I'm making a dish that calls for shredded chicken, my favorite thing to do is pick up a whole roasted chicken from the grocery store. They're often tender, juicy, and totally affordable. And anything that you can use to cut time in the kitchen without sacrificing flavor is always a winner in my book.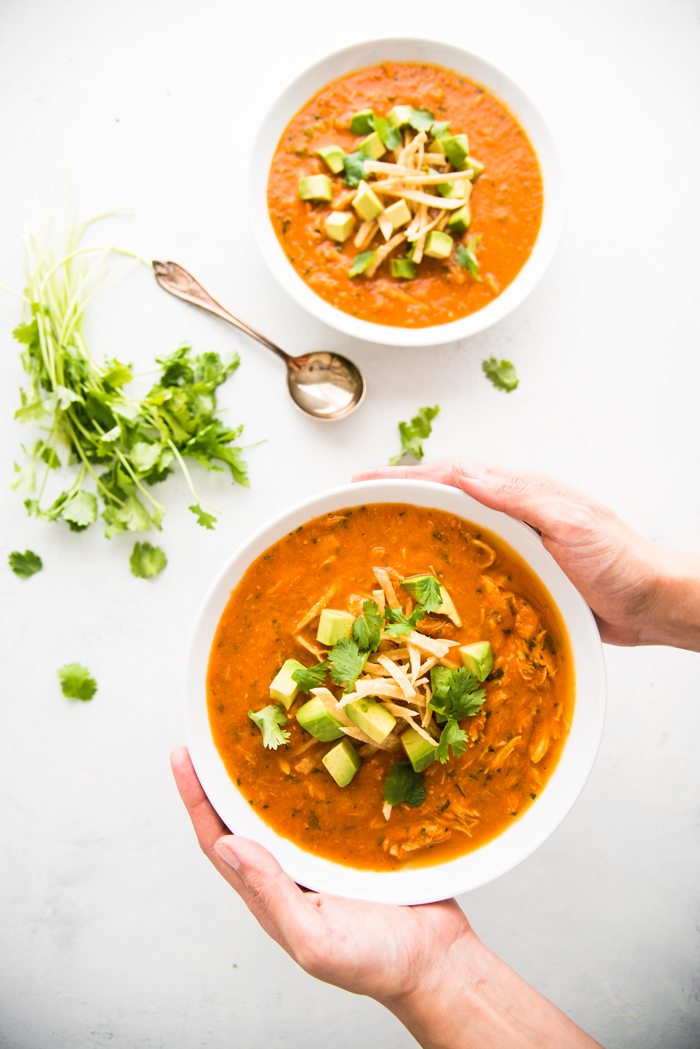 Chicken Tortilla Soup
Author:
Kathleen | Hapa Nom Nom
Prep time:
Cook time:
Total time:
Easy and healthy Chicken Tortilla Soup made with fresh tomatoes and topped with avocado and crispy tortilla strips.
Ingredients
2 tablespoon unsalted butter
1 medium onion, chopped
2 garlic cloves, minced
1 tablespoon paprika
2 teaspoons ground cumin
1 teaspoon ground coriander
½ teaspoon chili powder
¼ teaspoon cayenne pepper (add more if you like spicier)
3 - 4 cups good quality, low sodium chicken stock
10 very ripe Roma tomatoes, roughly chopped
2 bay leaves
½ cup fresh cilantro, chopped
1 roasted chicken, shredded
1 teaspoons Kosher salt
Garnish
1 cup cooking oil
4 (6 inch) corn tortillas, cut into ¼-inch strips
1 avocado, diced
cilantro leaves, chopped
1 lime, cut into wedges
Instructions
In a 6 quart pot over medium heat, melt the butter. Add the onions and garlic sauté until softened, about 5 minutes. Then add the spices and stir to coat.
Raise the heat to high and add 2 cups of the chicken stock. Bring to a simmer and allow to reduce for about 10 minutes.
Add another cup of chicken stock, the tomatoes and bay leaves. Bring to a simmer and cook uncovered for 30 minutes, stirring occasionally.
Remove the bay leaves and using a hand blender or in a food processor, puree the soup until smooth. (If you desire a thinner soup, add the remaining cup of chicken stock until you reach the desired consistency, and bring back to simmer). Add the ½ cup of cilantro, shredded chicken, and salt. Stir and taste. Add more salt, if needed. Turn off the heat and cover while you work on the tortilla strips.
In a large, heavy-bottomed pot, heat the oil over medium-high heat. Once hot, add the tortilla strips and fry for 45 seconds to a minute (the more you fry at one time, the longer it will take). Remove with a slotted spoon and drain on a paper towel.
Divide up the soup among the bowls and garnish with avocado, tortilla strips, cilantro, and a lime wedge. Serve and enjoy!