Everything is just more fun to eat when it's bite-sized. Don't you think? Two little bites. That's all it takes to enjoy these phenomenal Chinese Chicken Salad Mini Tacos.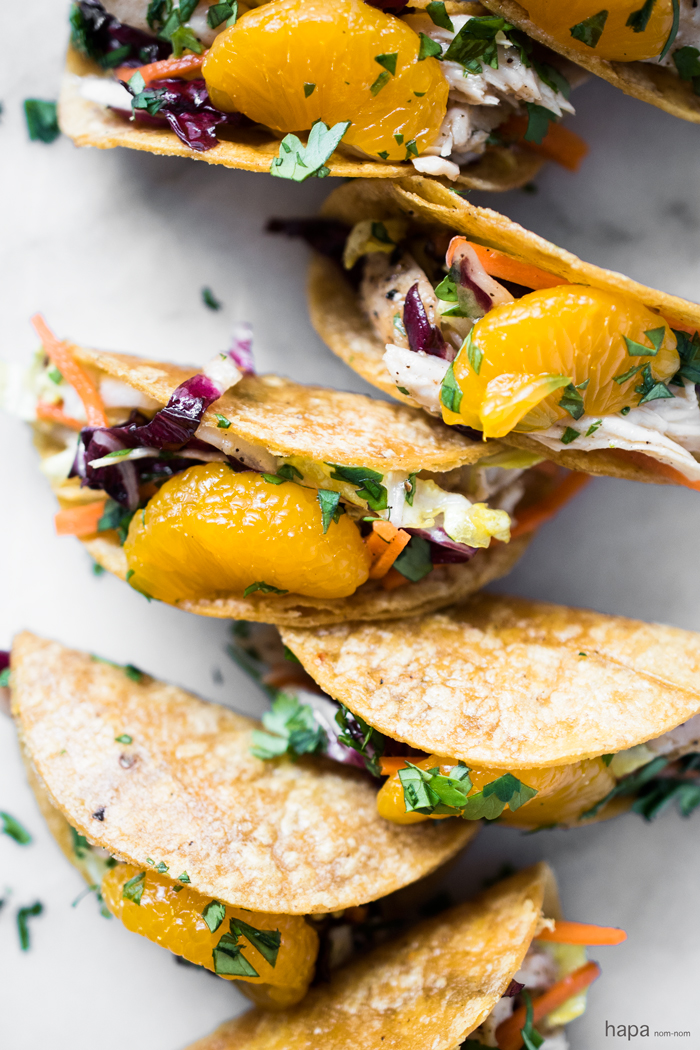 Occasionally I've seen pre-made mini taco shells on shelves at the grocery store. If however, your store does not carry them, don't worry! They are a piece of cake to make! All you need is 3 things – a pack of corn tortillas, a 3-inch cookie cutter, and cooking spray. Oh, and they're baked. Not fried. Double points!

The Chinese chicken salad is actually a bit of a misnomer. It's not at all Chinese, more like Chinese-inspired. The exact origins are debated, though sources mention evidence of it first showing up in the 1930's. Other sources attribute Wolfgang Puck as its creator, as well as Cecilla Chiang – chef and owner of the Mandarin Restaurant in San Francisco.
In addition to the salads ambiguous origins, there are probably as many variations of the recipe as there are American households. Generally a Chinese chicken salad is made with romaine lettuce, cabbage, carrots, chicken breast, fried wontons or rice sticks, and nuts such as almonds or peanuts. A slight difference, I chose to use napa cabbage. Likewise, I added radicchio (which lends a really lovely and subtle bitter taste) and really bumps up the variety of flavors.
As for the crunch factor – the crispy tacos are not only a wonderful vehicle for the chicken salad, but they are also used en lieu of the rice sticks and nuts which are so frequently seen. And let's face it – as I said earlier, mini tacos are just so fun to eat!
Whether you're planning, a party, a small get-together, or just want to make them for your family, these are sure to be a hit! They were certainly popular amongst my husband and I – there wasn't a single one left after they were photographed!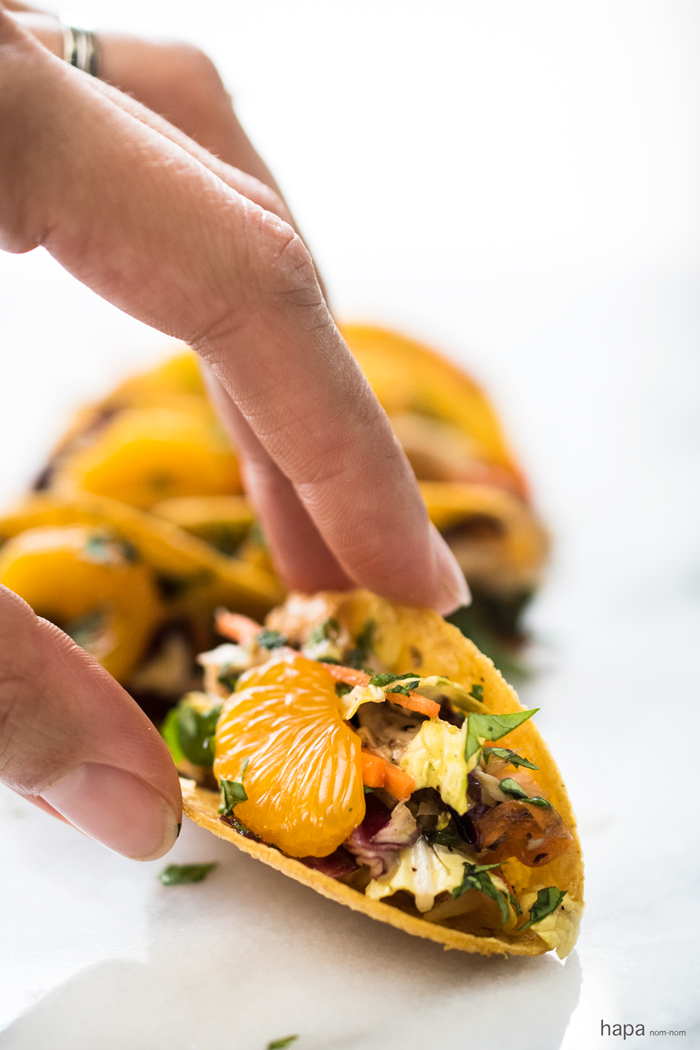 Chinese Chicken Salad Mini Tacos
Author:
Kathleen | Hapa Nom Nom
Prep time:
Cook time:
Total time:
Everything is just more fun to eat when it's bite-sized. Don't you think? Two little bites. That's all it takes to enjoy these phenomenal Chinese Chicken Salad Mini Tacos.
Ingredients
Dressing
¼ cup red wine vinegar
¼ cup grapeseed oil
3½ tablespoon sugar
2 teaspoons kosher salt, plus extra for seasoning the chicken
1½ teaspoon black pepper, plus extra for seasoning the chicken
Mini Tacos
1 package of 30 (6-inch) corn tacos
cooking spray
Chicken
2 tablespoon extra virgin olive oil
1 pound boneless skinless chicken breast*
Salad
3 cups napa cabbage, thinly sliced
2 cups radicchio, thinly sliced
1 large carrot, julienned
3 scallions, thinly sliced
1 11-ounce can of Mandarin oranges
2 tablespoons finely chopped fresh cilantro (optional)
Special Equipment
3-inch round cookie cutter
Instructions
Preheat the oven to 350 F.
To make the dressing, add the red wine vinegar, grapessed oil, sugar, salt, and pepper to a small sauce pan. Over medium heat, stir the contents until the sugar has completely dissolved. Do not let it boil. Set aside and allow to cool.
Stamp out the mini tacos using the 3-inch cookie cutter. (Don't throw the scraps away! You can fry them up in some oil or bake them to snack on later). Working in batches, (about 10 at a time) wrap the mini tacos in a damp paper towel and microwave for 15 - 20 seconds, so that they're pliable. Pull apart and carefully drape each mini taco over every couple of grates in the oven, as in the picture above. Cook for 5 -7 minutes until firm and crispy. Carefully remove the tacos using tongs and set aside to cool. Continue to the prepare the remaining tacos in this fashion.
To make the chicken, warm the olive oil in a saute pan over medium-high heat. Generously sprinkle both sides of the chicken breasts with salt and pepper. Cook 4-5 minutes on each side, or until cooked through. (You may want to pound the chicken breasts prior to adding to the pan so they are the same thickness, this will ensure even cooking). Transfer to a plate and allow to cool. Then shred with a fork and set aside.
In a large bowl, add the cabbage, radicchio, carrot, scallions, and shredded chicken. Toss to combine. Drizzle the dressing overtop and toss again.
Fill each mini taco with the chicken salad, top with a slice of Mandarin orange, and sprinkle with cilantro. Plate, serve, and enjoy!
Notes
* For super fast prep, feel free to shred an already roasted chicken from the store. If using, omit the olive oil used for cooking