Everywhere I look, I'm seeing green. With the abundance of rain we've received recently in the San Francisco Bay Area, all of those brown hills have turned green (50 shades of green as my husband jokes).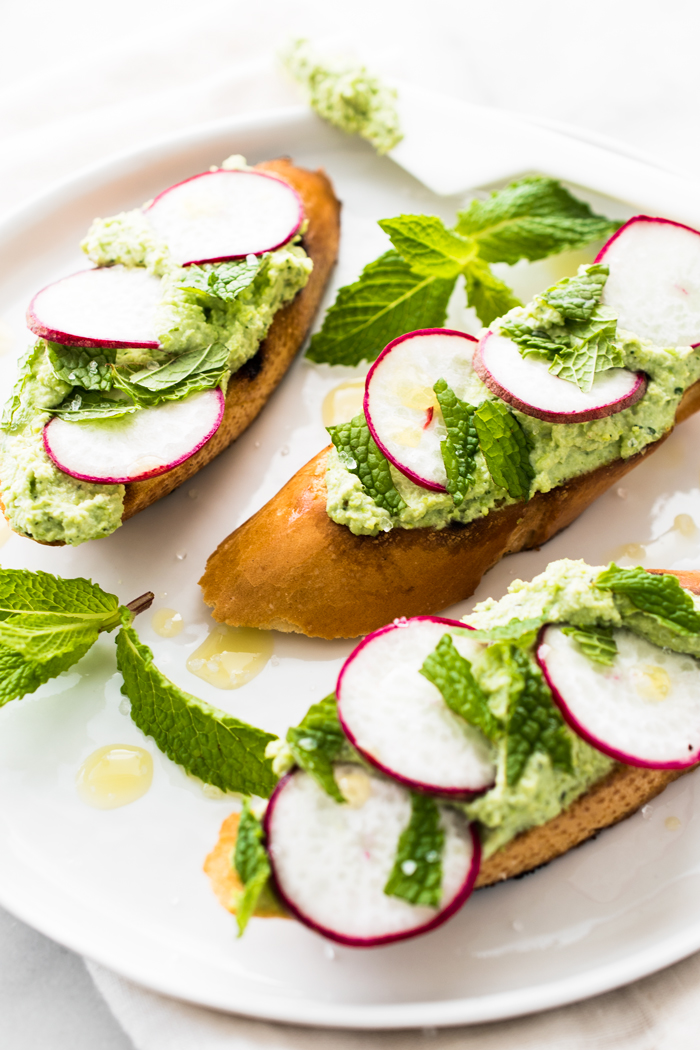 In the morning, the fog hangs around the tops of the hills and it reminds me of the rolling pastures in Ireland. By late morning, the fog lifts, the sun shines, and it's nothing but blue skies. I'm loving this time of year! 
I think spring is quite possibly the most inspirational season for cooking, at least it is for me. Everything is new, fresh, and so vibrant! So this dish is obviously the result of the influencing colors popping up everywhere!
This edamame and ricotta spread is topped with thinly sliced radishes, mint, and sea salt. The combination of flavors are delicate, yet complex – it's certainly not a one note tune. Spread across a perfectly toasted piece of baguette, and you've got one incredible crostini! Oh and did I mention that it only takes about 10 minutes to make?!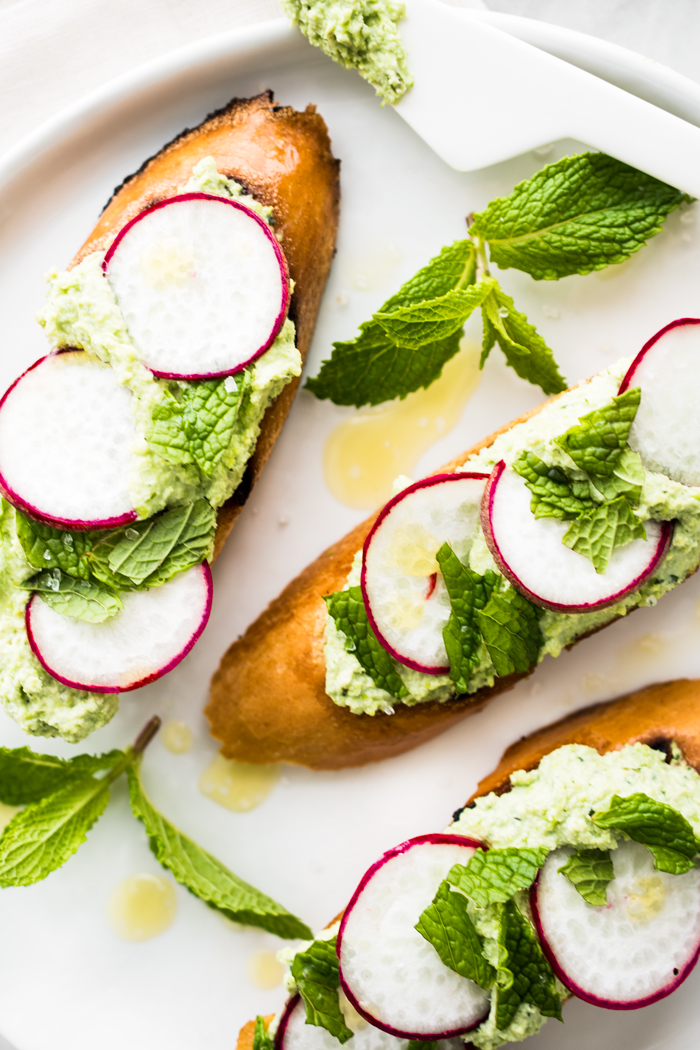 Give the edamame and ricotta dip a try on toasted or grilled bread, crackers, or as a dip for more veggies! 
Edamame and Radish Crostini
Author:
Kathleen | Hapa Nom Nom
Prep time:
Cook time:
Total time:
Edamame & Ricotta spread with thinly sliced radishes, mint, and sea salt on toasted bread. Ready for snacking in about 10 minutes!
Ingredients
16 ounces frozen shelled edamame
8 ounces ricotta
¼ cup extra virgin olive oil + more for brushing the bread
⅓ cup fresh lemon juice
¼ cup fresh mint leaves + more for garnish
1 teaspoon kosher salt
¼ teaspoon fresh black pepper
6 - 8 radishes, thinly sliced
sea salt, for sprinkling
1 loaf of crusty bread, sliced (I used baguette)
Instructions
Defrost the edamame according to the package directions. Add the defrosted edamame, ricotta, ¼ cup olive oil, lemon juice, ¼ cup mint leaves, salt, and pepper to the bowl of a food processor and process to your desired consistency.
Heat a grill pan or heavy bottomed skillet over low heat. While the pan is heating, brush both sides of each piece of sliced bread with olive oil. Working in batches, place the bread in the pan and weigh down with a smaller lid or plate (this is done so that the full surface of the bread comes into contact with the pan). Let the bread sit for 2 - 3 minutes. Remove the lid or plate, flip the slices of bread and place the lid/plate back on top and allow the slices to sit for another 2 - 3 minutes.
Top the toasted slices with the edamame spread, a few sliced radishes, a drizzle of extra virgin olive oil, sprinkle with some torn mint leaves and sea salt. Serve and enjoy!