Grilled lettuce? Seriously!? Is that even possible??  I don't know, it sounds kind of ridiculous.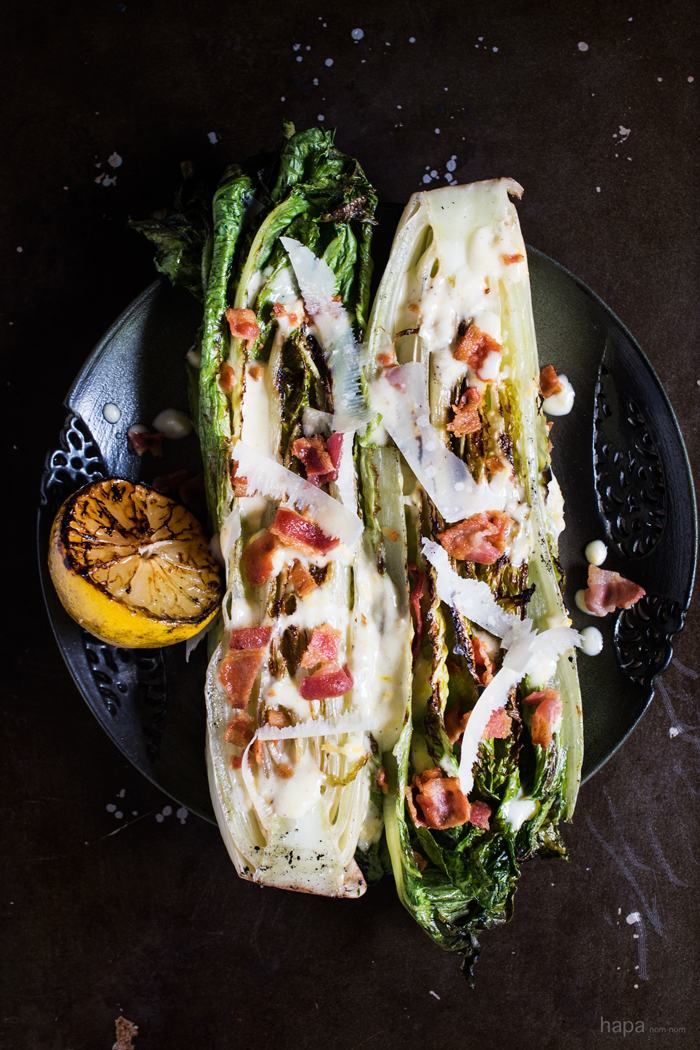 Those were my basic thoughts on the matter several years ago. I recently thought about the prospect of grilling lettuce again, and this time it totally made sense! Westerns generally enjoy lettuce raw, but various Asian cuisines wilt greens in their dishes all the time; is grilling really that much different than in a stir fry or steamed. Well, yes and no. Either way you cook it, the leaves will soften to some degree. However, by grilling the lettuce the core remains crunchy, the leaves become charred and smokey, and the overall dish becomes delicately sweet. It pairs perfectly with the tangy and creamy lemon dressing, and the salty bacon and shaved parmesan.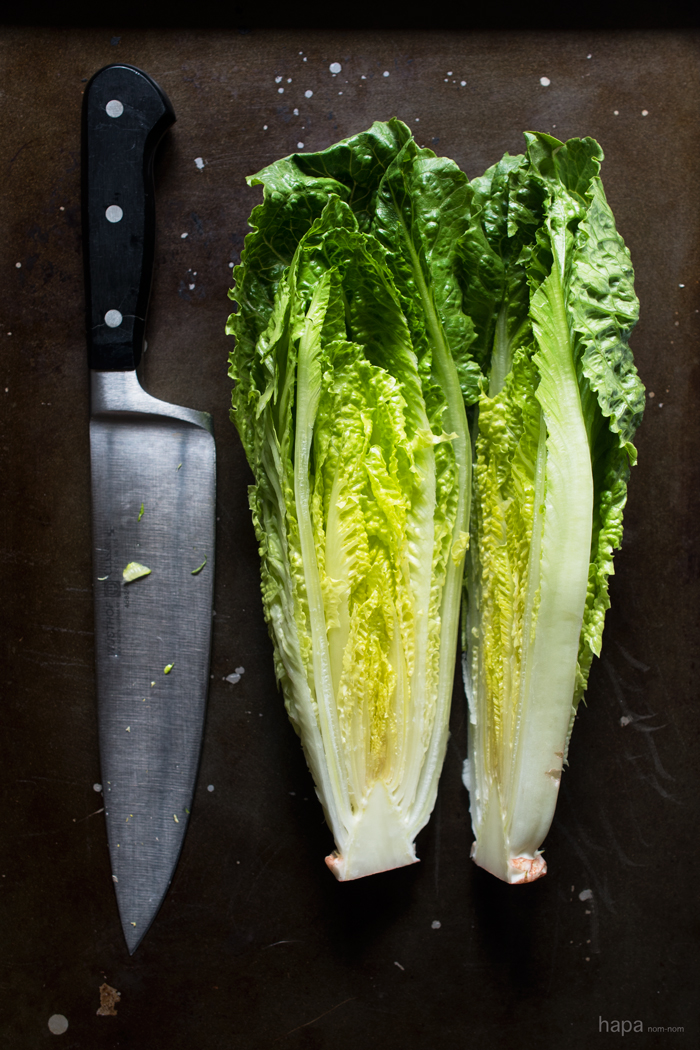 So now that I've hopefully piqued your interest, let me pass along some information that you may find helpful:
Make sure you use romaine hearts or another type of sturdy leafy green. The lettuce needs to hold up while on the grill.
You can cook these in a cast iron skillet, but grilling (in particular charcoal grilling) is the way to go! I've tried this dish both ways, and if you're in a pinch, cast iron will work. However, the grill adds such a wonderful smokey flavor to the dish that the pan just can't do.
Make sure you've allowed enough time for your grill to get plenty hot. You want to be able to lightly char the leaves fairly quickly, while the core remains crispy.
Be sure to brush the romaine hearts with oil to prevent them from sticking to the grill.
Grilled romaine hearts are best eaten warm, so be sure to enjoy them immediately.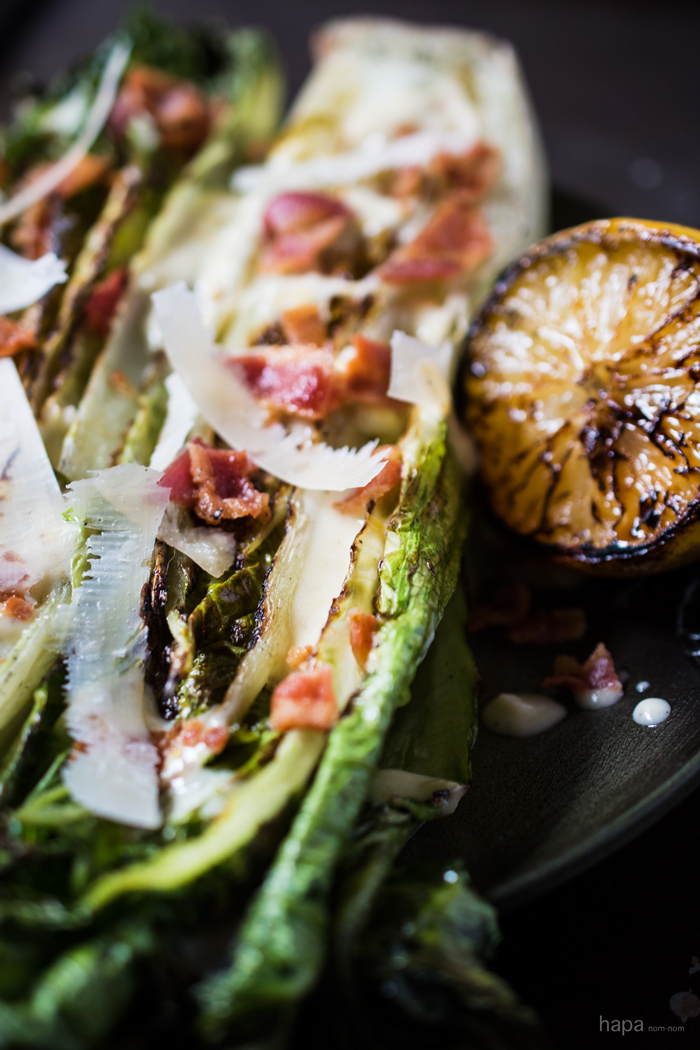 You've got to give this Grilled Romaine Lettuce with Creamy Lemon Dressing a try! The entire dish takes 10 -15 minutes from start to finish, it's so easy to put together, it's budget friendly, and it's bursting with flavor! This is great as a main dish for lunch or as a side when you're out grilling some steaks or burgers this summer.
Grilled Romaine Lettuce with Creamy Lemon Dressing
Author:
Kathleen |HapaNom
Prep time:
Cook time:
Total time:
Ingredients
¼ cup mayonnaise
1 lemon, zested and juiced (2 tablespoons juice)
1 garlic clove, minced
¼ teaspoon kosher salt
freshly ground black pepper, a few cracks
4 slices of bacon
2 romaine hearts
extra virgin olive oil, for brushing
shaved parmesan (garnish)
Instructions
Heat your grill to medium-high if using gas. If using charcoal, build a medium-hot fire. Alternatively, you can heat a cast-iron pan over medium-high heat.
While the grill or cast-iron pan is heating, in a small bowl combine the mayonnaise, lemon zest, lemon juice, garlic, salt, and pepper. Refrigerate until ready to use.
Add the bacon to a cold pan and heat over medium heat. Turning occasionally, cook to your desired crispiness. Once cooled, roughly chop and set aside.
Cut the romaine hearts in half, length-wise and leave the ends intact so each half holds together. Brush the cut side with olive oil. Place the romaine lettuce, cut side down on the grill or cast-iron pan. Cook for 4-5 minutes, turning the halves occasionally (keeping the cut side down), until lightly charred. Remove from the grill and plate cut side up.
Drizzle the grilled lettuce with the creamy lemon dressing, some bacon bits, and shaved parmesan. Serve immediately and enjoy!
PIN!!!!!!