Everyone's heard of grilled cheese, right?  Cheese, sandwiched between two slices of bread and pan toasted with a little butter until the bread is golden-brown and the cheese is melted – grilled cheese.  But have you had cheese that is grilled?  That's right, cheese straight on the grill or in a hot pan that doesn't turn into a gooey mess.  I'm talking about Halloumi.  A Cypriot semi-hard cheese that is brined and made of a mixture of goat's and sheep's milk – it's high melting point makes it ideal for grilling or frying.  If you've never tasted it before, it's as though mozzarella and feta had an incredible baby.  A bit elastic like mozzarella with the salty taste of feta.  Of course, throwing it on the grill adds an entirely new and wonderful dimension of flavor – one that complements perfectly.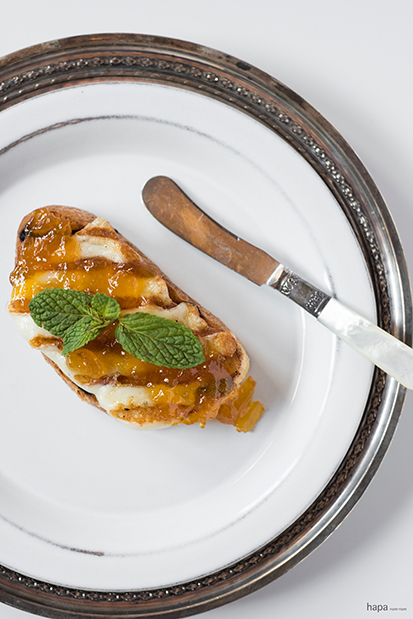 I remember the first time I had Halloumi.  It was at a Greek restaurant in D.C., and it was served on toasted bread and topped with apricot preserves and garnished with freshly chopped mint.  One bite, and I was hooked.  This… was the epitome of grilled cheese!  Crispy bread topped with the grilled and salty goodness from the cheese, sweetness from the preserves, and a pop of brightness from the mint – it… was… incredible!  And… you can make this amazing appetizer (or hell, why not make it an entire meal), in about 10 minutes!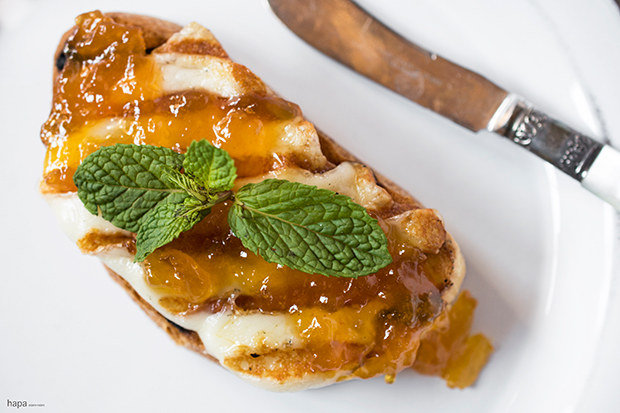 Halloumi can be found in just about any neighborhood with a large Greek population and at most international markets for a reasonable price.  If you don't have one of those stores available to you, I've often found it at speciality cheese shops or at one of those large nationwide organic/gourmet food marts, for a bit more in cost, but totally worth the splurge!

Halloumi Crostini
Author:
Kathleen | HapaNom
Prep time:
Cook time:
Total time:
Ingredients
6½-inch slices of ciabatta or other crusty bread
extra virgin olive oil
1 garlic clove
8 ounces Halloumi cheese, sliced into ¼-inch thick pieces, lengthwise
¾ cup apricot preserves
small bunch of fresh mint, roughly chopped
Instructions
Heat a grill pan or other heavy-bottomed pan over medium-high heat. Brush both sides of the slices of bread with olive oil and toast in the pan until golden-brown and slightly crisp. Remove from the pan and lightly rub both sides with garlic (not too much, raw garlic has a very strong taste). Set aside.
Oil the pan liberally, add the Halloumi to the hot pan, and cook both sides until golden-brown, about 1 minute per side.
Place the Halloumi on the toasted bread. Top with the apricot preserves and chopped mint. Serve immediately. Enjoy!