Introducing my all-time favorite sandwich – Lemongrass Pork Bánh Mì – a Vietnamese sandwich with ingredients rooted in Vietnam and French colonial Vietnam – it's the ultimate fusion food. I could eat these babies morning, noon, and night!  I was visiting our local Bánh Mì shop for lunch like I had a serious addiction.   The place is a hole in the wall (always the best places), barely enough room to walk-in to order, always a line out the door rain or shine, and all they serve is Bánh Mì.  I love the place – but I wanted to make my own. That way no one (except for maybe my husband) would know the extent of my addiction.
Bánh Mì (Pronounced BUN-Mee, means bread). Bread was first introduced by the French during their colonial rule. They also introduced a popular sandwich, generally consisting of baguette, butter or mayo, and pate. The Vietnamese eventually imposed their own influence on the sandwich by adding fresh greens, pickled vegetables (do chua), and spicy chilies. Over the years, and of course depending on the region in Vietnam, it has taken on many different variations, particularly in the protein department. But generally speaking the toppings have remained fairly standard (though cucumbers are often used along with the veggies – something I didn't use in this recipe – but feel free if you like).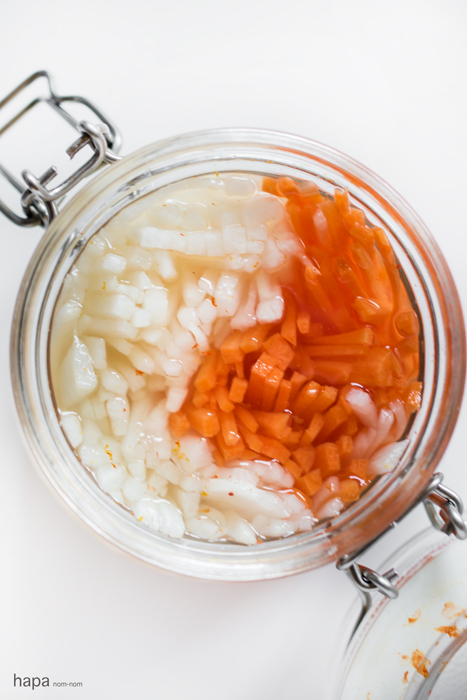 With bread being such an important component to this sandwich, lets take a moment to talk about it. Vietnamese-style baguette generally uses rice flour, helping to make the crust shatteringly crispy and light and airy inside.  Artisan breads are generally no good for this sandwich, as they have a strong, thick crust and chewy interior. You only have to get a few bites in to notice that this type of bread scrapes the roof of your mouth as you eat. If you can find Vietnamese-style bread – get it! If not, you can use a freshly baked French baguette.
The process took a few tests in the kitchen to develop a marinade that I felt had a nice depth of flavor.  After several tries, I found a combo that hit on all of the bright and vibrant flavors in Vietnamese cooking – Yes!  Moist and flavorful pork paired with tangy Do Chua (Vietnamese pickled daikon and carrots), heat from jalapeños, smokiness from Sriracha mayo, and crusty French baguette – it was game on…I knew how to cook my own fix!  So delicious – you've got to try these!
Lemongrass Pork Banh Mi
Author:
Kathleen | HapaNom
Prep time:
Cook time:
Total time:
Grilled Lemongrass Pork with Pickled Veggies, Cilantro, and Sriracha Mayo on a French Baguette make this…your new favorite sandwich!
Ingredients
1½ pounds thin pork loin steak, excess fat trimmed
2 tablespoons sugar
2 tablespoons fish sauce
3 tablespoons low sodium soy sauce
2 garlic cloves, minced
1 tablespoon fresh ginger, minced
1 lemongrass bulb, thinly sliced
2 tablespoons grated daikon
canola oil for cooking
TOPPINGS:
4 mini French baguettes (not too thick/bready). If you can find Vietnamese -style baguette, use that
4 jalapeños, sliced into rings
½ cup mayo
1 tablespoon Sriracha
fresh cilantro
Instructions
Pound the pork loin steaks to ⅛ inch thickness. To make the marinade – add the sugar, fish sauce, soy sauce, garlic, ginger, lemongrass, and daikon to a mixing bowl. Stir to combine. Transfer the marinade to a zip-top back and add the pork. Seal the bag and turn to coat. Refrigerate and allow to marinate for at least 30 minutes.
Combine the mayo and Sriracha in a small bowl. Refrigerate until needed.
Heat a grill pan or other heavy-bottomed skillet over high heat – let the pan get 'screaming' hot. Working in batches, shake off the excess marinade from the pork and cook for 1-2 minutes per side, or until cooked through.
Slice the baguette lengthwise (lightly toast them if they need a little crisping up). Generously slather the Sriracha mayo on the inside. Add the pork and as much of the do chua, jalapeños, and cilantro as you like. Cut in half and enjoy!