Perfect for a bento lunch or picnic – Onigiri (Japanese Rice Balls) are fun and delicious!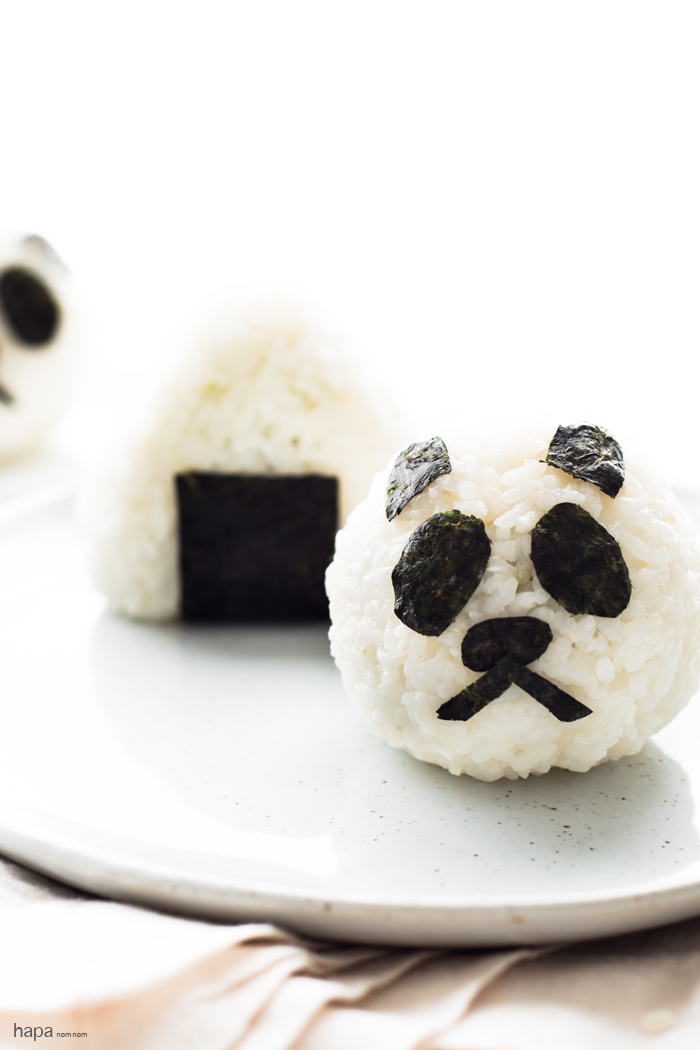 Onigiri is a Japanese rice ball made from good quality white rice.  Often it is wrapped with nori (seaweed) and contains a small filling, though this is not necessary in order for it to be considered Onigiri. Contrary to what one may think, Onigiri is not about the filling, it's all about the rice. Rice being the star, you want to make sure you use Japanese rice, sometimes labeled as sushi rice.  Others types of rice such as long-grain, basmati, jasmine, etc. will not work as well they are not sticky enough to hold together. That being said, in a pinch I have used long-grain rice, and made it work – just make sure you compress well and firmly so it sticks together. 
Now that we've addressed the rice, let's talk for a moment about the filling. Traditionally, Onigiri is filled with pickled plum (umeboshi); dried, fermented, and smoked skipjack tuna (katsuobushi); or any other salty or sour ingredient.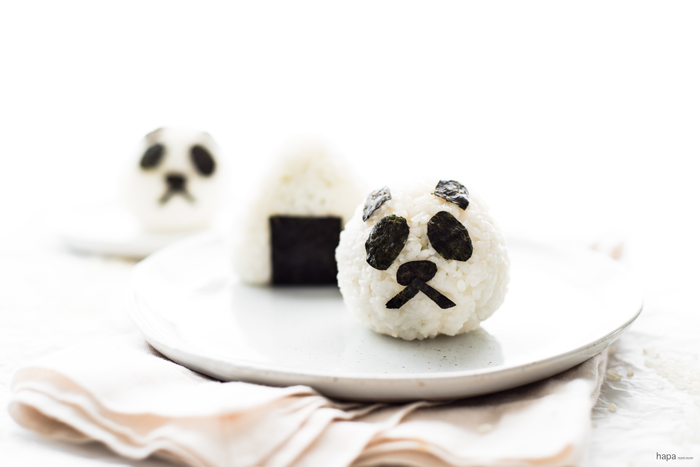 Instead of going traditional, I used lox. Lox, frequently found in a Jewish deli, and not to be confused with smoked salmon, is made from the belly of the fish and salt-cured. A comparable preparation would be gravlax – a traditional Scandinavian method of preparation, the salmon is packed in a salt-sugar mixture, with dill, and sometimes a liquor like akvavit. 
A wonderful compliment to the salmon is avocado – so that was in.  I love the mild flavor of scallions, so that too was in.  Finally, I needed a little umph – wasabi would do just nicely.  The result was fantastic – a perfect blend of flavors!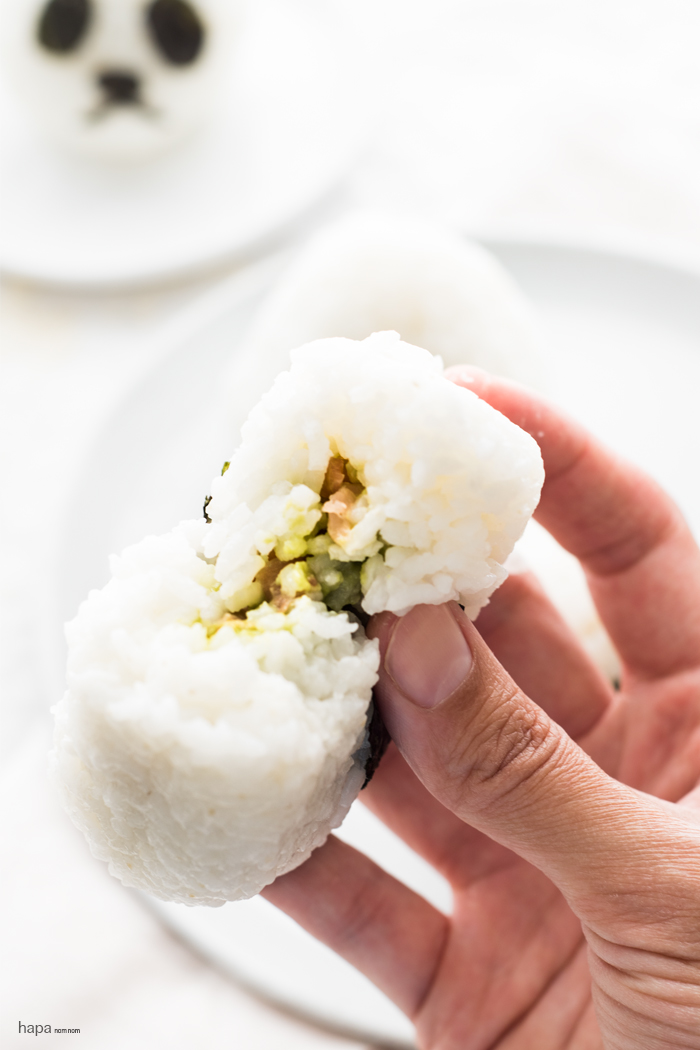 Onigiri
Author:
Kathleen | Hapa Nom Nom
Prep time:
Cook time:
Total time:
Perfect for a bento lunch or picnic - Onigiri (Japanese Rice Balls) are fun and delicious!
Ingredients
1 cup sushi rice
2 ounces lox, roughly chopped
1 scallion, thinly sliced
½ avocado
½ lemon, juiced
1 teaspoon wasabi paste or sauce*
1 - 2 sheets nori
rice vinegar and Kosher salt, for prep
Instructions
Rinse the rice until the water runs clear and drain. Cook in a rice cooker according to the manufactures directions. If you don't have a rice cooker - place the rice into a heavy-bottomed pot. Add 1 cup of cold water and bring to a boil. Cover and cook over moderate heat for 10 minutes. Reduce the heat to low and cover for 10 minutes more. Remove from heat and allow to sit, covered for 10 minutes.
Spread the rice out onto a baking sheet to allow to cool to room temperature.
In a small bowl, mash the avocado and add the lemon juice. Mix well.
Line a small tea cup or small bowl with plastic wrap. Pour a bit of rice vinegar into the bowl, swirl around, and empty. Then sprinkle the inside of the cup with salt, be sure to get the sides. Shake/tap out the excess salt.
Fill up the bowl with approximately ½ cup of rice, do not pack it down. Using a finger wetted with water, poke a hole in the middle of the rice, about half way down in depth. Fill the opening with a little bit of lox, scallion, avocado, and wasabi (about 1 heaping teaspoon of filling in total). You should have a bowl of water nearby for dipping your fingers/hands should you need to handle the rice directly. Wet hands will prevent the rice from sticking to you.
Top with a little more rice and bring up the sides of the plastic wrap, gently press the rice around the filling. Squeeze and twist the plastic wrap around the rice, pushing out any excess air. Continue to firmly press as you twist. You want to make sure that all of the grains of rice stick together including the ones on the interior, so that when you bite into it, it doesn't fall apart.
Begin to shape the onigiri into the desired shape (i.e. a ball or triangle).
Use the nori however you please. You can cut a strip of nori and wrap the bottom of a triangle or cut out shapes to make your favorite animal – have fun with it! (You do not need to wet the nori. It will stick to the rice when gently pressed).
Serve and Enjoy!
Notes
* If you can't find wasabi paste, I have used Kikkomon 'Wasabi Sauce' - it can be found in the condiment aisle in most grocery stores.
* If you plan on saving your Ongiri for a snack, bento box, or picnic, wrap each Onigiri individually in plastic wrap to prevent the rice from drying out. Ideally, you want to eat them the same day they're made. However, if you refrigerate them for the next day you may find that the rice has dried out a bit. In that case, you can bring new life to them by toasting the rice balls in a dry non-stick pan over medium-high heat. Toast until the outside becomes lightly browned and then brush with a mixture of soy sauce and sesame oil.