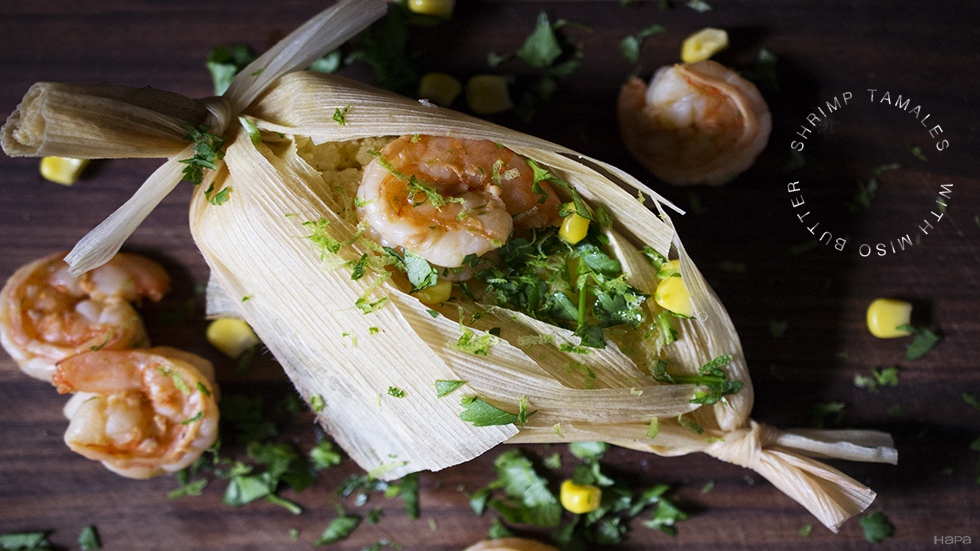 Shrimp and Corn Tamales with Miso Butter.  Why not?!  There are shrimp and grits and I've seen roasted corn recipes with miso butter – so the combination (to me) seemed natural.
Tamales, like dumplings take a bit of work.  And like dumplings, tamales are little packages filled with pure delight and totally worth the effort!  Made with fresh corn instead of instant masa, these tamales are sweet and creamy.  Masa is traditionally made with lard – pure rendered pork fat.  I know the stuff is 'magically delicious' and it does double duty by making nearly all food taste better and it keeps the masa moist, but to be perfectly honest…lard just kind of grosses me out.  Therefore, in place of lard I have used heavy cream.   Before anyone sends an email my way telling me all the wonderful ways lard is used and how heavy cream is not exactly the beacon of health either – I know, I know.  However, if you look up the nutritional content of lard vs. heavy cream – suddenly heavy cream looks like a healthy alternative.
Generally tamales are filled with something like shredded pork.  However, I was thinking the masa fulfills that sweet/savory card and perhaps something lighter and more acidic would compliment some of the heavier components – that's where the soy-citrus shrimp come into play.  They are a perfect counterpoint to the umami rich miso butter and sweet masa.  
Soak the Dried Corn Husks for 2 Hours: 
Weigh Down the Husks with a Plate:
Make the Masa Mixture:
Overlap the Broad Ends of Two Corn Husks: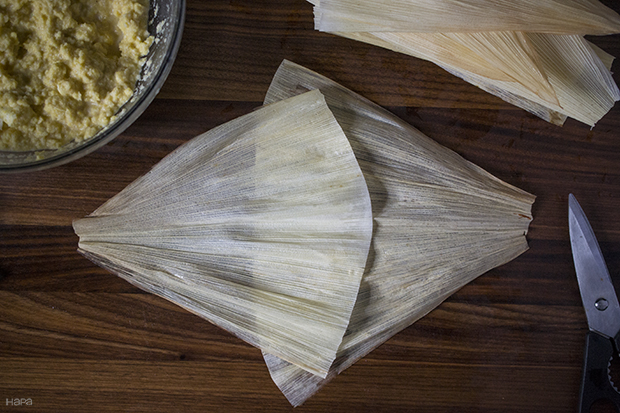 Add the Masa Mixture, Fold the Corn Husk, and Tie:
Trim the Ends of the Husks:
Stand the Tamales Up in a Steamer Pot and Cook for 45 Minutes:
Cook the Shrimp Until Just Cooked Through: 
Open Up the Tamales and Add a Pat of Miso Butter: 
Top Each Tamale with Several Shrimp and Garnish with Cilantro: 
Shrimp and Corn Tamales with Miso Butter
Author:
Kathleen | Hapa Nom Nom
Masa Recipe Inspired from Bobby Flay's Bold American Food
Ingredients
MASA/TAMALES:
30 dried corn husks
2 cups corn, fresh (preferred) or frozen
2 large shallots, quartered
1½ cups chicken stock
¾ cup heavy cream
6 tablespoons unsalted butter, roughly chopped into pea-sized pieces
1½ cups cornmeal
1 teaspoon sugar
⅛ teaspoon ground cayenne pepper
1 teaspoon salt
⅛ teaspoon freshly ground black pepper
MISO BUTTER:
4 tablespoons unsalted butter, softened
2 tablespoon Shiro miso (white miso)
SHRIMP:
1½ pounds shrimp, 41/50 count (medium), peeled and cleaned
¼ cup orange juice, preferably fresh
1 lime, juiced (2 tablespoons) and zested
4 garlic cloves, minced
¼ cup low-sodium soy sauce
2 teaspoons sriracha
1 tablespoon extra virgin olive oil
cilantro for garnish
Instructions
Fill a large bowl with water and add the husks, weighing them down with a plate. Soak for 2 hours or until softened.
In a food processor, puree the corn, shallots, and chicken stock. Transfer the mixture to a large bowl and add the remaining ingredients. Stir well to combine, breaking up the butter with your hands if needed. The mixture will be loose – but don't worry, it will dry out when steamed.
Remove the husks from the water bath, drain and pat dry. Set aside the best 24 husks (they should be large and free of holes) Tear the remaining husks into 1-inch strips – these will be used to tie the tamales.
Take two husks of similar size and lay them on your work surface with the widest parts overlapping approximately 3 inches. Place ⅓ cup of the masa mixture in the center. Fold the long sides of the husks overtop of the masa so that they are overlapping. Tie each end with a strip of husk and then trim the ends ½ an inch past the knot. If some of the masa drips out, don't worry – it will firm up when steamed.
In a steaming pot, arrange the tamales so that they are standing up vertically. Start by placing them around the edge of the pot and then work your way toward the center - you don't want them packed tightly, but it is ok if there is a lot of space remaining in the pot. (If you do not have a steamer pot, checkout Food52.com, How to Hack a Steamer). Cover tightly with a lid and steam over boiling water for 45 minutes.
While the tamales are cooking, make the Miso Butter. Simply add the miso to the softened butter, stir well to incorporate, and refrigerate until ready to use.
About 20 minutes before the tamales are done, start working on the shrimp. Combine the orange juice, lime juice, lime zest, garlic, soy sauce, and sriracha in a mixing bowl. Add the shrimp and marinate for 15 minutes. Heat a large sauté pan over medium-high heat and add the olive oil. Remove the shrimp from the marinade and add to the pan. Tossing frequently, cook for 2-3 minutes, or until just cooked through.
To serve, open up the husk to expose the masa mixture. Add a pat of miso butter, several shrimp, and top with cilantro. Enjoy!