Got leftover spaghetti?  If you're like me, you make enough pasta to feed a small army… there are always leftovers in our house.  Last night I made Spaghetti Agli e Olio – a wonderful dish with a ton of garlic, olive oil, red pepper flakes, and parmesan.  One of my favorite ways to reinvent this dish, is to make Spaghetti Pizza.  Simply add eggs and then sauté until golden brown.  What could be easier than that?!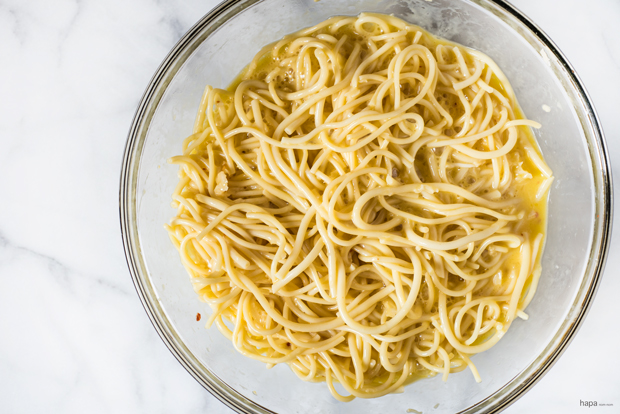 This is not so much a recipe as it is an inspiration – you can use virtually any noodle dish you like and add extra ingredients, such as cheese, bacon, or greens.  If you are using a heavily sauced pasta dish, shake off the excess sauce before adding the egg and sautéing.  Then add the extra sauce at the end to top the spaghetti pizza.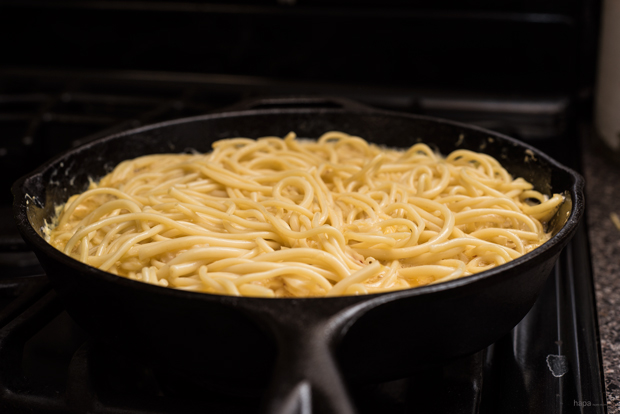 Spaghetti Pizza
Author:
Kathleen | HapaNom
Prep time:
Cook time:
Total time:
Got leftover spaghetti? Make Spaghetti Pizza! Super quick, easy, and totally delicious!
Ingredients
2 cups cold leftover spaghetti
3 large eggs, beaten
Kosher salt
freshly ground black pepper
2 tablespoon unsalted butter
1 tablespoon fresh parsley, chopped
Instructions
In a medium size bowl, combine the spaghetti and eggs. Season with salt and pepper.
Over medium heat, warm the butter in a 10-inch sauté pan. Add the spaghetti mixture, spreading the pasta evenly throughout the pan. Cook until golden brown, about 8 minutes.
Carefully invert the pasta onto a plate. Slide the spaghetti back into the sauté pan to cook the other side, about 6 minutes.
Turn out onto a plate and garnish with parsley. Slice, serve, and enjoy!
Notes
If you are using freshly cooked pasta, allow the noodles to cool before adding the egg - otherwise the eggs will scramble.