For the past week (more or less) you were planning and preparing for the meal of the year.  Now that the dishes are finally washed, tablecloths are clean once again, and your house guests are on their way back home, you're stuck with more leftovers than you know what to do with – for all you know, you and your family will be rehashing variations of Thanksgiving leftovers for the foreseeable future.  So what to do with this new surplus of food? My personal favorite is the turkey panini sandwich.  It's quick, easy, and allows you to savor those wonderful Thanksgiving flavors.  The soft and gooey Fontina, along with the pungent and rich Gorgonzola, pair perfectly with the savory turkey and the sweet/tart cranberries.  It's like a Thanksgiving grilled cheese sandwich – a great comfort dish to relish the holiday.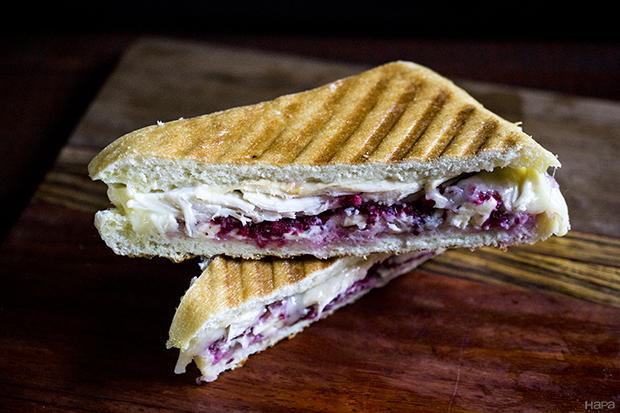 Turkey Panini
Author:
Kathleen | Hapa Nom Nom
This Turkey Panini has soft and gooey Fontina, along with rich Gorgonzola, that pair perfectly with the savory turkey and the sweet/tart cranberries. A perfect dish for your Thanksgiving leftovers!
Ingredients
1 loaf ciabatta bread
6 oz Gorgonzola cheese, thinly sliced or crumbled
6 oz Fontina cheese, grated
8 oz leftover turkey
6 oz leftover cranberry sauce
olive oil for brushing bread
Instructions
Heat the panini press to medium-low. If you do not have a press, simply heat a large heavy-bottomed skillet.
Cut the bread into 4 equal-sized pieces. Slice each piece horizontally and open up each of the 4 pieces of bread.
On one side layer the gorgonzola, turkey, cranberry sauce, and then fontina. Close the panino up and press firmly.
Brush the top and bottom of the panini with olive oil and place the sandwiches in the press and close. Alternatively, if you are using a skillet, weigh the panini down with another skillet on top to press. Cook until the cheese begins to melt and the outside is golden brown, being careful not to burn the bread.
Serve as soon as both sides are crisp and the cheese is melted.