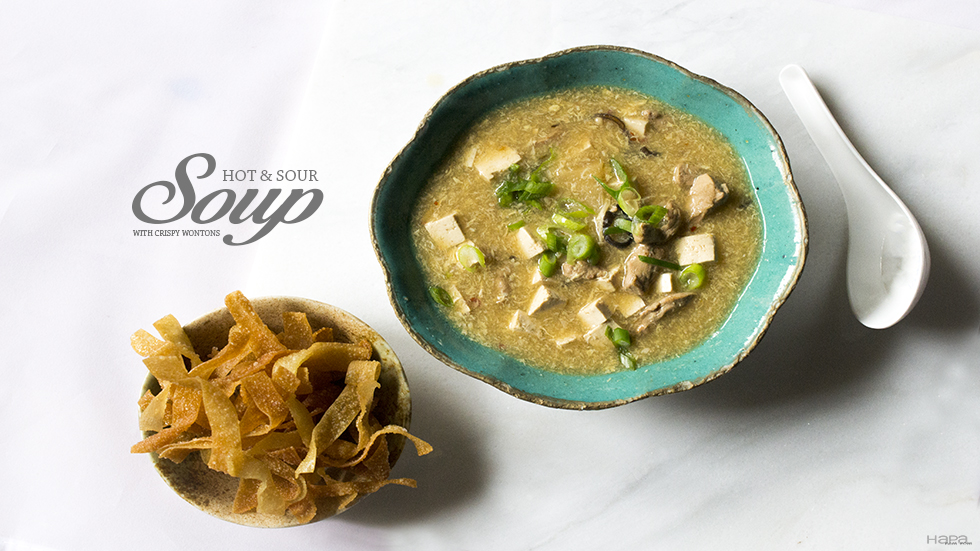 It's been cold, gray, and wet – welcome to winter my friends.  Fortunately, there are a lot of comfort foods out there to warm your soul – one of my favorites being Hot and Sour Soup.  On those special occasions when our family would go out to dinner at our favorite Chinese restaurant (per my previous Dumplings post) my mother would always order Hot and Sour Soup for an appetizer.  As a child, Hot and Sour Soup was always a little too robust for my young tastebuds – I always preferred Dumplings or Wonton Soup to start.  As I got a little older, I really began to enjoy more complex flavor combinations, such as the sour taste of vinegar coupled with the heat from white pepper in this soup.
Some of these ingredients may sound unfamiliar or just be plain difficult to find, particularly the mushrooms.  Feel free to use whatever combination of mushrooms you like.  Likewise, if you can find dried lily buds, pick yourself up a bag – you can (and for more traditional Chinese Hot and Sour Soup, should) use those in place of the enoki mushrooms.  However, this Hapa girl is all about mixing, so I used some non-traditional ingredients while still capturing that wonderful hot and sour taste that I remember so fondly.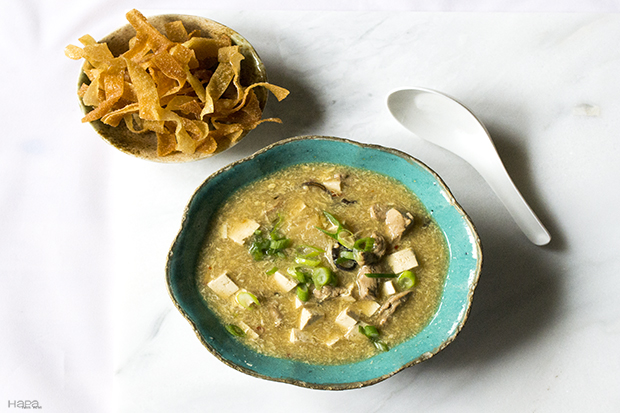 Hot and Sour Soup
Author:
Kathleen | Hapa Nom Nom
Soul warming Hot and Sour Soup with homemade Crispy Wontons. Perfect on a cool day or when you're feeling under the weather.
Ingredients
1 tablespoon vegetable oil
1 pound pork loin, cut into 3-inch x ¼-inch strips
8 cups good quality chicken broth
⅓ cup soy sauce
¾ cup rice wine vinegar
1 teaspoon ground white pepper
8 ounces bamboo shoots, julienned
16 ounces firm tofu, cut into ¼-inch cubes
1 ounce (1/2 cup) enoki mushrooms, bottoms cuts
¾ ounce (1/4 cup) wood ear mushrooms, thinly sliced
¾ ounce (1/4 cup) shiitake mushrooms, thinly sliced
2 teaspoons sesame oil
1 teaspoon red pepper flakes, or to taste
¼ cup cornstarch dissolved in ½ cup water
2 eggs, beaten
Kosher salt
green onions, chopped
6 oz wonton wrappers
vegetable oil for frying
Instructions
Heat the oil in a medium-size skillet over medium-high heat. Add the pork and cook until browned, approximately 3-5 minutes. Remove from heat and drain off any excess liquid.
In a large pot, combine the broth, soy sauce, rice wine vinegar, and pepper.
Add to the pot – the pork, tofu, bamboo shoots, mushrooms, sesame oil, and red pepper flakes. Bring to a boil and then reduce to a simmer. Slowly pour the cornstarch mixture into the soup, stirring constantly until the soup has thickened, about 3-5 minutes. Return the soup to a boil and then turn off the heat.
Stirring the soup in a circular motion, slowly drizzle in the beaten eggs. You want the eggs to form wispy strands, not clumps.
Add salt if needed.
Serve hot and garnish with sliced green onions and crispy wonton strips.
Cut the wonton wrappers into ¼-inch strips. Be sure to pull all of the strips apart so they will not stick when frying.
In a skillet over medium-high heat, add enough oil to cover ¼-inch of the bottom. Occasionally test by sprinkling a few drops of water in the oil, if it sizzles, the oil is hot enough. Just to be sure, I always like to use one tester wonton strip before adding the rest. The temperature should be approximately 375 degrees F.
Add a handful of the wontons to the oil and begin to stir immediately. Gently splash some of the oil on the tops of the wontons to ensure that they are fully cooked. Once they start to turn a pale golden brown (about 1 minute), scoop them out using a spider or slotted spoon. Remember the wontons will continue to cook once out of the oil so pull them out before you think they are done.
Serve with the Hot and Sour Soup.