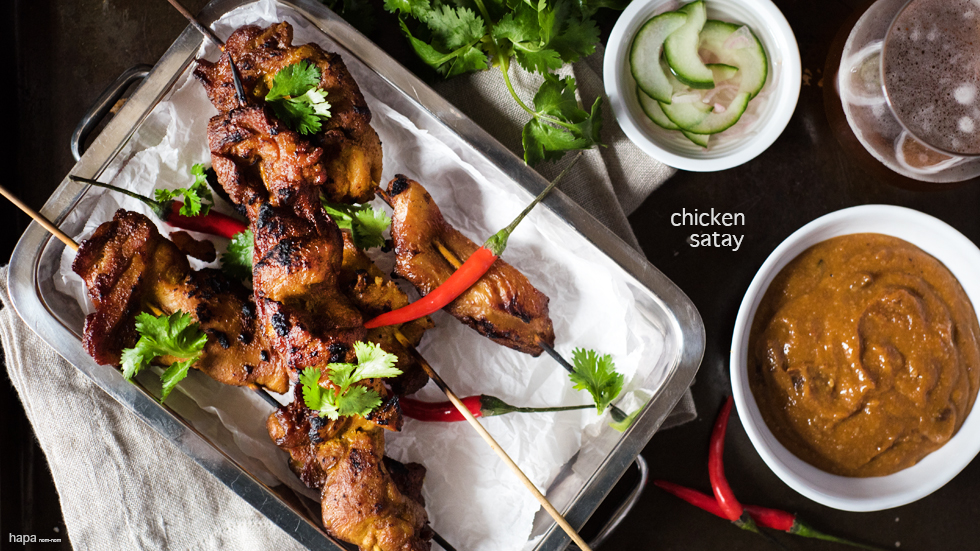 There are some dishes that are just worth the extra time and energy…Chicken Satay is one of them.  Don't be seduced by the idea of shortcuts by using peanut butter instead of freshly ground peanuts,  or pre-made satay sauce that comes in a jar…there is satay and then there is satay.  Likewise, don't be deterred by the long list of exotic ingredients or time devoted to creating this dish, because it is all worthwhile.  Moreover let's be honest, meat on a stick when done right, is an amazing thing – let's not screw it up by cutting corners.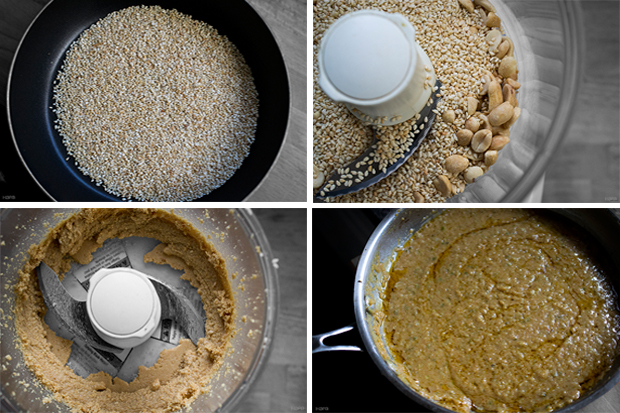 So what is satay?  Simply put, satay is skewered, barbecued meat originating from Southeast Asia and often served by street cart vendors.  You may be wondering how street food can be served to the masses when I just went on about the labor involved.  Yes, the prep work can be time consuming – except the ajad, which is very quick and easy to make – everything can be prepared ahead of time and like most things, once you know what you're doing, things move pretty quickly.  So, whether you make it all at once on the day you want to serve it, or prepare it the night before for an event, this satay will be sure to impress.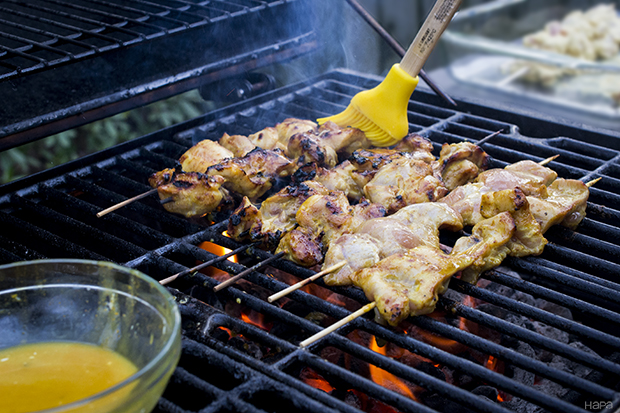 If you're anything like our household, you'll scarf this one down and there won't be anything left. However, if you do have leftovers, try making a Chicken Satay Pizza – it's one of our favorite dishes ever!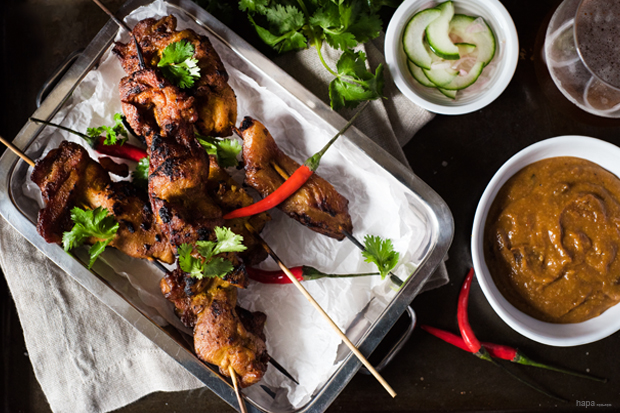 Chicken Satay
Ingredients
MARINADE INGREDIENTS:
20 skewers
1 stalk lemongrass, tough outer layer removed, bulb thinly sliced
1 – 14 ounce can coconut milk – unshaken, cream only
¼ cup low sodium soy sauce
½ teaspoon salt
1 tablespoon light brown sugar
1 teaspoon turmeric powder
1½ teaspoons curry powder
1 teaspoon baking soda
2 pounds boneless, skinless chicken thighs, pounded ¼ inch thick, and sliced into strips
BASTING LIQUID INGREDIENTS:
Remaining coconut liquid from the satay marinade
1 tablespoon sugar
½ teaspoon salt
1 teaspoon turmeric powder
ADJAD INGREDIENTS:
½ cup white vinegar
½ teaspoon salt
¼ cup sugar
½ cup thinly sliced cucumber
¼ cup sliced shallot
2-3 fresh Thai chile peppers, thinly sliced
PEAUNT SAUCE INGREDIENTS:
4 Thai chiles
1½ tablespoons galangal paste*
1½ tablespoons thinly sliced lemongrass – cut from the bulb
5 Thai basil leaves*, fresh
2 tablespoons shallot, thinly sliced
4 cloves garlic
1 teaspoon shrimp paste*
¼ cup white sesame seeds, toasted
¼ cup dry roasted peanut
1 cup coconut milk, shaken
1 tablespoon red curry paste
¼ cup sugar
2 tablespoons fish sauce
1 tablespoon tamarindpaste*
Instructions
MARINADE DIRECTIONS
Soak the skewers in baking dish filled with water.
To make lemongrass water, place the thinly sliced lemongrass in a small bowl, then pour ½ cup boiling water over it and allow to steep.
Open the unshaken can of coconut milk and spoon out the cream only (the cream sits at the top ¼ portion of the can - the relatively clear liquid below is the coconut water. Leave the coconut water for the basting liquid).
To a large bowl, add the coconut cream, soy sauce, salt, brown sugar, turmeric, curry, and baking soda. Add 4 tablespoons of the lemongrass water and stir well to combine and then add the chicken, turning to coat. Allow to marinate for an hour.
BASTING LIQUID DIRECTIONS
In a small bowl, combine the coconut water leftover from the marinade, sugar, salt, and turmeric. Stir well and set aside.
AJAD DIRECTIONS
In a small saucepan over medium heat, add the vinegar, salt, and sugar. Stir until dissolved and then remove from heat to cool.
Thinly slice the cucumber, shallot, and Thai chile peppers. Add to the liquid mixture just before serving.
PEANUT SAUCE DIRECTIONS
In a food processor, puree the Thai chiles, galangal, lemongrass, Thai basil, shallot, garlic, and shrimp paste. If you would like a smoother sauce, finish by using a mortar and pestle, although this is not necessary. Set the ingredients aside in a bowl separate from the food processor.
Wipe out the bowl of the food processor and add the toasted sesame seeds and dry roasted peanuts. Puree until creamy.
In a large pan over medium heat, sauté the Thai chili puree and the coconut milk. Stir constantly until fully incorporated. Then add the sesame seed and peanut mixture. Finally, add the red curry paste, sugar, fish sauce, tamarind paste, and stir well. Pour off any excess oil if desired and set aside.
GRILLING THE CHICKEN SATAY
Heat your grill to 500 degrees F.
Thread the chicken onto the skewers, working the skewer in and out of the meat, down the center.
Once the grill is ready, oil the grates with canola oil.
Place the chicken skewers on the grill and baste with the basting liquid. Turn and baste the other side. Continue to turn and baste constantly until the chicken is cooked through, approximately 10 minutes.
Serve the satay with the peanut sauce and ajad. Enjoy!
Notes
SUBSTITUTIONS:

Galangal - There is really no good substitute for galangal, so first try the international produce aisle of your local grocery store, organic food mart or Asian food store. If it is nowhere to be found, it can be purchased online.

Thai basil leaves – try a farmers market, one of those high-end grocery stores, or Asian food store. If you cannot find Thai basil, you may substitute sweet basil – just add a few more leaves to the recipe as Thai basil is stronger and spicier than traditional basil.

Shrimp paste – I have only seen this ingredient in International/Asian markets…are you seeing a theme here? However, if you cannot find shrimp paste, simply add the equal measurement in fish sauce. Most local grocery stores with an international aisle will carry fish sauce. However, in a pinch you may substitute soy sauce – although, the dish may taste a bit weak.

Tamarind paste – Like the shrimp paste, I have only seen this in International/Asian markets (if you can't find it in a jar, check the frozen food section). I have seen the pods in my local grocery store, although with its very hard and sticky seeds trying to make them into a paste using a mortar and pestle turned out to be quite the kitchen disaster. As a substitute, I have used ¼ orange juice mixed with 2 tablespoons lime juice, which yielded good results. Simply use a 1:1 measurement as called for in the recipe.