My husband and I go out to brunch every Sunday.  The best meal ever created – brunch is a delightful hybrid of  breakfast and lunch, and is often served well into the afternoon (great for those of us who like to catch up on sleep on the weekends or perhaps when we 'tied one on' the night before).   Any meal that allows you to drink before noon without judgment is ok in my book.  Of course, now that we've moved to Atlanta, we have to wait until 12:30 to get our cocktails with our Sunday brunch.  Until recently, you weren't able to purchase alcohol at any time on Sundays, and to me, brunch without cocktails is almost a meal not worth having.  I said, "almost"…but I digress.  This post is about a wonderful Chorizo Torta, not my drinking habits.
A Torta is much like a Mexican Hoagie; however, with the addition of a fried egg, we've made it into a brunch item. Add a healthy slathering of Sriracha aioli, and we've put a little Hapa spin on things.  Serve with your favorite brunch cocktail – as my mother once said, "Mimosas and Bloody Marys are socially acceptable before noon."  I am my mothers daughter after all…
Prep Your Veggies:
Slice the Bread:
In a Skillet, Cook the Chorizo: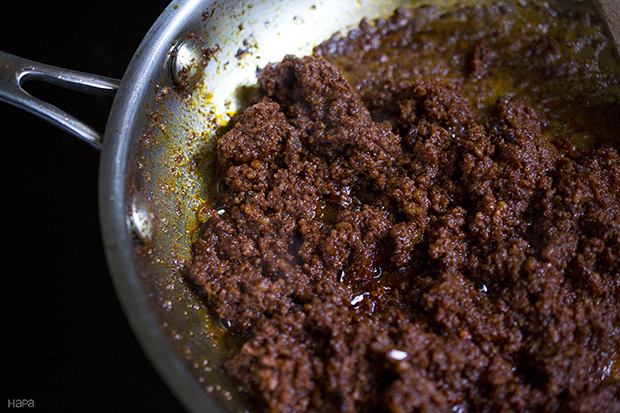 In a Non-Stick Pan, Gently Fry the Eggs:
Assembly the Tortas:
Serve Opened-Faced with the Top of the Roll on the Side:
CHORIZO TORTA INGREDIENTS: serves 4
2 Tbs vegetable oil
1/2 lb pork chorizo, casings removed
2 large ripe tomatoes, sliced
1 large Hass avocado, sliced
2 jalapeños, seeded and sliced
2 cups lettuce
1/4 cup fresh cilantro
4 large eggs
prepared sriracha aioli
4  bolillo rolls or a soft baguette, split
DIRECTIONS:
In a large skillet over medium-high heat, heat 1 Tbs of oil.  Add the Chorizo, breaking up any lumps with your spoon and cook until the meat is browned all the way through, approximately 10 minutes.  Transfer the Chorizo to a paper towel or colander to drain off any excess fat.
In a non-stick skillet set over medium-low heat, warm 1 Tbs of oil.  Add the eggs – this is a gentle process, so if the oil starts to spit, the oil is too hot, turn down the heat immediately.  Cook until the tops of the whites have set, but the yolk is still runny.  Sprinkle with salt a pepper to taste.
Brush the inside of each roll with a generous amount of  sriacha aioli.
Using the bottom of the rolls layer the chorizo, vegetables, and top with a fried egg.
Serve with the top of the roll on the side of the plate so your guests will see the bright and beautiful ingredients.