These Thai Style Hot Dogs are a fantastic twist on an American classic – topped with a cool papaya salad, crunchy peanuts, and spicy Sriracha. 
Alrighty folks, dust off those grills and breakout those tongs – Memorial Day weekend is just a few days away! With the start of summer, everyone's got to have a great hot dog recipe and this one's certainly not your average dog. 
Some people top their hot dogs with coleslaw, but a green papaya salad topping adds some really unexpected and wonderful flavors! Popular in Thailand and other Southeast Asian countries, it combines all the 5 flavors – salty, sweet, bitter, sour, and umami. The salad is traditionally mixed and pounded with a mortar and pestle to release all of those wonderful flavors and juices. But I've found that as you're tossing the salad at the end, you can simultaneously pound the ingredients with your tongs and get a similar effect.
Additionally,  green beans are typically used in this dish; I love green beans and would use them in this salad under normal circumstances, but I felt that they may be a bit fibrous in this particular application as a hot dog topping.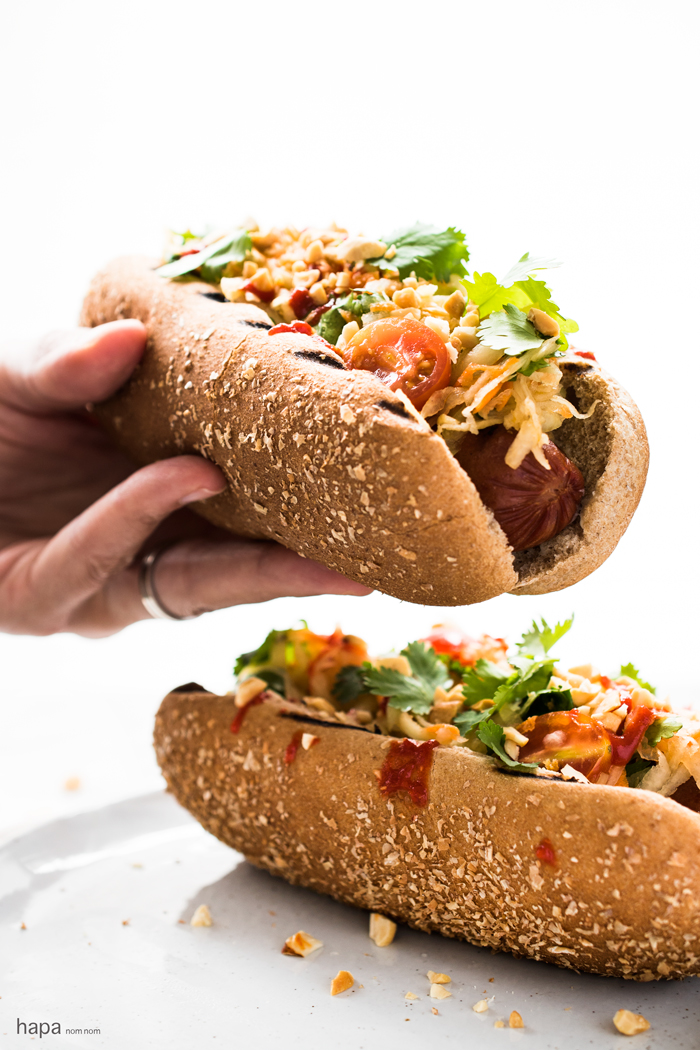 The combination of flavors from the papaya salad pairs beautifully with the juicy hot dogs. Take one bite and you'll have a full-flavor experience worthy of any barbecue this summer! 
Thai Style Hot Dogs
Author:
Kathleen | Hapa Nom Nom
Prep time:
Cook time:
Total time:
These Thai Style Hot Dogs are a fantastic twist on an American classic. Topped with cool papaya salad, crunchy peanuts, and spicy Sriracha.
Ingredients
Papaya Salad
2 tablespoons fresh lime juice
1½ tablespoons fish sauce
1 ½ tablespoons brown sugar
1 tablespoon dried shrimp*
1 - 2 Thai chilies, seeded and sliced*
1 small green papaya*
1 medium carrot, shredded
1 clove garlic, minced
10 grape tomatoes, halved
Hot Dogs and Toppings
8 all-beef hot dogs
8 hot dog buns
mayonnaise, for slathering on the buns
Sriracha, for drizzling
½ cup cilantro, torn
¼ cup peanuts, roughly chopped
Instructions
To make the papaya salad, combine the lime juice, fish sauce, brown sugar, dried shrimp, and chilies in a small bowl. Stir to combine and using the back of a spoon, press the dried shrimp and chilies against the sides of the bowl to release the flavor and heat. In a large bowl add the shredded papaya, carrot, garlic, and tomatoes. Pour the sauce over top and toss well to combine. As you're tossing, pound the ingredients of the salad a bit to release the flavors and juices.
Heat a grill to medium-high. Cook the hot dogs until you get those beautiful grill marks, turning occasionally, about 4 - 5 minutes.
Add the buns, open side down. Cook until lightly toasted, about 30 seconds.
To assemble - place the hot dogs in the buns, slather with mayonnaise, papaya salad, Sriracha, torn cilantro, and peanuts. Serve immediately and enjoy!
Notes
* A package of dried shrimp can be found at an Asian grocery store. I highly recommend using it as it adds some fantastic flavor, but if you cannot find it, you may omit it.
* If you can't find Thai chilies (aka birds eye chilies), you can use 1 serrano pepper.
* Sometimes you can find pre-shredded papaya; in that case you want about 2 cups. If you cannot find it shredded, simply peel and shred using the large holes of a box grater. Papaya contains hard, round seeds - just shred the fleshly part of the papaya and when you get close to the seeds, move to another part of the papaya.