Two favorites, wrapped into one delicious little package. I'm talking about lox in the form of a summer roll. Don't let name fool you – no matter the season, summer rolls make a fantastic light lunch or healthy snack.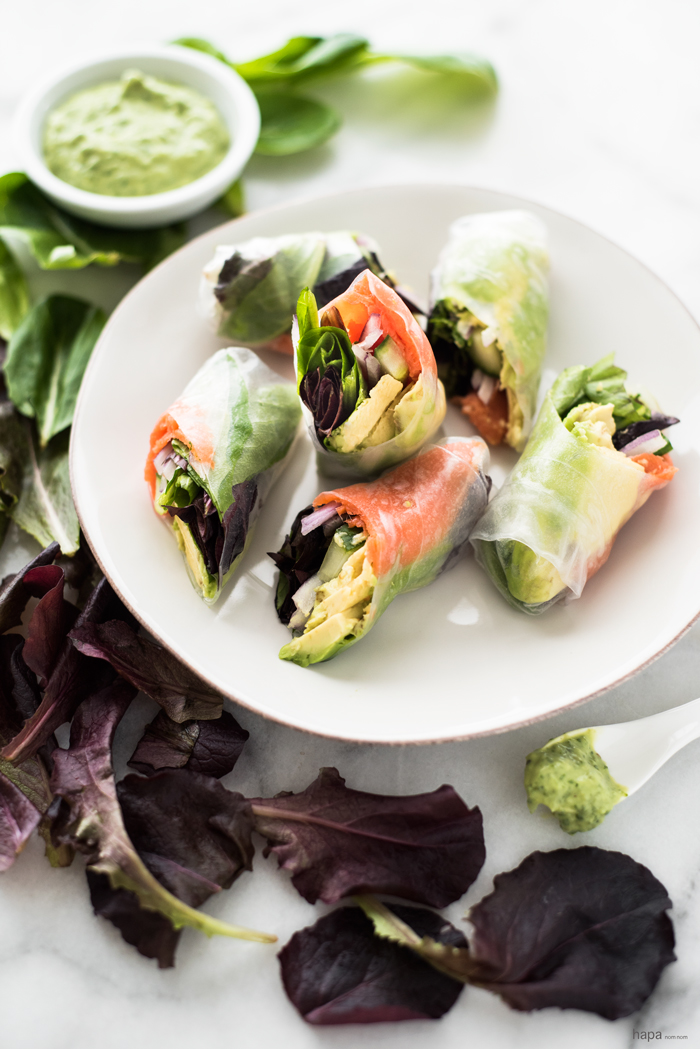 Lox, often found in a Jewish deli, and not to be confused with smoked salmon, is made from the belly of the fish and salt-cured. A similar preparation would be gravlax – a traditional Scandinavian method of preparation, the salmon is packed in a salt-sugar mixture, with dill, and sometimes a liquor like akvavit. Either one would be fine for this application.
Summer rolls are traditionally made with vermicelli noodles and a protein such as shrimp or pork. However, summer rolls are wonderfully adaptable, so you can tailor them to basically whatever you like.  With this particular recipe, it's a bit of Jewish deli meets Vietnam. 
Working with the rice paper wrapper takes a little practice, so try to have a sense of humor if you're trying this for the first time.  It doesn't take long to get the feel for it, just remember a few important things like:
If you're working on a porous surface, like a wooden board, lightly wet the surface.  Otherwise the wrapper will stick to the surface.
Don't soak the wrappers for too long. Just a few seconds will do, and it should still be pretty firm when you transfer it to the work surface (the wrapper will continue to soften as you add the filling).
Layer the filling so that the softer ingredients are on the outside. This will prevent the corners of the harder ingredients from poking holes in the wrapper.
After a little practice, you'll be cranking out these little beauties!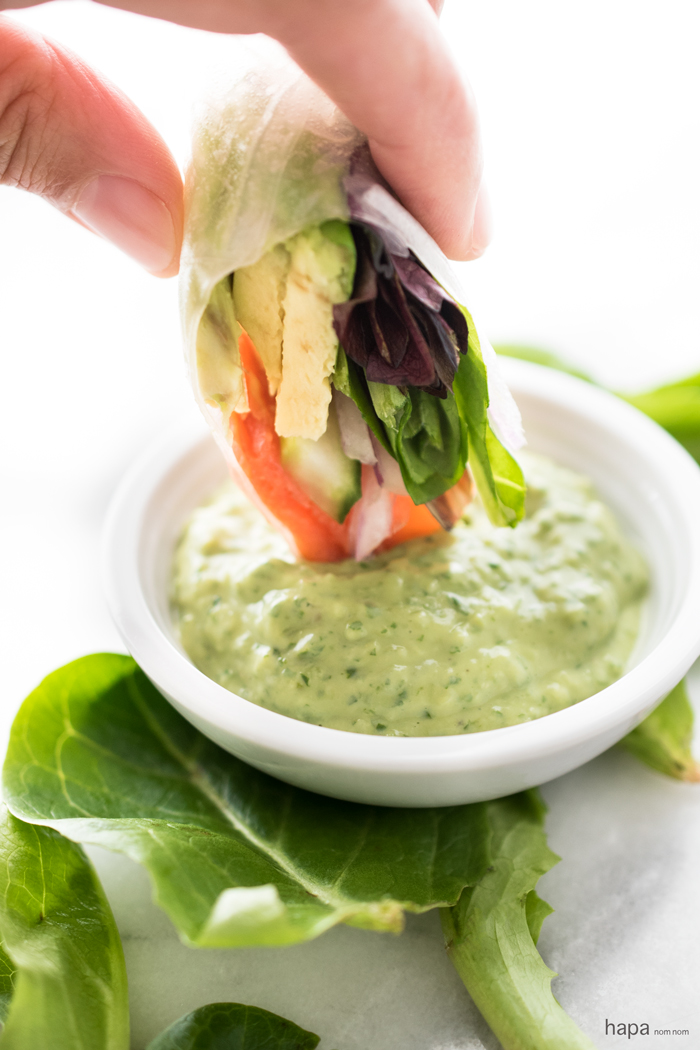 Lox Summer Roll with Avocado-Lime Dipping Sauce
Author:
Kathleen | Hapa Nom Nom
Recipe type:
Appetizer/Entrée
Ingredients
Avocado-Lime Dipping Sauce
¼ cup greek yogurt
½ and avocado
½ cup fresh cilantro
1 lime, zested and juiced
1 jalapeno
1 tablespoon fresh mint, roughly chopped
¼ teaspoon Kosher salt
freshly ground black pepper, to taste
Lox Summer Rolls
4 rice paper rounds
1 large Hass avocado + the remaining half from the dipping sauce
3 ounces lox
2 ounces cucumber, seeded and cut into sticks about 5 inches in length
2 ounces red onion, thinly sliced
a few sprigs of dill
1 cup lettuce (I used mixed greens)
Instructions
In the bowl of a food processor, add all of the ingredients for the Avocado-Lime Dipping Sauce. Puree until smooth and add additional salt and pepper if needed. If you'd like the dipping sauce to be a little looser, just add a little water until you get the desired consistency.
Fill a large bowl with room temperature water. Working with one rice paper wrapper at a time, dip it into the water so the entire round is submerged. As soon as you have wet the entire round, remove it from the water and lay it on your work surface (the rice paper wrapper will be fairly stiff, but it will continue to soften as you work).
Arrange some of the avocado slices in the center bottom ⅓ of the wrapper. Then top with the salmon, cucumber, red onion, dill, and lettuce.
Fold each side of the wrapper over the filling. Then roll up from the bottom, while using your fingers to compress the filling into the wrapper - roll tightly.
Slice in half, serve with the Avocado-Lime dipping sauce and enjoy!