This Chorizo Torta is perfect for breakfast for brunch. It's quick, easy, and totally delicious!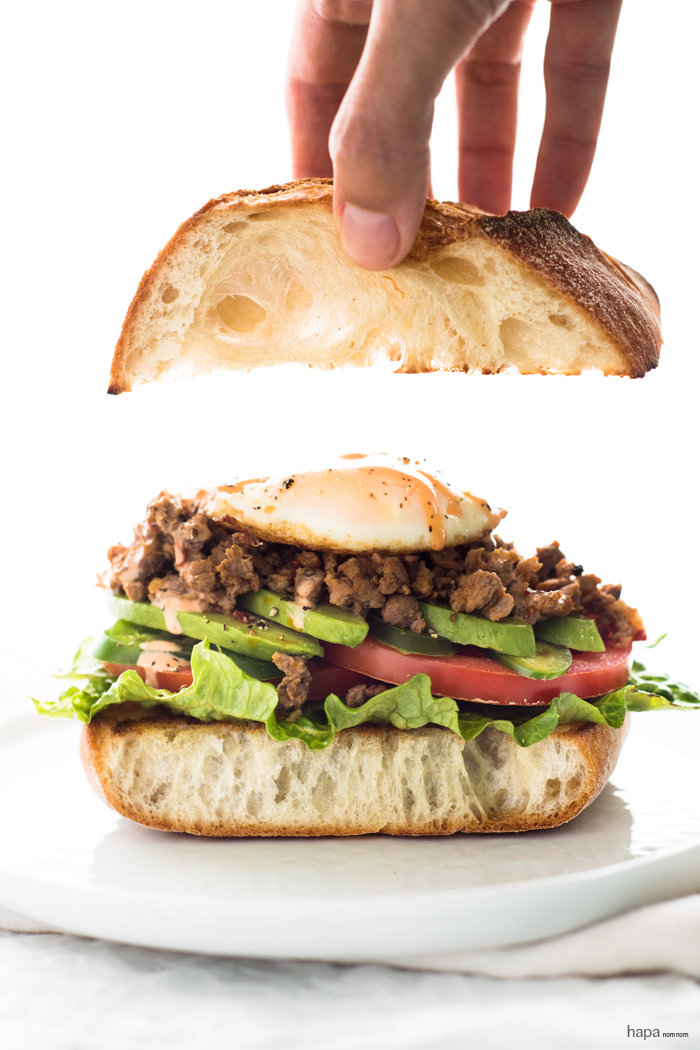 My husband and I go out to brunch every Sunday.  The best meal ever created – brunch is a delightful hybrid of  breakfast and lunch, and is often served well into the afternoon (great for those of us who like to catch up on sleep on the weekends or perhaps when we 'tied one on' the night before).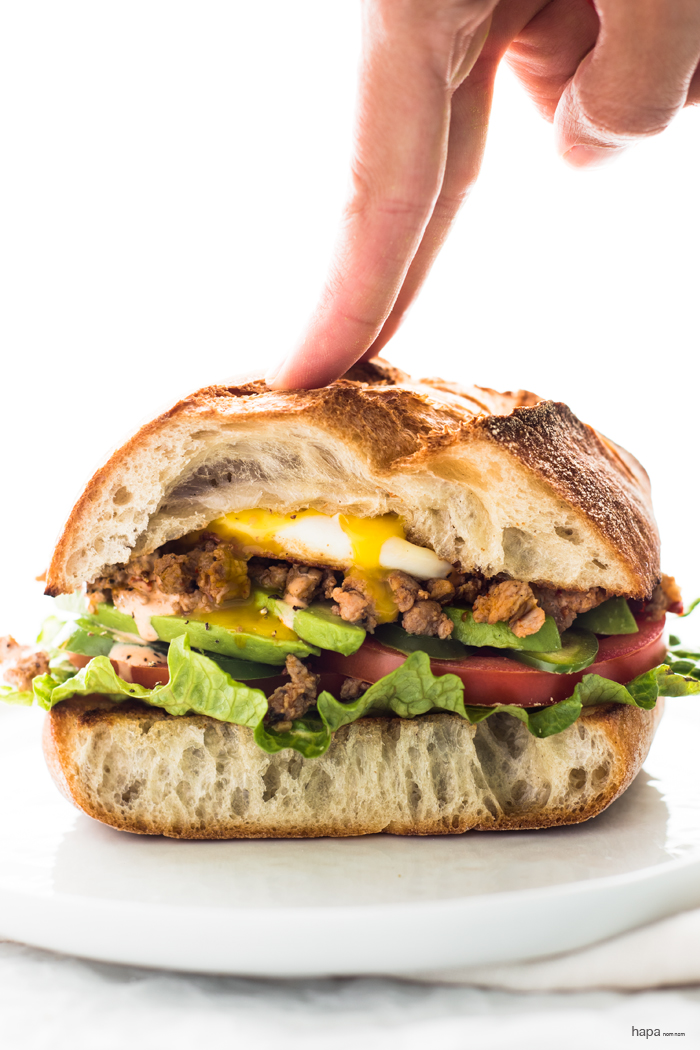 Any meal that allows you to drink before noon without judgment is ok in my book.  Of course, now that we've moved to Atlanta, we have to wait until 12:30 to get our cocktails with our Sunday brunch.  Until recently, you weren't able to purchase alcohol at any time on Sundays, and to me, brunch without cocktails is almost a meal not worth having.  I said, "almost"…but I digress.  This post is about a wonderful Chorizo Torta, not my drinking habits.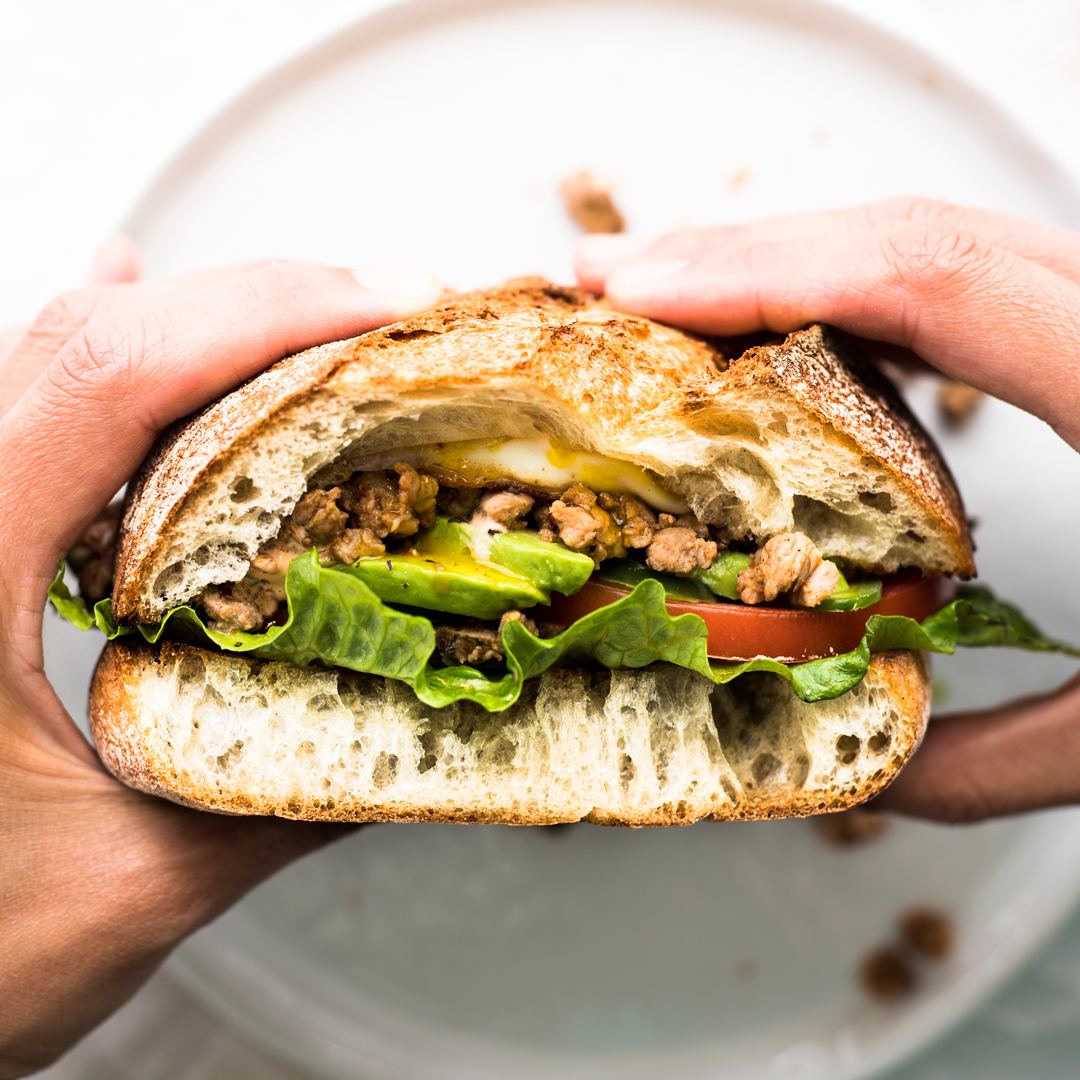 A Torta is much like a Mexican Hoagie; however, with the addition of a fried egg, we've made it into a brunch item. Add a healthy slathering of Sriracha aioli, and we've put a little Hapa spin on things.  Serve with your favorite brunch cocktail – as my mother once said, "Mimosas and Bloody Marys are socially acceptable before noon."  I am my mothers daughter after all…

Chorizo Torta
Author:
Kathleen | Hapa Nom Nom
Recipe type:
Breakfast, Brunch
Prep time:
Cook time:
Total time:
This Chorizo Torta is perfect for breakfast for brunch. It's quick, easy, and totally delicious!
Ingredients
½ pounds pork chorizo, casings removed
4 ciabatta rolls, split
2 large ripe tomatoes, sliced
1 large Hass avocado, sliced
¼ cup pickled jalapeños
2 cups lettuce
1 tablespoon unsalted butter
4 large eggs
½ cup mayonnaise
1 tablespoon Sriracha
Instructions
Heat a large skillet over medium-high heat. Add the Chorizo, breaking up any lumps with your spoon and cook until the meat is browned all the way through.
Pour off the excess fat from the cooked chorizo, but leave a tablespoon in the pan. Add the sliced bread, cut-side down and toast until lightly browned.
In a non-stick skillet over medium heat, add the butter. Once the butter has melted, crack the eggs into the skillet and immediately cover the pan with a lid. Cook until the egg white is cooked through and the egg yolk is barely set, approximately 5 minutes.
While the eggs are cooking, prepare the Sriracha aioli by mixing the mayonnaise and Sriracha in small bowl.
Brush the inside of each roll with a generous amount of Sriracha aioli.
Using the bottom of the rolls layer the vegetables, chorizo, and top with a fried egg.
Serve immediately and enjoy!
Notes
If the rolls are particularly bready, or you just want to create a pocket for your ingredients to sit in, simply scoop out the inside of the bread leaving just the crust.