I don't remember the first time I saw someone dipping strips of toasts into runny eggs, but I've always had the notion that this was a very special dish.  It's like a ritual – tapping a spoon all the way around the egg, removing the top, and dipping the first soldier into the middle and watching the yolk spill out over the sides. There's an almost meditative process to eating Dippy Eggs with Soldiers.  It is a fairly quick breakfast to make and consume, but this isn't something you just shovel in your mouth and run out the door. For me, it's best enjoyed when you have a quiet morning, time to sip on a hot cup of joe, and read the newspaper (old school or digital).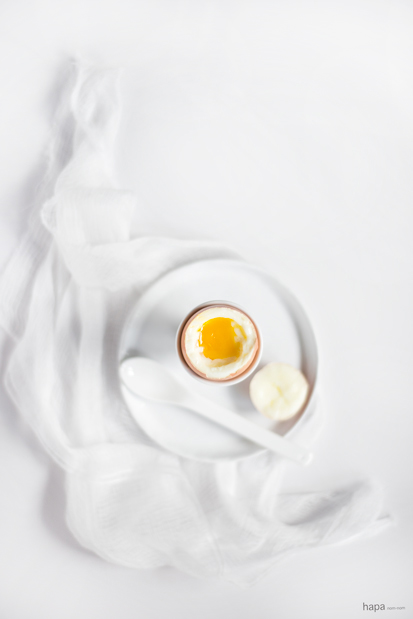 If you're not familiar with the term "soldier," as it refers to breakfast, Wikipedia has defined it as:
A British term that refers to a piece of toast cut into thin strips reminiscent of the formation of soldiers on parade. The toast is sliced in this manner so that it can be dipped into the opening of a soft boiled egg that has had the top of its shell removed. Another belief for the origin of the name is from the childhood rhyme "Humpty Dumpty". The bread refers to the soldiers who went to rescue Humpty Dumpty when he had his "great fall."

Quite often the simplest dishes are the best.  They can also be the easiest to flub.  There are various schools of thought on how to make the perfect soft boiled egg, but I've found that if you follow a few easy steps you get a perfect egg every time:
Make sure you lower the boiling water to simmering before you add your eggs – a hard boil may cause your eggs to collide and crack.
Cool down the eggs in a water bath immediately after you remove them from the hot water.  This will halt the cooking process.
USE A TIMER!  It's so easy to let an extra 30 seconds slip by, and when you're making soft boiled eggs, 30 seconds can be the difference between perfectly runny yolks and one that is too firm for your liking.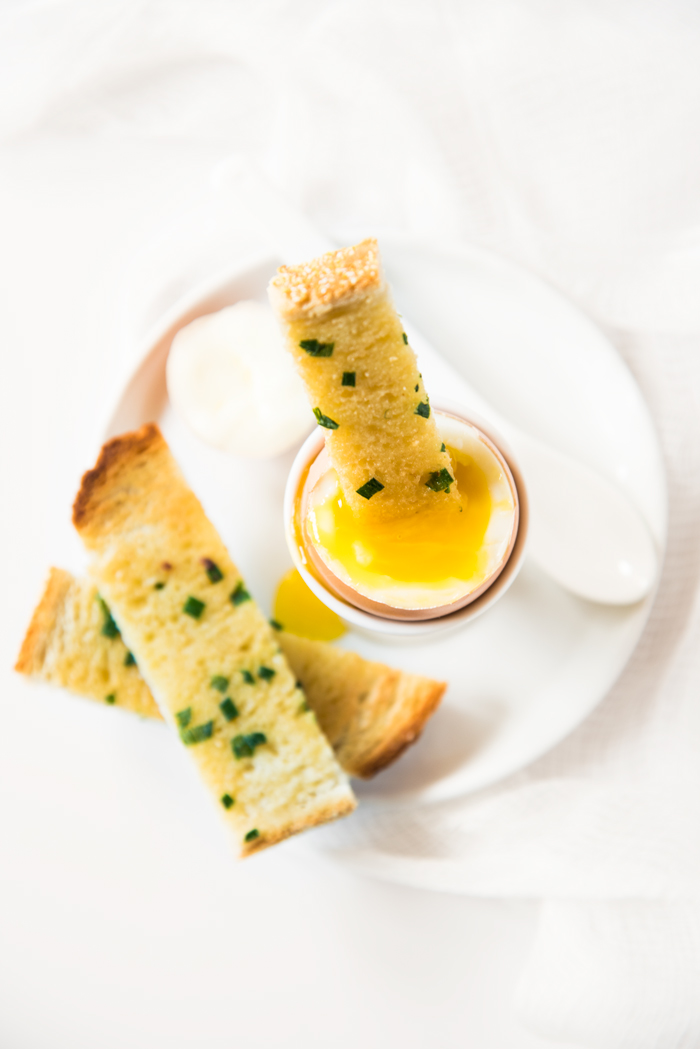 When choosing your bread, pick whatever kind you like best for toast.  The soldiers are generally served with a smattering of butter spread over top or even nothing at all.  Never leaving well enough alone, I've put a Japanese twist on this British classic by adding miso to the butter.  I then mixed it with some ground mustard to give it some kick and fresh chives for just a hint of onion.  Spread on the soldiers it complements perfectly with the rich and creamy egg yolk. These Dippy Eggs with Soldiers will be your old-new favorite lazy day breakfast.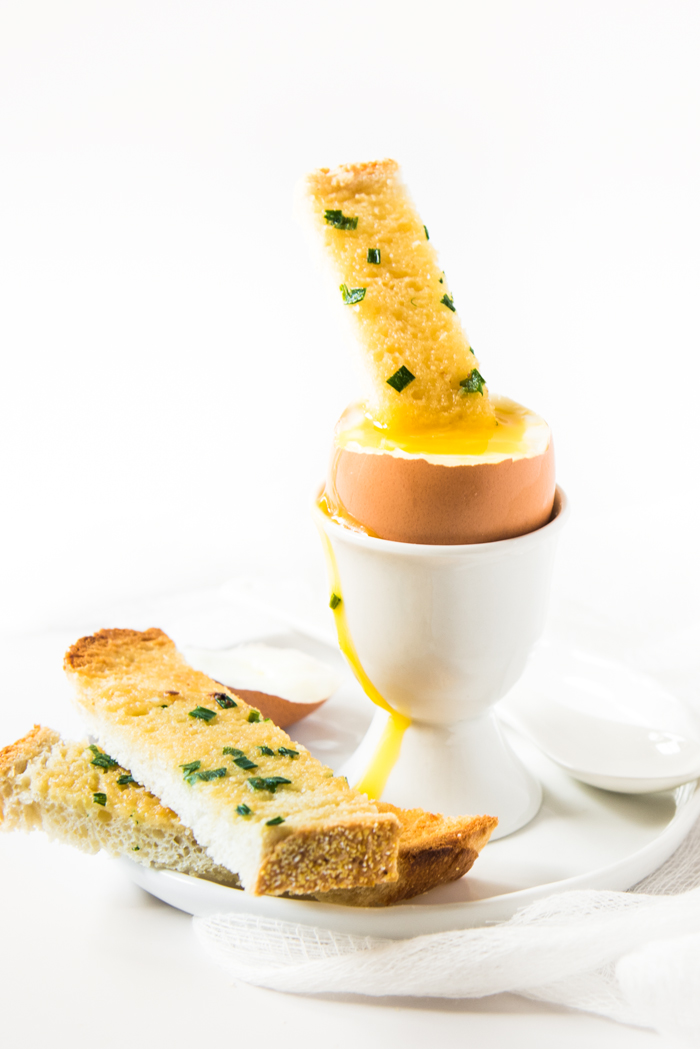 Dippy Eggs with Toast Soldiers
Author:
Prep time:
Cook time:
Total time:
Ingredients
1/4 cup (1/2 stick) unsalted butter, softened
1/2 teaspoon ground mustard
1 teaspoon shiro miso (white miso)
2 teaspoons fresh chives
kosher salt, if needed
4 eggs, room temperature
4 slices of bread
Instructions
In a small bowl, add the softened butter, ground mustard, and miso. Whip together until fully incorporated. Fold in the chives until evenly distributed. Taste and add salt to taste, if needed.
Bring a large saucepan filled halfway with water to a boil. Decrease the heat to a simmer and gently lower the eggs into the water one at a time, using a spoon. Cook for 5 – 7 minutes, depending on your egg yolk preference (I like my egg yolk runny, so I go with 5 minutes).
While the eggs are cooking, toast the bread. Slather with the butter mixture and slice into strips.
Prepare a bowl of cool water. Drain the eggs and gently add the eggs to the water to stop the cooking process. Once cool enough to handle, remove the eggs from the water. Serve immediately with toast soldiers.
To eat – using a spoon, tap the top of the egg all the way around and peel the shell. Scoop and dip the toast soldiers into the yolk. Enjoy!
Notes
If you don't have a soft boiled egg cup, don't worry! A shot glass works well. Or you can just peel the entire egg, slice it on a plate and then dip your soldiers.