Create crispy Sweet and Sour Chicken at home. It's SO easy!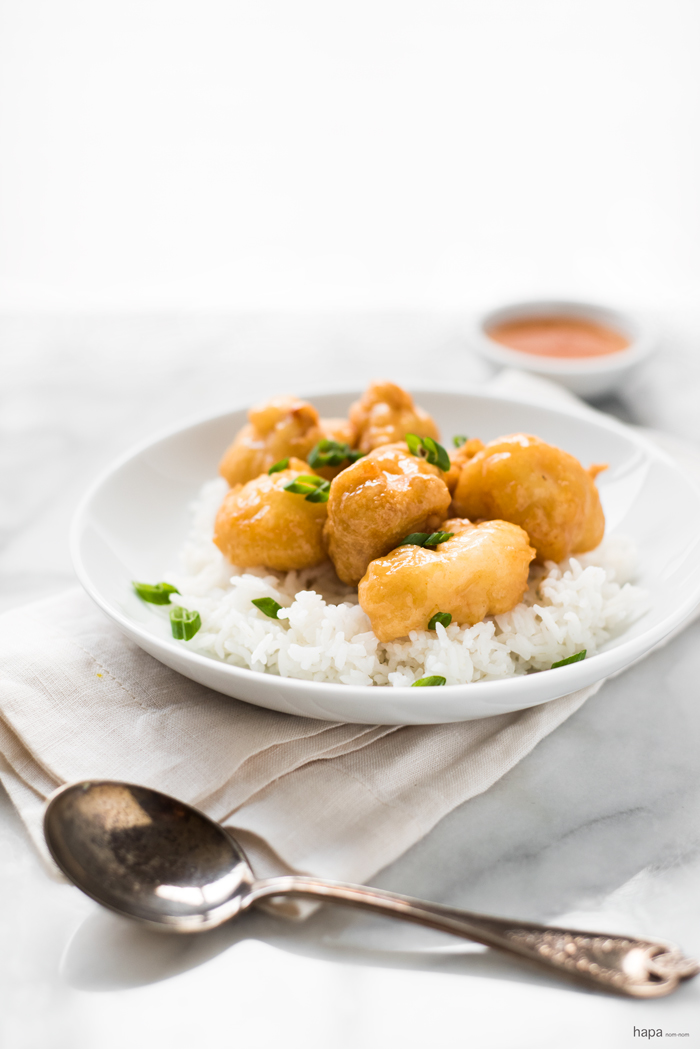 Sweet and Sour Chicken has been a longtime childhood favorite.  Though that statement comes with a caveat.   All Sweet and Sour Chicken is not created equal and depending on the restaurant, the quality can vary greatly. Certain types of expedient Chinese food establishments often produce a plate that contains far more batter than tasty chicken, and the sauce is some unholy conglomerate of what looks like corn syrup and red food dye.  I don't know about you, but personally I like my food to resemble something from whence it came.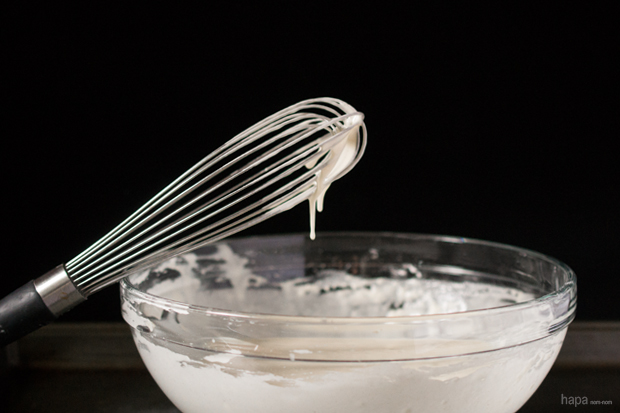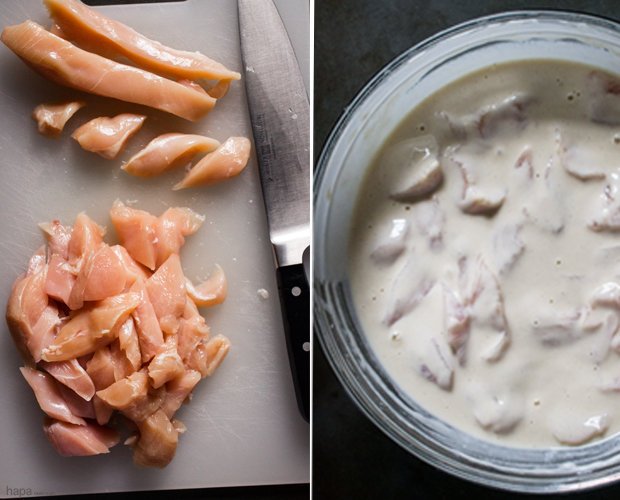 There are generally two different methods to breading the chicken for this dish. There is the 'fried chicken' approach, where the breading is created by dredging the chicken in egg whites and flour.  A perfectly acceptable way to make Sweet and Sour chicken.  However, I prefer to dip the chicken into a mixture that resembles a pancake batter. The thick coating with the baking powder really puffs up when cooked, creating a thick, crispy coating, while keeping the chicken moist and tender.
Sweet with a bit of tang, this sweet and sour sauce contains no food dye or fruit punch.  A quick simmer on the stove of oranges, lemons, and ginger create the base; while vinegar is added for zip, a little ketchup for color and added sweetness, and a touch of plum sauce to round out the flavors. A corn starch slurry thickens the sauce – this sauce is a medium thickness, so depending on your preference add little more or less corn starch slurry (but go slowly – the sauce will take a little time to thicken up once the slurry is added).
I recommend serving the sweet and sour sauce separately from the chicken.  Otherwise, you run the risk of having soggy, instead of crispy chicken – and no one wants that.  If you'd like, serve on top of a bed of rice garnished with sliced scallions and toasted sesame seeds.  This Sweet and Sour Chicken will be a new family favorite – and you can make it in less time than it takes to get delivery… and tastier too.
Sweet and Sour Chicken
Author:
Kathleen | Hapa Nom Nom
Prep time:
Cook time:
Total time:
Create crispy Sweet and Sour Chicken better than takeout and no bottled sauce here!
Ingredients
Sauce
2 cups water
2 oranges, sliced ¼-inch
1 lemon, sliced ¼-inch
1-inch ginger, peeled and thinly sliced
¾ cup sugar
¼ cup white vinegar
⅛ cup ketchup
⅛ cup plum sauce
2 tablespoon cornstarch, dissolved in ¼ cup water
Batter
1 cup all-purpose flour
¼ cup corn starch
1 tablespoon baking powder
1 egg
1 teaspoon kosher salt
¼ teaspoon ground white pepper
⅔ cups water
1½ pounds boneless, skinless chicken breasts, cut into ¾-inch cubes
vegetable oil
Serve with: (optional)
cooked rice
sliced scallions
Instructions
To make the sauce, bring the water to a boil in a small sauce pan. Add the orange, lemon, and ginger. Simmer for 20 minutes.
While the sauce is simmering, work on the batter. In a large bowl combine the flour, corn starch, baking powder, egg, salt, pepper, and water. Whisk until smooth. Add the cubed chicken and stir to coat each piece. Allow the chicken to sit in the batter for 15 minutes.
Once the makings of the sauce has simmered, use a sieve to remove the orange, lemon, and ginger. While the sieve containing the ingredients is over the pot, use a large wooden spoon to press any remaining juice into the pot - then discard the remnants. To the pot, add the sugar, vinegar, ketchup, and plum sauce. Give the corn starch slurry a stir, in case any of it has solidified on the bottom. Then slowly stir in the corn starch slurry to the sauce. Continue to stir until the sauce has thickened. Remove from heat and cover.
Add at least 1-inch of vegetable oil to a wok. (If you don't have a wok, use a large sauce pan). Heat the oil to 375 degrees F. Working in batches, carefully add the battered chicken, one piece at a time. Using a spider or slotted spoon, constantly turn and move the chicken to ensure even cooking. Cook for 6 - 8 minutes, until golden brown. Remove and allow to cool on a plate lined with paper towels. Continue cooking the other batches in this manner.
Serve the chicken with a side of sweet and sour sauce. (I like to serve them separately so the sauce doesn't make the battered chicken soggy). If you like, serve with rice and scallions. Enjoy!
Notes
Don't throw leftover batter away! After you are finished cooking the chicken, drizzle the extra batter into the oil and cook until golden brown. You'll have great little bits to munch on!