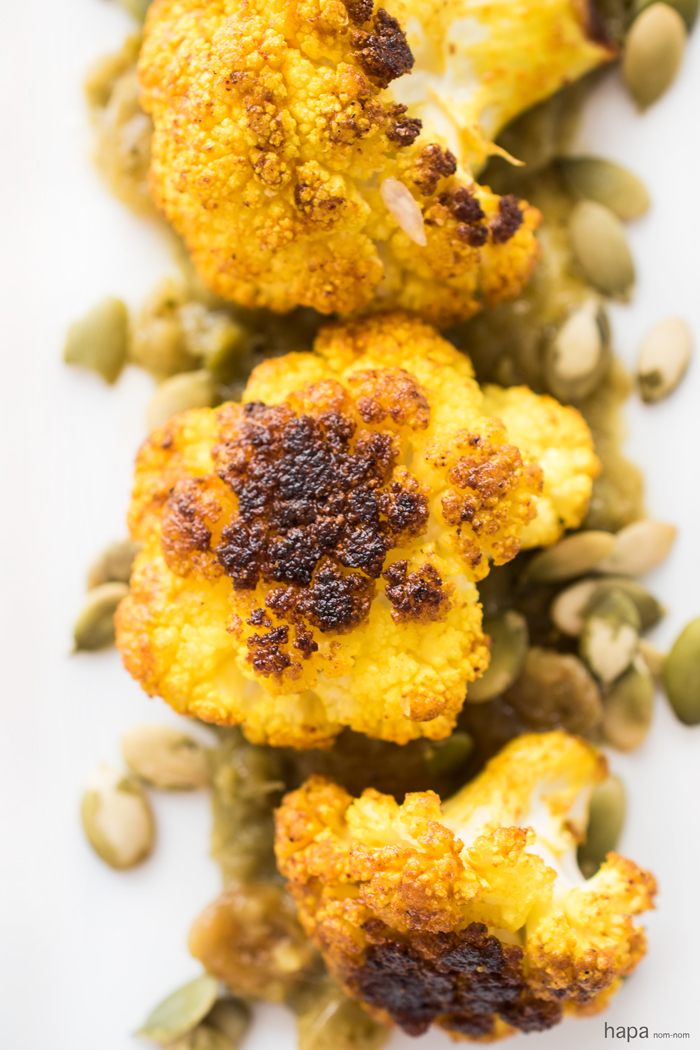 It was hot in the Bay Area last week. Granted, the heatwave only lasted for a couple of days, but when you don't have AC, it can be pretty miserable. Saturday, the weather finally broke and the cooler temperatures returned. Mr. HapaNom and I took advantage of the cooler weather and had brunch on the patio of a Brazilian place down by the water.
I didn't realize that Brazilian cuisine used curry, so when I saw a cauliflower dish with Brazilian green curry and pumpkin seeds – I was intrigued. The dish was amazing and full of flavor! Even my husband, who is not at all a fan of cauliflower – LOVED it!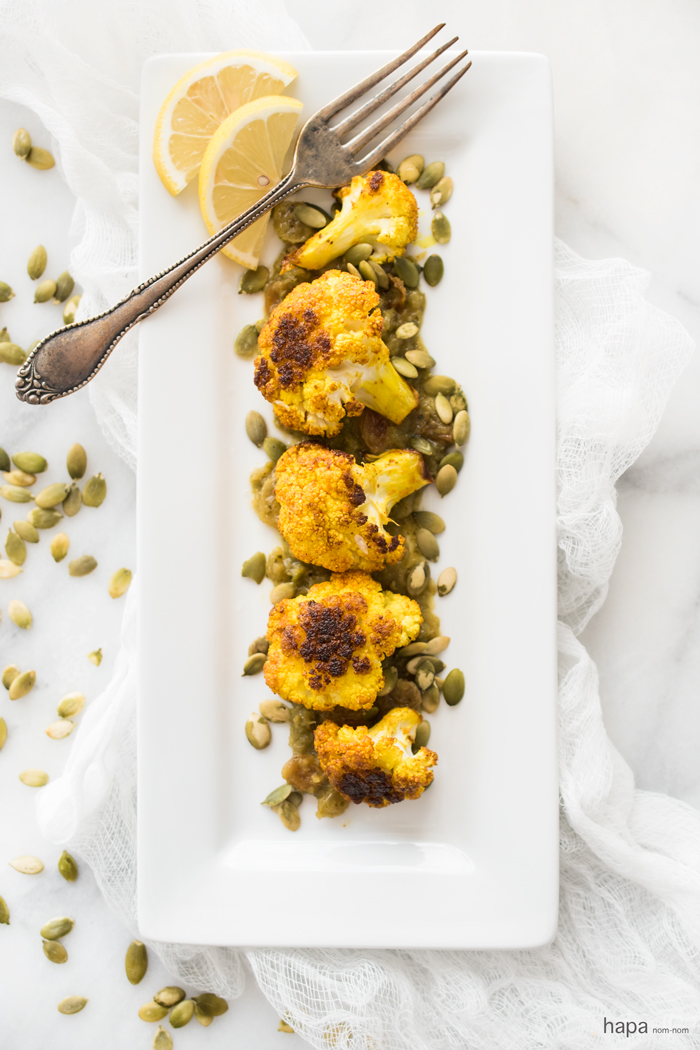 The cauliflower was obviously colored and flavored by turmeric and spiced with cayenne. I am not familiar with Brazilian green curry, but I do know Thai green curry – which is what I used in this recipe. The golden raisins added a nice sweetness and the pumpkin seeds add a nice texture with a nod to the up coming fall season.

Roasted Cauliflower with Green Curry
Author:
Kathleen | Hapa Nom Nom
Prep time:
Cook time:
Total time:
Roasted Cauliflower with Green Curry, Golden Raisins, and Pumpkin Seeds. This side dish has got some serious flavor!
Ingredients
Cauliflower:
2 tablespoons extra virgin olive oil
¼ teaspoon kosher salt
1 teaspoon turmeric
¼ teaspoon cayenne
1 large head cauliflower, trimmed and cut into florets
Green Curry:
7 green Thai chilies
2 shallots
4 garlic cloves
1 stalk lemongrass, white part only, hard outer husks removed
½ a thumb-sized piece of galangal
zest of one lime
½ teaspoon shrimp paste
¼ cup cilantro stems
1 teaspoons ground coriander
½ teaspoon ground cumin
½ teaspoon kosher salt
¼ teaspoon ground white pepper
1 - 2 tablespoons water
1 6 ounce can unsweetened coconut milk
¼ cup unsalted chicken stock
¼ cup golden raisins
To Serve:
¼ cup pumpkin seeds
½ lemon
Instructions
Preheat the oven to 350 degrees F.
In a large bowl, add the olive oil, salt, turmeric, and cayenne. Whisk to combine. Add the cauliflower and toss to coat evenly. Turn the cauliflower out onto a foil lined baking sheet. Place in the center of the oven and roast for 30 - 35 minutes. Turn the cauliflower occasionally to ensure even cooking.
While the cauliflower is roasting, make the green curry. Combine the first 12 ingredients of the curry in a food processor. Process, adding the water 1 tablespoon at a time until it forms a thick paste.
In a medium saucepan combine the coconut milk, chicken stock, curry paste, and raisins. Bring to a boil and then turn down the heat to simmer, stirring occasionally. Allow to simmer for 15 minutes until slightly thickened. Taste and season with additional salt and pepper, if needed.
To serve, spoon the green curry out onto a plate. Top with the cauliflower, sprinkle with pumpkin seeds, and squeeze the lemon overtop. Serve and enjoy!