I can't believe it's already been 7 months since we moved from the east coast to the San Francisco Bay Area. There's so much to see and do in this area, I think it would take a lifetime to experience everything. In fact as I recently found out, the Bay Area boasts the largest Burmese population in the US!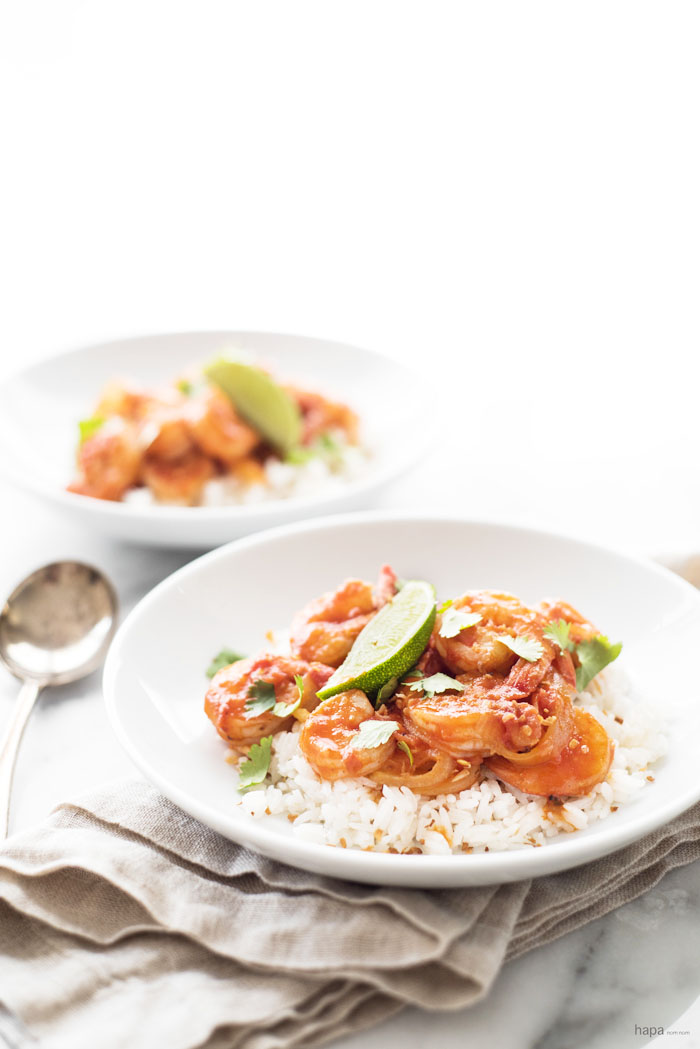 Last week Mr. HNN and I discovered a fantastic Burmese restaurant in our neighborhood. This place takes no reservations and when we showed up on a Tuesday night, there was a line out the door and the wait time was 45 minutes (I'd hate to see what this place looks like on a weekend)! We signed up for the next available seating and went a few doors down for a couple of cocktails to tide us over. About an hour later we finally got a call, our table was ready. The place was loud and the tables were packed like sardines. As soon as we were handed the menus, I could immediately understand the buzz – I wanted it all! Burma (better known today as Myanmar) shares a boarder with Thailand, Loas, India, Bangladesh, and China; so you can imagine the incredible influence these countries have had on shaping Burmese cuisine.
We ordered a number of dishes, wanting a variety to taste. They were all wonderful, but I must say, there was one that particularly stood out for me – the Garlic and Chili Shrimp.
With the flavors still fresh in my mind (or perhaps I should say fresh on my tongue), I got to work the following day on recreating this dish.  The resulting Spicy Chili Garlic Shrimp with Coconut Rice is a phenomenal dish with a gentle heat and a deep, full flavor that pairs perfectly with the sweet coconut rice. Squeeze a little fresh lime juice overtop, sprinkle with toasted coconut, and you've got a dish full of flavors that continues to compliment over and over again. You're going to fall in love how quick and easy it is to make, the crazy-good aromas coming from your kitchen, the incredible flavors, and guess what – it's healthy too!  Seriously, what's not to love?!  
Spicy Chili Garlic Shrimp with Coconut Rice
Author:
Kathleen | Hapa Nom Nom
Prep time:
Cook time:
Total time:
Lime, Coconut, & Shrimp - the Trifecta is Compete in This Burmese-Inspired Spicy Chili Garlic Shrimp with Coconut Rice and a Squeeze of Fresh Lime. Healthy and Totally Delicious!
Ingredients
Coconut Rice
1 - 14 ounce can unsweetened coconut milk
1 teaspoon sugar
½ teaspoon Kosher salt
1 cup Jasmine rice
¼ cup shredded coconut
Spicy Chili Garlic Shrimp
2 tablespoons oil (canola or vegetable)
1 small onion, cut into wedges
6 garlic cloves, thinly sliced
1 knob ginger, peeled and grated
2 dried red chili peppers (optional)
3 plum tomatoes, diced
2 tablespoons sambal oelek*
2 teaspoons paprika
½ teaspoon Kosher salt
1 tablespoons fish sauce
1 pound medium shrimp, peeled and deveined (buy easy-peel, if you can)*
torn cilantro, garnish
1 lime, quartered
Instructions
Rinse the Jasmine rice by placing the rice in a large bowl of cold water and swish the rice around with your hand until the water becomes cloudy. Carefully pour off the water and repeat the process of rinsing and pouring about 3-4 times. In a saucepan bring the coconut milk, sugar, and salt to a simmer over medium-high heat - careful not to let it boil. Once the coconut milk is simmering drop the heat to low, add the rice, give a quick stir, and cover with a lid. Cook for 15 minutes - no peeking. Turn off the heat and fluff the rice with a fork and cover with a lid to allow the rice to steam for about 10 minutes. Then taste and add more salt if desired.
While the rice is cooking, toast the shredded coconut. In a pan over medium heat, add the coconut. Stir frequently until the coconut is lightly browned. Do not walk away from the pan, once the coconut starts to brown, it goes very quickly.
Heat the oil in a large wok or skillet set over medium-high heat. At the first wisp of smoke, add the onion, garlic, ginger, and chilies. Stir-fry until lightly brown (be careful not to let the garlic burn).
Add the tomatoes, sambal oelek, paprika, and salt. Reduce the heat to medium and cook until the tomatoes have softened.
Stir in the fish sauce and add the shrimp. Increase the heat to medium-high and stir-fry for 3-4 minutes, until the shrimp is opaque.
Plate the rice and spoon the spicy chili garlic shrimp overtop. Sprinkle with toasted coconut, cilantro, and a wedge of lime. Serve and enjoy!
Notes
* I left the tails on the shrimp because I like the way it looks. It's also kind of fun to get your fingers in there and lick off the wonderful sauce. Though if you prefer, feel free to take the tails off prior to cooking.
* Sambal Oelek can be found at just about any grocery store these days. It's often sold right along side Sriracha.