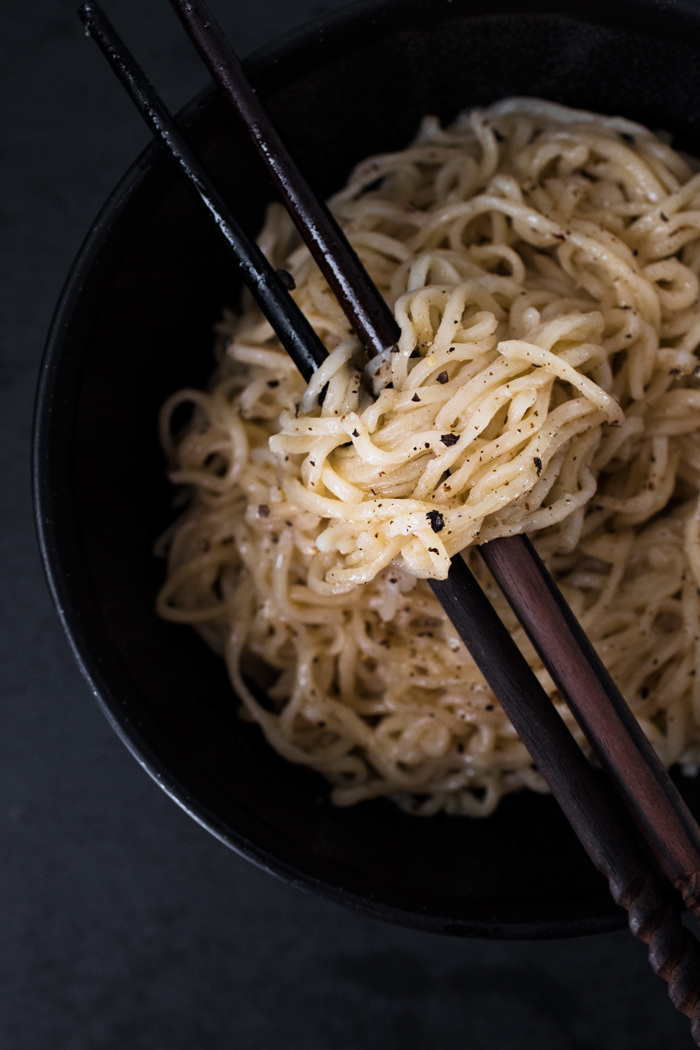 A number of years ago, PBS aired the first season of The Mind of a Chef – an Anthony Bourdain production, featuring David Chang. As the title suggests, the show gives the viewer wonderful insight into the way a chef thinks, what their inspirations are, and what they've been working on. The show is fantastic and any time I feel like I need a shot of inspiration, I put on an episode… or two. Sometimes I'll even binge-watch an entire season.
I've always been a fan of instant ramen. As a kid I would crunch up the dried noodles, open the package, and snack on it after school.  Even now I have a craving for it from time-to-time.  So when I saw David Chang turn the lowly instant ramen package into a incredibly creamy cacio e pepe – I knew I had to try it!
So what is cacio e pepe? It's a Roman pasta dish meaning 'cheese and pepper'. Back when I was in school, I spent a semester in Florence and cacio e pepe was one of my very favorite dishes! It's so simply made, but it's so luxuriously creamy and wonderfully peppery.
Chang's recipe is pure genius! By the time the dried noodles absorb the cheesy liquid, they are al dente (or as close to al dente as instant noodles get), they are creamy, peppery, and so delicious – it took incredible will-power not to eat it all before I could photograph the dish. Check out a clip from Mind of a Chef: here.

Instant Ramen Cacio e Pepe
Author:
Kathleen | Hapa Nom Nom > David Chang
Cuisine:
Japanese/Italian Fusion
Prep time:
Cook time:
Total time:
Ingredients
2 cups water
3 tablespoons butter
1 tablespoon olive oil
+ black pepper (I used ¾ teaspoon)
½ cup pecorino Romano
2 packages of instant ramen, seasoning packets set aside
Instructions
In a large sauce pan, bring the water, butter, olive oil, and pepper to a boil.
Once the butter has completely melted, reduce the heat to a simmer and add the cheese. Using chopsticks, stir constantly until the cheese has melted. (I found that using chopsticks vs a wooden spoon globs the cheese less). Immediately add the ramen bricks and continue stirring so the cheese doesn't clump.
Continue to stir and turn the noodles bricks until the noodles separate. Once separate, you want to constantly stir to develop a creamy sauce, approximately 3½ - 4 minutes. (You can pour some of the liquid out if you're getting close to the 3½ - 4 minute mark and you still have a lot of liquid left).
Divide the noodles among two bowls, grind a good amount of fresh ground pepper over top, and some extra cheese if you like. Serve immediately and enjoy!