Busy with work, kids, projects, life in general… perhaps all of the above? There is nothing easier from the prep all the way down to the clean-up, than a one pot meal. If that wasn't fantastic enough, one pot means all of the flavors you add to the pot, stay in the pot and only build and intensify as it cooks.
Feed your belly and comfort your soul in one pot. What's more satisfying than that?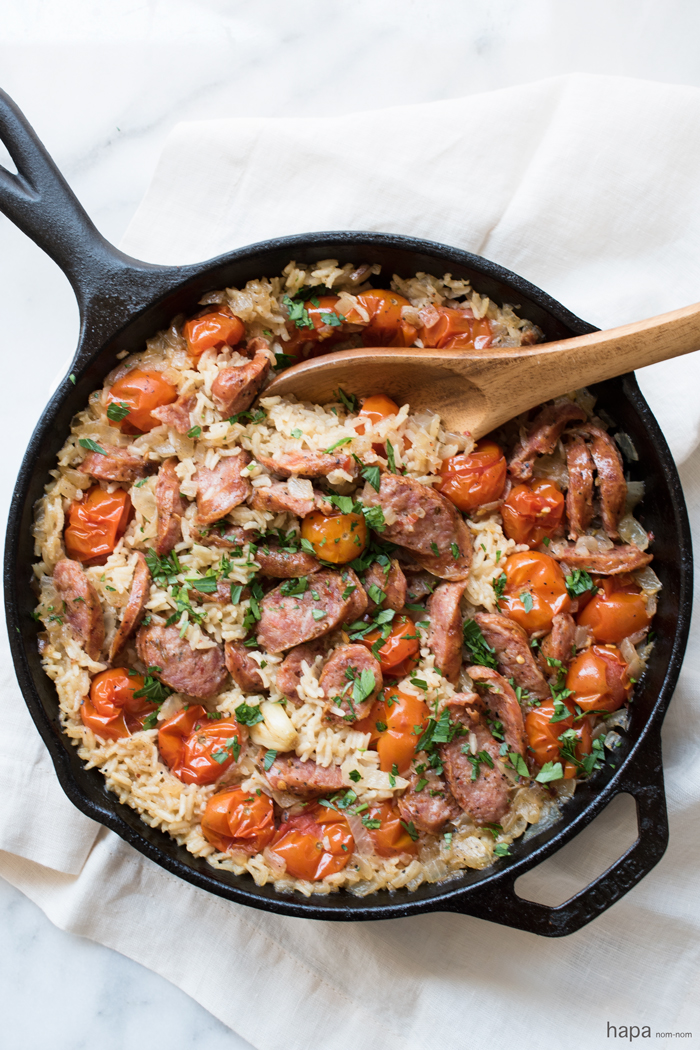 As some of you may know, we recently moved across the country to the Bay Area. I'm one of those crazy people that can't stand to have things cluttered and in disarray, so I will not stop until everything is back in its place. Yes, I am that person. Which means that from sunup to sundown while Mr. HapaNom was away on business, I was unpacking – 15,000 pounds of household goods. 'Just wait until I get home', my husband would plead. But my obsession for tidiness would not allow me to wait.  I got through it with lots of wine, the antics and comedy stylings of Arlo and Otis (our dogs) and quick meals like this Easy One Pot Sausage and Rice dish.
Easy One Pot Sausage and Rice
Author:
Kathleen | HapaNomNom
Prep time:
Cook time:
Total time:
One skillet, 30 minutes, easy clean-up, and delicious - what could be better than this Easy One Pot Sausage and Rice?!
Ingredients
1 tablespoon extra virgin olive oil
12 ounces (about 4) mild Italian sausages
1 small onion, diced
2 cloves of garlic, smashed
1 pint cherry tomatoes
1 cup long-grain rice
2 cups chicken broth
pinch of crush red pepper flakes (optional)
kosher salt and freshly ground black pepper to taste
2 tablespoons parsley, roughly chopped (garnish)
Instructions
Preheat the oven to 350 degreed F.
Add the olive oil to a large oven-safe skillet (cast-iron, if you have it) and warm over medium-high heat.
Using a fork, prick the sausages and add to the pan. Turn to brown, about 2 minutes per side. Remove and once cooled, slice into ¼-inch coins. (Do not wipe out the skillet).
Add the onion to the pan and saute until translucent, about 5 minutes.
Add the smashed garlic and cherry tomatoes. Stir in the rice and add the chicken broth. Add the crushed red pepper if desired, and season with salt and pepper to taste.
Stir in the sliced sausage and bring the contents of the pan to a simmer. Cover and place in the oven for 20-25 minutes.
Remove from the oven and allow to rest with the lid in place for 5 minutes. Carefully remove the lid with an oven mitt and garnish with chopped parsley, serve and enjoy!