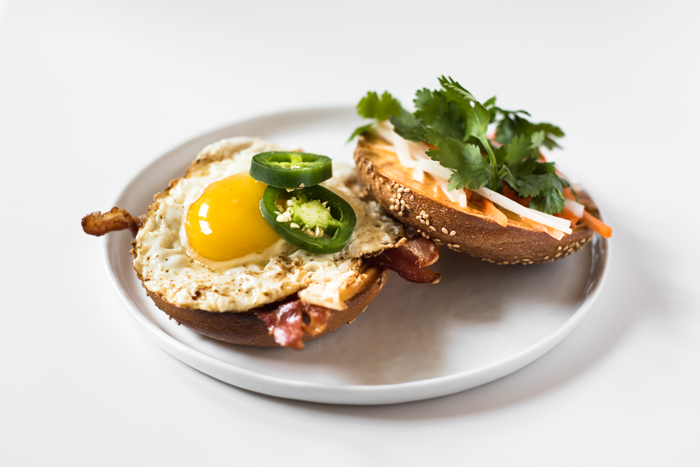 Boy have I got a breakfast for you this weekend! As some of you may know, Bánh Mì is my all-time favorite sandwich – an addiction really. So when I made Sriracha Deviled Eggs the other day, making a new jar of Do Chua (Vietnamese pickled carrots and daikon) for the dish and still having plenty leftover, I thought… what else can I make? Having just paired it with eggs, and a fabulous Bánh Mì on my mind, I didn't have to think long before the idea for a Breakfast Bánh Mì popped in my head.
There are numerous variations of this Viet/French fusion sandwich. Some are made with chicken, tofu, pâté, cold cuts, etc. All wonderful, but my favorite one is made with pork. Rather than using a traditional pork recipe, I used another pork item… bacon – that magical food that is integral to a great breakfast (in my opinion).  After all, such a meal should be relatively quick and easy to make. And what's faster and more simple  than frying up a little bacon?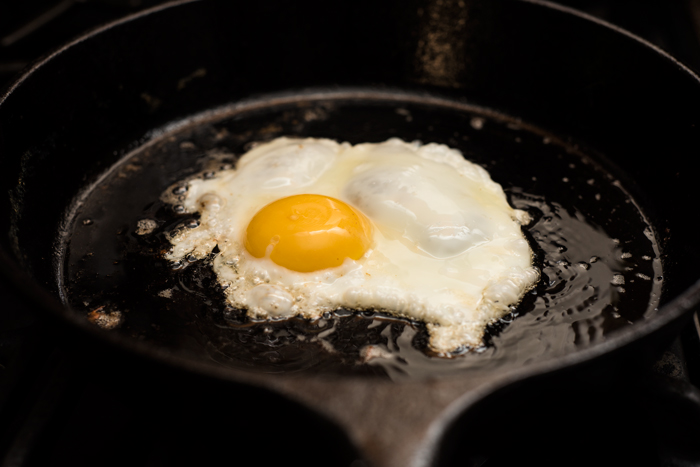 Top with a fried egg, Sriracha-mayo, do chua, sliced jalapeno, cilantro, and you've got one hell of an awesome breakfast sandwich! Be warned… bring napkins – lots of napkins. One bite and the egg yolk will begin to run down your fingers and onto the plate. No worries, just sop up whatever yolk falls onto the plate with your Breakfast Bánh Mì, and all will be well.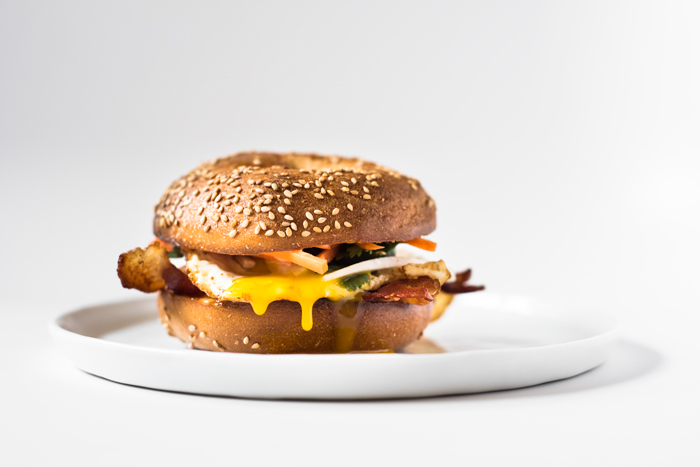 Breakfast Bánh Mì
Author:
Kathleen | HapaNom
Prep time:
Cook time:
Total time:
Ingredients
¼ cup mayonnaise
1½ teaspoons Sriracha
2 sesame seed bagels (or bagels of your choice)
4 slices bacon
2 eggs
1 jalapeno, sliced
¼ cup cilantro
Instructions
In a small bowl, combine the mayo and Sriracha. Refrigerate until ready to use.
Slice the bagels and toast until golden-brown.
In a heavy-bottomed skillet over medium heat, cook the bacon, turning it until it's browned evenly. Remove the bacon from the pan and let it drain on paper towels.
In the same pan that you cooked the bacon, over medium heat, crack the eggs into the skillet. Occasionally spoon the bacon grease over the eggs. Cook until the egg white is cooked through and the egg yolk is barely set, approximately 5 minutes.
To assemble, spread both sides of the bagel with the Sriracha-mayo. Add the bacon, egg, a few slices of jalapeno, some do chua, and the cilantro. Serve immediately and enjoy!