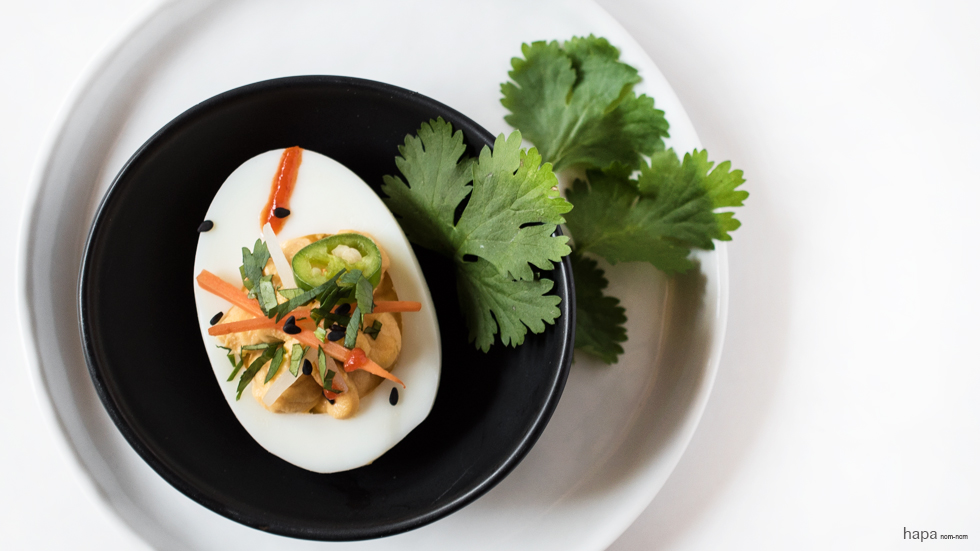 Do you have a ton of leftover eggs from the holiday weekend? Transform your hard-boiled eggs into some seriously delicious Sriracha Deviled Eggs! Topped with do chua, cilantro, sliced chilies, and a sprinkle of black sesames seeds, these are not your mother's deviled eggs.  These babies pack some punch!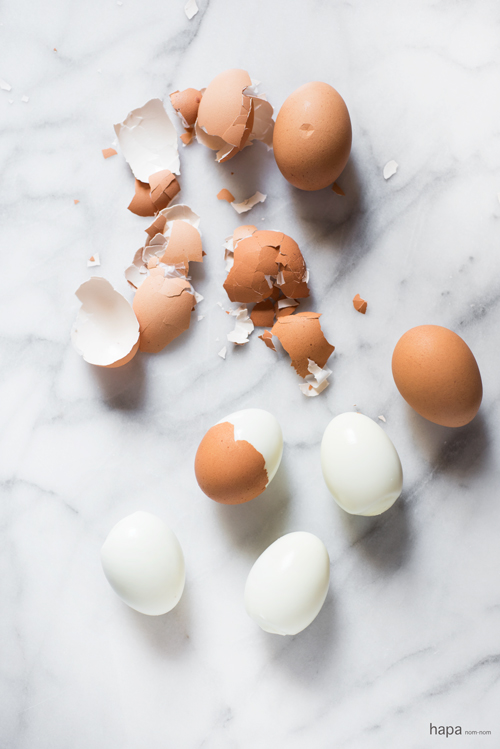 Shortly after I took the above photo, I turned my back (just for a second) to grab a dish. Let me preface this by saying, I have never seen my dog, Arlo, grab food off of the counter – not even when he was a puppy. So you can image my surprise when I turned around and I saw my dog… my giant freakin' dog, with his paws up on the counter devouring all of the eggs I had just so careful shelled. I couldn't believe it! Out of all of the things I've left on the counter (chicken, steak, juicy hamburgers) he never touched them. For whatever reason, my dog digs the eggs.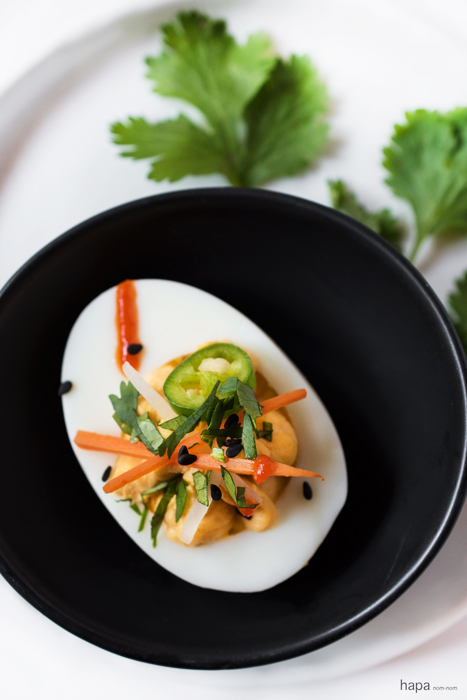 I made more eggs, this time keeping a close eye on my dog/egg thief. I styled, plated, (ate one… yum!) and began to photograph them. As I was standing on my step stool, hovering over the Sriracha Deviled Eggs and looking through the veiwfinder of my camera, I saw a big black nose inching its way into view. Part of me wanted push his nose away, say 'NO', and look at him like he just about lost his mind. But then I thought… click.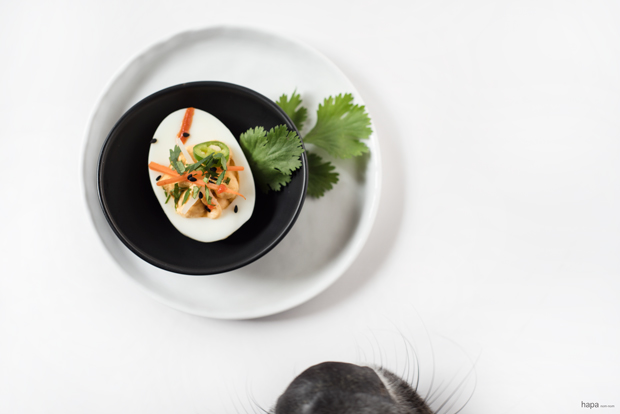 Sriracha Deviled Eggs – Owner Tested, Dog Approved.
Sriracha Deviled Eggs
Author:
Kathleen | HapaNom
Ingredients
6 hard boiled eggs
3 tablespoons mayonnaise
1 teaspoon Dijon mustard
2 teaspoon Sriracha
kosher salt
freshly ground black pepper
do chua, several pieces slivered
1 tablespoon cilantro, roughly chopped
½ teaspoon black sesame seeds
Instructions
Slice the hard boiled eggs in-half, lengthwise. Remove the yolks and place in a dish. Using a fork, smash the yolks into a fine crumble. Add the mayo, mustard, Sriracha, and salt/pepper to taste. Mix well.
Fill the sliced egg whites with the prepared yolk mixture. Top with a few slivers of do chua, sprinkle with a little cilantro, add a slice or two of the chili peppers, and sprinkle with black sesame seeds. Serve and enjoy!