Miso Glazed Halibut with Baby Bok Choy and a Sake Butter Sauce – sounds like one of those fancy-pants meals, huh? But it's so easy to make and pretty quick too! 
It was Oscar Wilde who said, "Everything in moderation, including moderation". 
Generally speaking, I don't cook with a lot of butter. Believe me, it's not for a lack of appreciation for the magical ingredient. I certainly never met a hollandaise I didn't adore!  So when I was thinking of a sauce to serve along with the halibut, I thought about a classic beurre blanc – a French white butter sauce. Sounds great, but I wanted to put a Japanese spin on things. I thought about using sake instead of white wine. Feeling a bit like a creative genius, a quick online search destroyed any idea of culinary gratification that I may have had – this was not an original idea (story of my life). As it turns out, Martha Stewart via Chef Tom Douglas had a recipe for such a sauce. After a quick review of the ingredients, it looked pretty good, so I gave it a whirl. With just a small adaptation, the sake butter sauce was definitely a winner! 
Typically, I choose not to cook with a lot butter. But if Oscar Wilde allows me to enjoy a buttery sauce from time-to-time, well then why the heck not?! Rich and creamy, it pairs beautifully with the garlicy baby bok choy and miso glazed halibut. I'm sure all of this sounds well and good… but who's got the time and patience to make such a fancy-pant dish? You do! And you know why? Because despite the way it may look and sound, it's super easy to make and only takes about 35 – 45 minutes. Not too bad for a fancy-pant dish, eh?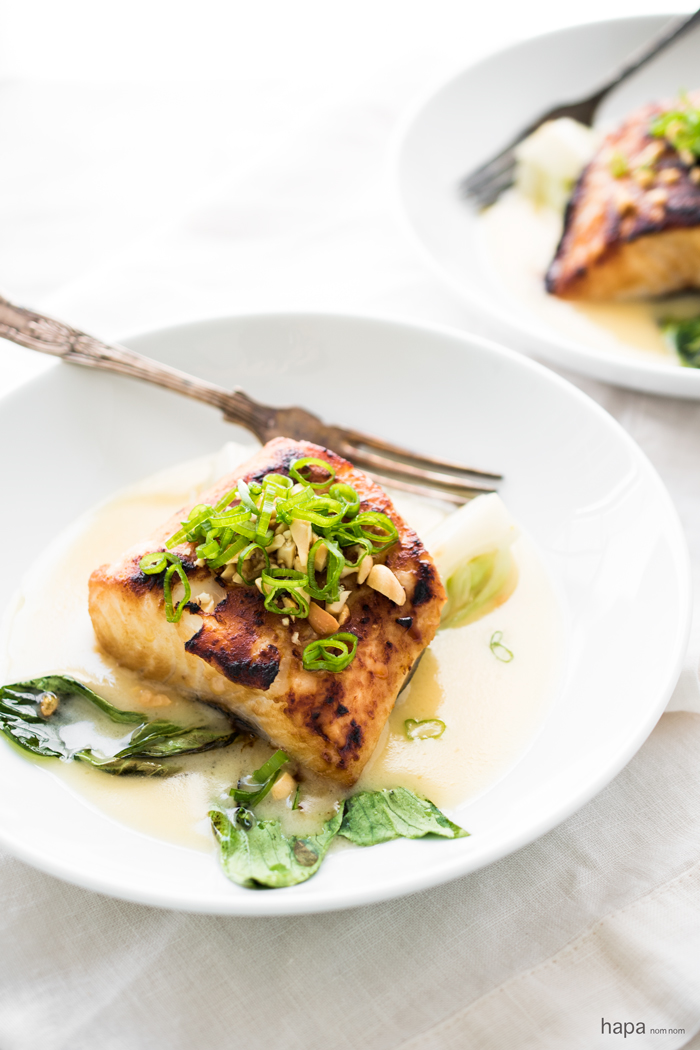 Miso Glazed Halibut with Baby Bok Choy and a Sake Butter Sauce
Author:
Kathleen | Hapa Nom Nom
Prep time:
Cook time:
Total time:
Miso Glazed Halibut with Baby Bok Choy and a Sake Butter Sauce - sounds like one of those fancy-pants meals, huh? But it's so easy to make and pretty quick too!
Ingredients
Miso Glazed Halibut
3 tablespoons shiro (white) miso
¼ cup mirin
2 tablespoon low sodium soy sauce
2 teaspoons sesame oil
1 tablespoon rice vinegar
1 tablespoon fresh ginger, minced
4 (6 ounce) halibut fillets
Sake Butter Sauce
9 tablespoons unsalted butter
2 tablespoons peeled julienned ginger
1 tablespoon minced shallots
½ cup + I teaspoon sake
1 tablespoon heavy cream
1 teaspoon fresh lime juice
Kosher salt
Baby Bok Choy
2 heads baby bok choy, quartered lengthwise
1 tablespoon vegetable oil
2 clove garlic, crushed
Kosher salt
Toppings
dry roasted peanuts, roughly chopped
scallions, thinly sliced
Instructions
Add the first 6 ingredients of the miso glaze to a small sauce pan and bring to a simmer over medium-high heat (do not let it boil). Remove from heat and let it cool to room temperature.
Place the halibut fillets on a plate (skin side down). Brush the miso glaze onto the fish and refrigerate for 30 minutes to marinate.
While the halibut fillets are marinating, work on the sake butter sauce. Heat 1 tablespoon of butter in a small saucepan over medium-high heat. Add the ginger and shallots and cook for 2 -3 minutes, stirring frequently. Add ½ cup of sake, bring to a boil, and allow to reduce for about 3minutes. Add the heavy cream and then allow to reduce again for about 2 minutes. Begin to add the butter a tablespoon at a time, allow the butter to melt before before adding another tablespoon. Whisk constantly. Once thick and creamy, remove from heat. Whisk in the remaining tablespoon of sake, lime juice, and ¼ teaspoon Kosher salt. Taste and season with more salt, if needed. Set aside until ready to use.
Position the oven rack about 4- 6 inches away from the heat source and preheat the broiler for 3 minutes. Place the marinated halibut, skin side down, on a sheet pan lined with foil, and cook until the exterior is caramelized and slightly opaque in the center, about 7 -10 minutes, depending on thickness and distance from the broiler.
While the fish is cooking, prepare the bok choy. In a large frying pan, heat a tablespoon of oil over medium high heat. Once the oil is hot and shimmering, add the garlic and cook until fragrant, stirring frequently. Add the bok choy, cut side down, and sprinkle with a pinch of salt. Cook on each side, about a minute per side or until slightly charred. Remove from heat.
Warm the sake butter sauce and whisk over medium heat until it's nice a fluid again. Ladle the sake butter sauce onto the plate. Add the bok choy, halibut, and top with peanuts and scallions. Serve immediately and enjoy!