Spring is here! The flowers are blooming, the bees are buzzing, and the markets are filled with a bounty of seasonal produce.  It's an inspiring time of year and this Spring Vegetable Wonton Soup certainly embraces the season! 
Wonton soup is perfectly suited for this time of year. The weather can be a bit unpredictable, with plenty of cool days still ahead, and this soup is light yet warms you from head to toe. This seasonal adaptation is just that… a celebration of what makes this time of year so wonderful.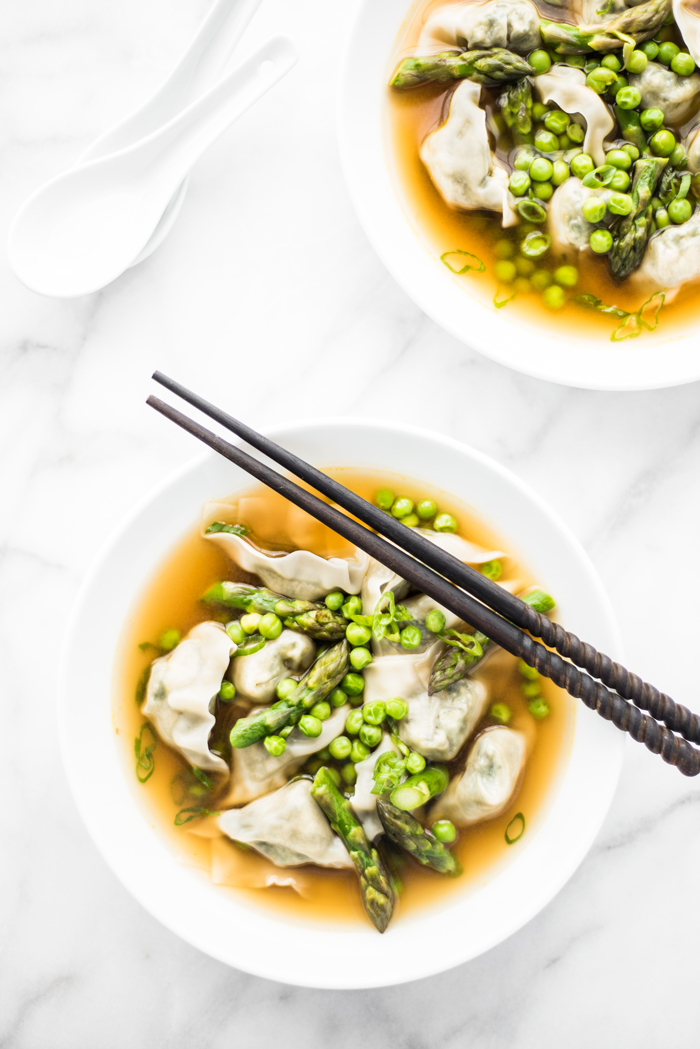 I decided to keep the filling light and create a truly veggie friendly dish – using a mixture of spinach and tofu. When cooked in then wonton wrappers, the tofu actually takes on a wonderful creamy texture.  If however tofu is not your thing, no worries! Simply use the same amount of ground pork or ground chicken and you're good to go!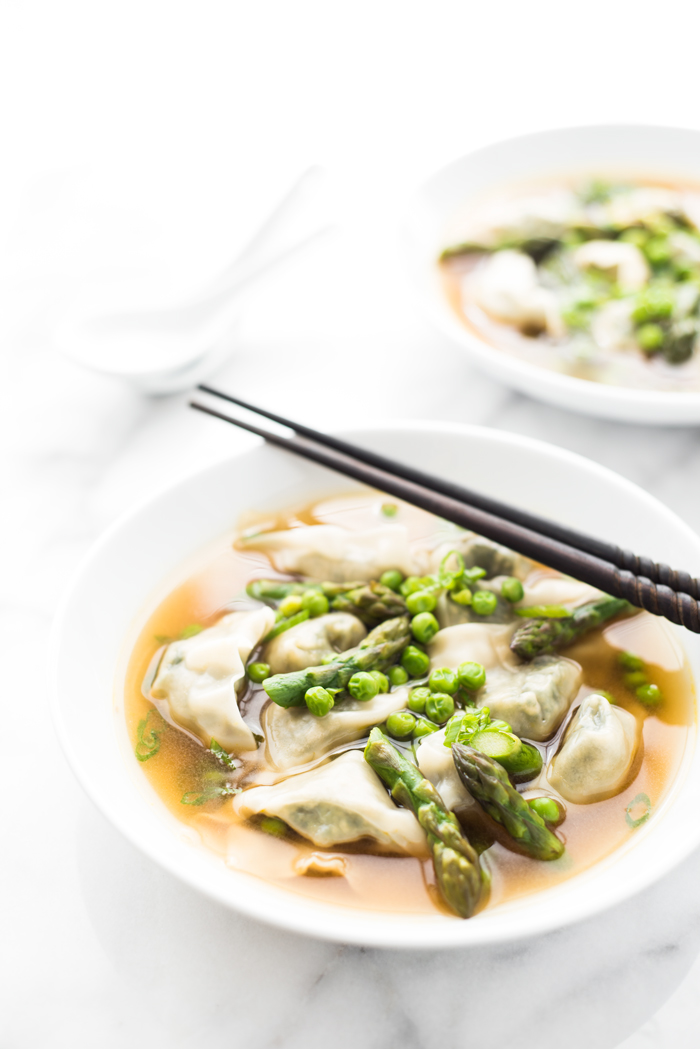 Spring Vegetable Wonton Soup
Author:
Celebrate the season with this Spring Vegetable Wonton Soup! Vegetarian/Vegan friendly.
Ingredients
[b]Broth[/b]
8 cups good quality chicken or vegetable broth
1 tablespoon soy sauce
1 teaspoon sesame oil
1 inch piece ginger, thinly sliced
[b]Wontons[/b]
2 scallions, white and green parts separated
1/2 teaspoon ginger, finely grated*
1 large garlic glove
¼ teaspoon sesame oil
1 tablespoon soy sauce
4 ounces firm tofu, lightly pressed between paper towels*
1/2 cup frozen spinach, thawed, as much moisture squeezed out as possible (you should have 1/2 c. after squeezing)
½ teaspoon cornstarch
Kosher salt
freshly ground black pepper
6 ounce package of square wonton wrappers
all-purpose flour for dusting
[b]Veggies[/b]
1 small bunch asparagus, cut into 1/2-inch pieces
2/3 cup frozen peas
Instructions
In a large sauce pan, add the broth, soy sauce, sesame oil, and sliced ginger. Bring the contents to a boil and then cover and simmer for 10 minutes. Turn off the heat and set aside.
In a food processor – add the white parts of the scallions and the remaining ingredients for the wonton filling. Add salt and pepper to taste. Pulse until finely chopped and fully incorporated.
Cover the stack of wonton wrappers with a slightly damp paper towel, prepare a small bowl of water for sealing the wrappers, and lightly sprinkle a baking sheet with flour. Working with one wrapper at a time, place 1 level teaspoon of filling in the bottom third of the wrapper. Roll the bottom a 1/3 of the way up and then again another 1/3 of the way up. Leave the last 1/3 of the wrapper sticking up. Then taking one of your fingers, dip it in the water and dab the two bottom corners. Bring those two bottom corners together and press to seal. [i](Check out the video above for the how-to visual). [/i] Place the completed wontons on the prepared baking sheet and be sure to keep them covered under a slightly damp paper towel.
To cook the wontons, bring a large pot of unsalted water to a boil.
Once the pot of water comes to a boil, turn it down to a simmer. (You don't want the agitation of the bubbles to break open the wontons). When all of the wontons are completed add them to the pot of water and cook until they float to the top. Be sure to give them a gentle stir when you first add them to make sure they don't stick.
While the wontons are cooking, remove the slices of ginger from the broth and reheat. Once it comes back to a boil add the asparagus and peas – cook until tender, about 3 minutes.
Using a slotted spoon or spider, remove the wontons and divided them evenly among the bowls. Pour the broth with the veggies over top and garnish with the remaining sliced scallions (green parts). Serve immediately and enjoy!
Notes
* Even though you're placing the wonton filling in the food processor, make sure you still finely grate the ginger. It will insure that you don't bite into any large chunks. [br]* If you'd like, you can use ground pork or chicken instead of tofu.[br]* You can make the wontons ahead of time and freeze for up to 2 months. Simply lay them out on a baking sheet lined with parchment paper and freeze. Once they're frozen, transfer them to a zip-top bag.