A few years ago, Mr. HNN and I took week-long trip to Ireland. The only reservations we made the entire trip were for the flight and the car; there would be no other reservations. We decided to just get in the car and drive wherever the damp winds took us.
Despite having not planned a single thing, we saw over 1000km of coastline, stayed in a different town every night, found a pub playing traditional Irish music, took a cooking class, got tickets to a hurling match (the craziest sport I've ever seen!), made some friends in Dublin, sang songs with locals in a pub, and even found ourselves in a roadblock of sheep… a couple of times.
If we could do it all over again, I wouldn't plan a thing 😉
The very first town we found ourselves in was Dingle, a small fishing village on a peninsula in the southwest. It was cold, windy, and raining so we popped into the first pub we found to warm up and grab a pint. As we sat at the bar we could feel the much appreciated heat from the coal-burning fireplace. As it turns out, the pub was also a B&B. In the back corner of the bar, there was a small door that led upstairs to several bedrooms and the breakfast room. Our room was small, but it was clean and warm.
The next morning we walked into the breakfast room, and while our accommodations were modest, the breakfast certainly was not. I ordered the smoked salmon and eggs with boxty and it was absolutely delicious! Boxty is a traditional Irish potato pancake, most common in northern Ireland, though it's not unusual to see it in other parts of the country. It combines both grated potato and mashed potato, which makes this a fantastic breakfast particularly if you have leftover mashed potatoes. If you don't have leftovers, not to worry. Simply peel and quarter 1 large potato. Add it to a pot of cool water and bring to a boil. Allow to cook for 20 minutes, then drain, and mash. Add enough heavy cream to give you a creamy texture. Then add salt and pepper to taste. There you have it, you're ready to make your boxty with smoked salmon, creamy scrambled eggs, and drizzled with an avocado crème fraîche sauce.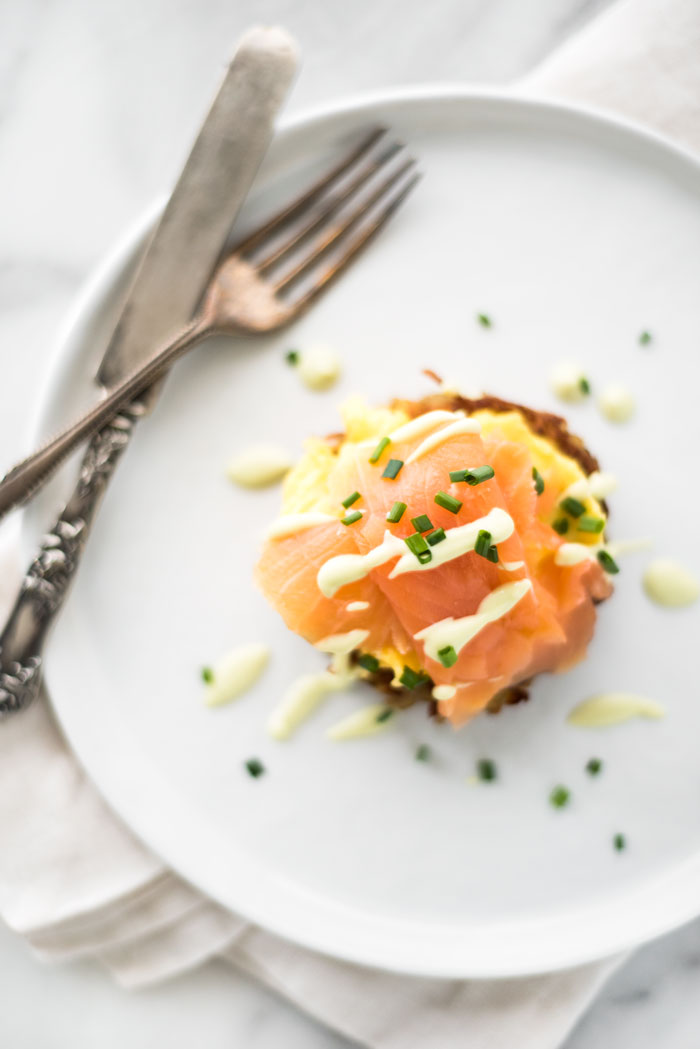 Irish Smoked Salmon and Egg Boxty
Author:
Kathleen | Hapa Nom Nom
Recipe type:
Breakfast/Brunch
Boxty (Irish potato pancakes) with smoked salmon, creamy scrambled eggs, and drizzled with an avocado crème fraîche sauce. Breakfast is served.
Ingredients
Avocado Crème Fraîche Sauce
½ avocado
¼ cup crème fraîche
1 tablespoon fresh lime juice
½ teaspoon Kosher salt
freshly ground black pepper
Boxty
1 small russet potato (about ½ pound), peeled
1 cup mashed potatoes
1 cup all-purpose flour
1 teaspoon baking soda
Kosher salt
freshly ground black pepper
2 tablespoon unsalted butter
1 tablespoon extra virgin olive oil
Scrambled Eggs
8 large eggs, whisked until frothy
1 tablespoon heavy cream
1 tablespoon unsalted butter
Kosher salt
freshly ground black pepper
Other Ingredients
8 slices smoked salmon
2 tablespoon fresh chives, sliced
Instructions
In a food processor, combine the avocado, crème frîache, lime juice, 3 tablespoons water, salt, and a few cracks of pepper. Puree until smooth and creamy.
Lay out a clean tea towel and grate the potatoes using the large holes of a box grater directly over the tea towel. Then gather up the corners and twist to remove all the moisture.
In a large mixing bowl, combine the grated potato, mashed potatoes, flour, baking soda, and salt & pepper to taste. Using your hands, mix until you form a dough.
Turn the 'dough' out onto a lightly floured work surface and roll out to a ½ inch thickness. Using a 3-inch cookie cutter or a drinking glass, cut out the rounds. Reshape and roll out the scrapes of dough until all of it is used.
Heat a large skillet over medium heat and add the butter and olive oil. Once the butter has melted, add the potato rounds and cook until lightly-browned and crispy – about 3-4 minutes per side.
While the boxty are cooking, you can start working on the scrambled eggs. Heat a large skillet over low heat and add the butter. Once melted, add the whisked eggs. With a spatula, stir occasionally. Turn off the heat just before the eggs are done to your desired firmness.
To serve – plate the boxty, top the scrambled eggs, a few slices of smoked salmon, drizzle with the avocado cream sauce, and garnish with chives. Serve and enjoy!