This noodle bowl is jam-packed with goodness! Pan seared salmon, garlicky kale, avocado… the list of greens goes on! Each bite is nutrient-rich and delicious!
One of the things I love most about recipe development is starting with an idea and seeing it grow into something new! The concept for this dish came from several inspirations. Last week when my parents were out visiting us, we grabbed a quick lunch at what I can best describe as the Asian version of Chipotle. You walk up to the counter and pick your starch, protein, veggies, sauce, and extra toppings. It's a wonderful concept and I actually did a Build Your Own Bowl post with that very set-up in mind and it's perfectly suited for parties.
In any event, when I ordered my bowl, I asked for vermicelli rice noodles, some fantastic garlicky kale, marinated tofu, green curry sauce, and peanuts. It was sensational! In fact, I have it on my docket to make at home and share in a post… stay tuned!
I really loved the combination of the rice noodles with the garlicky kale, so I used that as my base. I wanted to use salmon, so I started thinking of a salmon version of bun thit nuong, a popular Vietnamese dish, which literally means 'grilled meat on noodles' – a bowl of rice vermicelli, topped with delicious grilled pork, do chua (pickled carrots and daikon), fresh herbs, vegetables. Sounds amazing, right?! Well I combined that with the noodle bowl I just had with my parents… and let me just say, this is one fantastic dish!
I added perfectly cooked pan seared salmon – delicately crispy on the outside and tender on the inside. There's nutrient-rich garlicky kale, creamy diced avocado, crispy cucumbers, crunchy peanuts, and then it's all drizzled with a sweet lime dressing to tie it all together. It's a filling noodle bowl packed with flavor!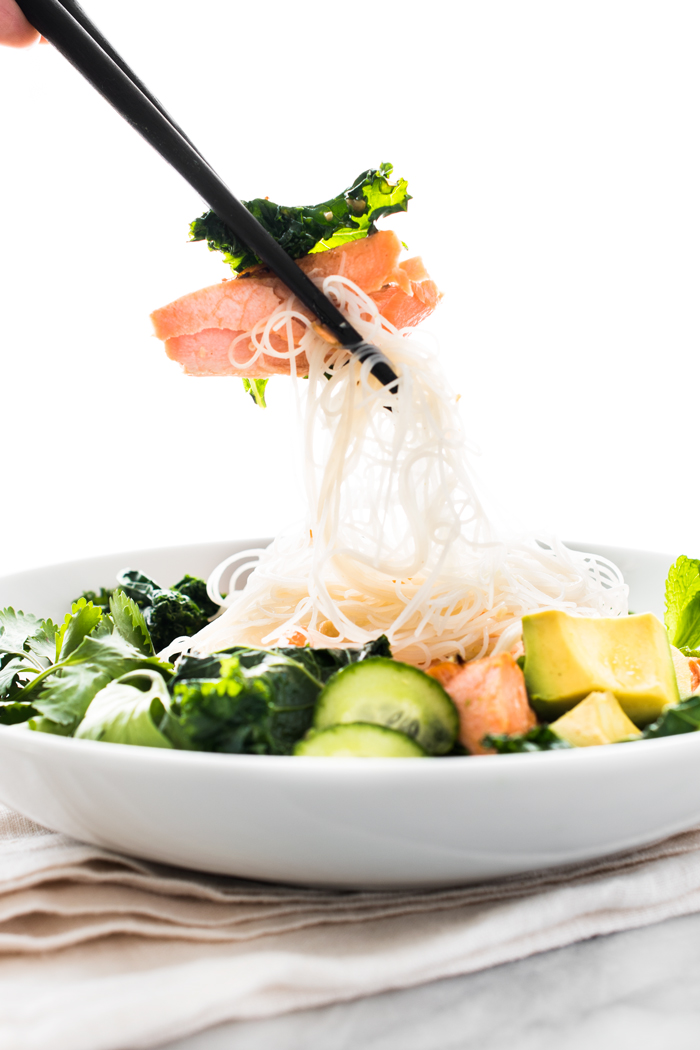 Vermicelli Noodle Bowl with Pan Seared Salmon
Author:
Kathleen | Hapa Nom Nom
This noodle bowl is jam-packed with goodness! Pan seared salmon, garlicky kale, avocado... the list of greens goes on! Each bite is nutrient-rich and delicious!
Ingredients
Bowl
2 tablespoons grapeseed oil
2 tablespoons unsalted butter
2 (6 ounce) salmon fillets, skin on
4 ounces rice vermicelli noodles
prepared sauteed kale with garlic recipe
1 Persian cucumber*, thinly sliced
1 scallion, green part only, thinly sliced
a few sprigs of fresh mint, optional
a few sprigs of fresh cilantro, optional
a few sprigs of Thai basil*, optional
2 tablespoons dry roasted peanuts, roughly chopped
Dressing
¼ cup brown sugar
¼ cup water
1 tablespoon fresh lime juice
1 teaspoon fish sauce
Instructions
Heat a large, heavy-bottomed skillet over medium-high heat. Add the grapeseed oil and the butter. Once the oil is hot and the butter have melted, add the fillets, skin side down - do not move them once they're down. Sear until cooked halfway up the sides. Then flip and sear the other side until the sides are fully cooked. Remove from heat.
While the salmon is cooking, bring a large saucepan filled with water to a boil. Turn off the heat and add the noodles. Allow to soak for 5 minutes, until tender, then drain.
When ready to serve, use a fork to flake the salmon into large pieces. Divided the garlic kale evenly among 2 bowls. Add the drained rice vermicelli noodles, cucumber slices, scallions, mint, Thai basil, cilantro, and avocado. Then add the salmon and top with the dry roasted peanuts. Serve with the dressing on the side (it's rich, so a little goes a long way). Enjoy!
Notes
* If you can't find Persian cucumbers, you can substitute a portion of an English cucumber.
* If you can't find Thai basil, feel free to use 'regular' Italian basil.