I have a routine when I go to the doctors office. I grab a food magazine off the table in the waiting room and begin to furiously flip through the pages.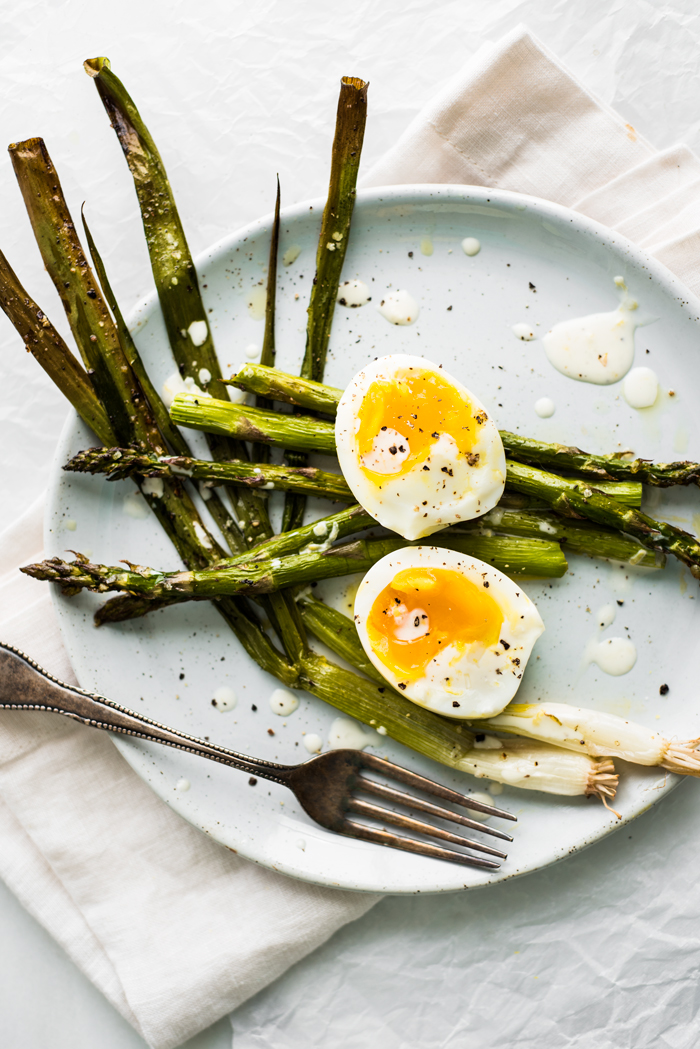 Why may you ask do I tear through the magazine at such a quick clip? Well… I'm trying to soak up every ounce of inspiration before my name is called. When I find something I like, I take a mental picture, get a quick sense of the recipe, and then move on. If I get to the end of the periodical and I'm still waiting patiently for my name to be called, I'll then go back and start looking a little more closely at what previously caught my eye. If however, there are multiple food magazines available, then it's on to the next one. I think it stems from my frugal nature – soak up as much information and inspiration for free while you can (though I suppose I'm paying for it one way or another via the healthcare system).
I had just such an experience recently when I picked up the most recent Bon Appétit issue. The beautifully charred greens with a creamy-golden egg stopped me dead in my tracks and I had to linger a moment longer than usual. Their version consisted of blackened leeks and asparagus, a medium poached egg, and a drizzle of mustard sauce. At first glance the leeks looked like scallions – which had me thinking of one of my favorite side dishes, Roasted Scallions. Have you tried them? If you haven't, you've got to give them a go! A drizzle of olive oil, a sprinkle of salt and pepper, roast those babies for 15 minutes and that's it! The smell of them roasting is just incredible – if you love the smell of roasted garlic, then you're going to love this too!
So that's the thought that started me down the path of roasted asparagus and scallions. Instead of a mustard sauce, I decided to to do a creamy lemon dressing. The dressing is seriously addictive you guys! In fact, I dare you not to take several 'tastes' before you plate the rest of the dish. The vibrant and tangy lemon pairs perfectly with the roasted veggies and creamy egg.
This plate is as delicious as it is beautiful!. So make use of the seasons gorgeous bounty and make this Roasted Asparagus and Scallions with a Perfectly Cooked Egg. You'll be very happy you did.  
Roasted Asparagus and Scallions with Perfectly Creamy Eggs
Author:
Kathleen | Hapa Nom Nom
Recipe type:
Entrée, Side
Prep time:
Cook time:
Total time:
Roasted Asparagus and Scallions with a Perfectly Cooked Egg and a Creamy Lemon Dressing.
Ingredients
Roasted Asparagus and Scallions with Perfectly Creamy Eggs
4 eggs
1 bunch asparagus, woody ends removed
2 bunches of scallions
extra virgin olive oil for roasting
Kosher salt
freshly ground black pepper
Creamy Lemon Dressing
¼ cup mayonnaise
1 lemon, zested and juiced (2 Tbs juice)
2 tablespoons extra virgin olive oil
1 garlic cloves, minced
¼ teaspoon Kosher salt
freshly ground black pepper
Instructions
Preheat the oven to 450 degrees F.
Bring a medium saucepan of water to a boil. Carefully add the eggs. Cook for exactly 5 minutes and 30 seconds. Remove the eggs from the hot water and allow to cool on the counter.
Line a baking sheet with foil and lay out the asparagus and scallions. Liberally drizzle with olive oil and season with salt and pepper. Toss to coat and spread out into a single layer. Roast for 15 minutes.
Meanwhile, prepare the the dressing in a small bowl by combining the mayonnaise, lemon zest, lemon juice, garlic, salt, and pepper. Refrigerate until ready to use.
To peel the eggs, crack the bottom of the egg with a firm tap. Then gently peel the eggshell away from the egg. Slice the eggs in half and plate along with the roasted asparagus and scallions. Drizzle with the creamy lemon dressing and top with a few cracks of black pepper. Serve immediately and enjoy!