You guys, I found the best deal in town!  I went to my local Asian mega-mart, and found 8 bunches of scallions for $1.00!  That's right, $1.00!  And not 8 scallions… 8 bunches of scallions!  This wasn't a bottom of the barrel (we've got to move product or it goes bad), kind of deal – these scallions were beautiful and fresh.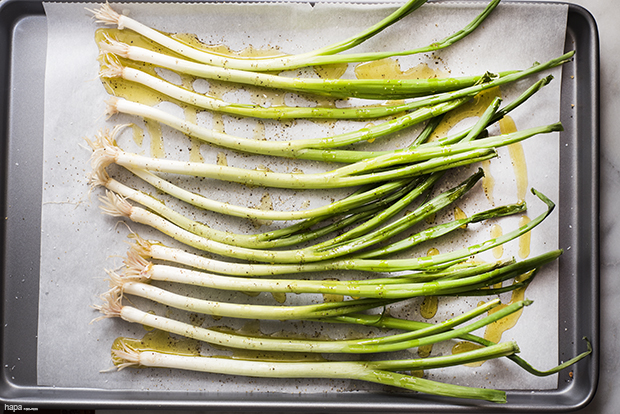 I use scallions generously in my cooking, even still… I found myself with far more than I knew what to do with!  Towards the end of the week, the ends of the scallions were juuuust starting to wilt, so I remembered a time when cooking with my friend, Seung Hee.  During one of our 'cooking parties' she roasted several bunches of scallions with just a little olive oil, salt, and pepper.  Almost instantly, I could smell them roasting in the oven – incredible!  The miso butter I added later, was in part an inspiration from my Asparagus with Poached Egg and Roasted Garlic Miso Butter recipe and Saveur's, Miso Roasted Scallions.  The addition of the miso butter added a wonderful balance of umami to the robust flavors of the scallions.  This dish is quick, super easy, and packed with immense depth… plus it makes your entire house smell incredible – always a nice bonus.
Roasted Scallions with Miso Butter
Author:
Kathleen | Hapa Nom Nom
Prep time:
Cook time:
Total time:
Ingredients
2 bunches of scallions
extra virgin olive oil, for roasting
kosher salt
freshly ground black pepper
4 tablespoons unsalted butter
1 tablespoon shiro (white) miso
1 teaspoon sherry vinegar
Instructions
Preheat the oven to 450 degrees F.
Line a baking sheet with parchment paper or foil. In a single layer, lay out the scallions. Liberally drizzle the scallions with olive oil and season with salt and pepper. Toss to coat and spread back out in a single layer.
Roast the scallions on the center rack of the oven for 15 minutes.
While the scallions are roasting, make the miso butter. In a small sauce pan, add the butter, miso, and sherry. Stir until all of the ingredients have combined and are warmed through.
Remove the scallions from the oven and drizzle with the miso butter. Serve immediately and enjoy!
Notes
* Miso butter addition inspired by Saveur Magazine.