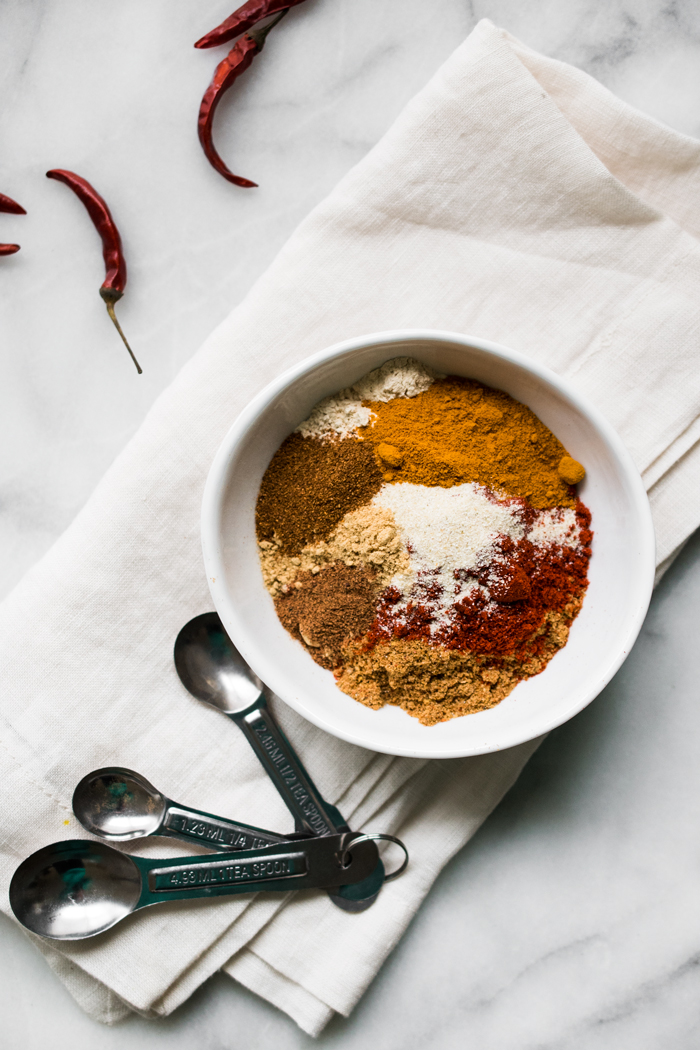 Berbere is a cornerstone spice blend in Ethiopian cooking. I affectionately call it 'the kitchen sink of spice blends,' because it, well… contains just about every spice in your cupboard.  The complex spice blend gives food a rich taste, layered with flavors and it's wonderful in stews and it makes an incredible dry rub for meats.
While there are many variations, there's really no single spice substitute for the combination of flavors that is so unique to this cuisine.
Berbere
Author:
Kathleen | Hapa Nom Nom
Prep time:
Cook time:
Total time:
Ethiopian Spice Mix (Berbere) - a complex mix that gives food a rich taste layered with flavor.
Ingredients
2 teaspoons cumin seeds
1 teaspoon fenugreek seeds*
1 teaspoon cardamon seeds**
1 teaspoon coriander seeds
4 whole cloves
8 black peppercorns
5 dried birds eye (Thai) chilies or dried chile de arbol
¼ cup paprika
2 teaspoons onion powder
1 teaspoon garlic powder
1 teaspoon turmeric
½ teaspoon ground ginger
¼ teaspoon ground nutmeg
½ teaspoon cayenne pepper
Instructions
In a small, heavy-bottomed skillet over medium heat, add the cumin, fenugreek, cardamon, coriander, cloves, peppercorns, and chilies. Swirling constantly, cook until fragrant, about 3 - 4 minutes. Allow to cool slightly and then add to a spice or coffee grinder. Grind until fine.
In a small bowl add the spice mixture and the rest of the ingredients. Stir well to combine.
Store in an air-tight container for up to 6 months.
Notes
*While there are a lot of spices in this blend, the only one that you may have trouble finding is, fenugreek. This particular spice has quite a unique flavor, the best way I can describe it is a subtle mixture of celery leaf and maple syrup. Personally, I have not been able to find a decent substitute for the fenugreek, so I would suggest omitting it if you can't find the spice.
Ordering spices online is a possibility too! Here is a link to order
fenugreek
.
** You'll want to use cardamon seeds, not the green pods. If all you can find are the pods, simply take a pairing knife, slice off the top of the pod and open it up to reveal the black seeds inside.