Finally… the weekend is upon us!  I don't know about you, but this is when I get my best eating done, and Ethiopian is one my favorite go-to cuisines.  There are no weak flavors here my friends… this food packs a punch. If you dine at an Ethiopian restaurant, the dishes are spicy – like order a pitcher of water per person kind of spicy… and it's amazing!!!  Now don't let me scare you if you're not of the school of spicy foods.  It's not straight heat – there's s a ton of flavor and complexity that comes with that heat!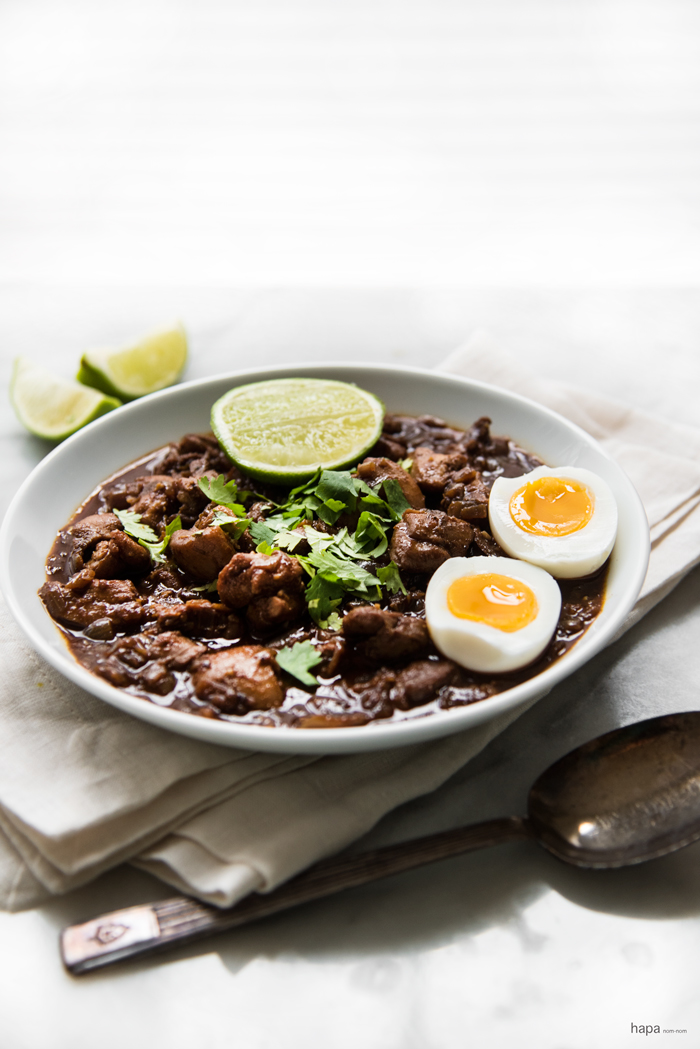 Introducing Doro We't, often referred to as the national dish of Ethiopia and arguably the most well-known African dish.  Traditionally it is made with bone-in chicken (so feel free to use that if you like), however I prefer to use chicken thighs cut into bite-sized pieces for ease of eating with the injera – a spongy, slightly sour, flatbread that is used to scoop of morsels of food.  Another commonly used ingredient that I have changed up slightly, are the use of hard-boiled eggs.  They are often added to the simmering stew about 15 minutes before the dish is done cooking, they're then peeled and served along with the rest of the stew.  Instead, I decided to use a soft boiled egg. The creamy texture of the egg with the rich stew is perfectly paired.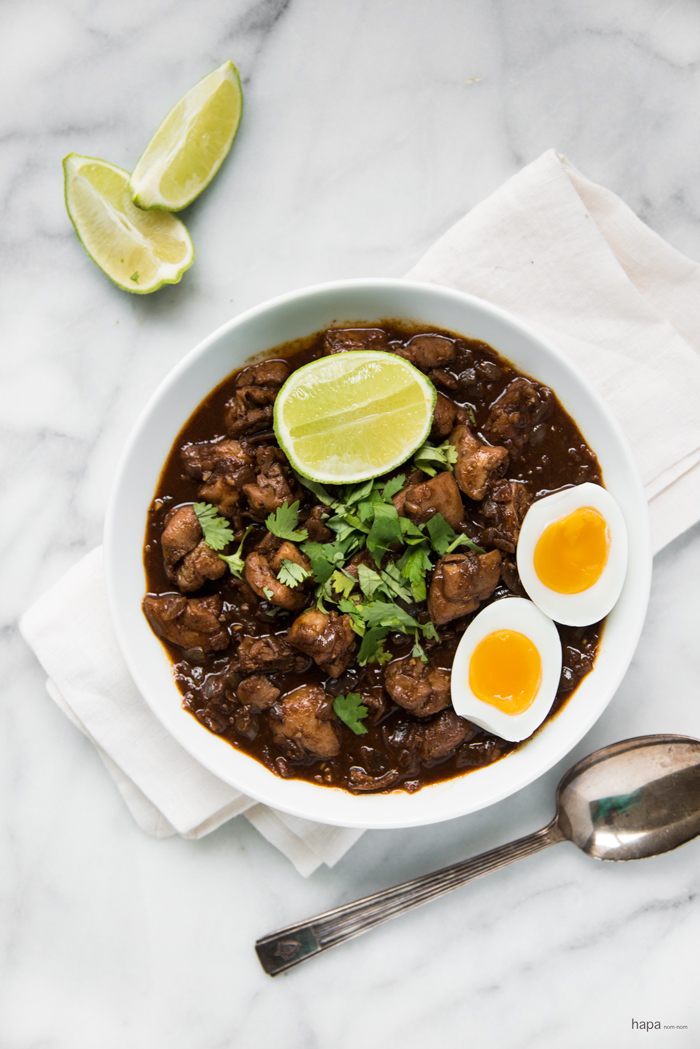 Ethiopian food is very vegetarian-friendly, in fact many of the dishes are vegetable based.  If you would prefer to make this dish without chicken, potatoes will work well.

Spiced Butter (Niter Kibbeh)
Author:
Kathleen | Hapa Nom Nom
Niter Kibbeh is a staple of Ethiopian cuisine and is used as a base in just about every dish, including Doro We't. Clarifying the butter, removes the milk solids, allowing you to use it over higher heat without burning.
Ingredients
1 pound unsalted butter
½ medium red onion, roughly chopped
3 garlic cloves, smashed
1 inch piece of ginger, thinly sliced
1 teaspoon fenugreek seeds
1 teaspoon cumin seeds
1 teaspoon cardamon seeds
1 stick cinnamon
4 whole cloves
½ teaspoon turmeric
Instructions
To make clarified butter, simply melt the unsalted butter in a saucepan over low heat. Continue to cook and as the foam rises to the top, remove the milk solids with a spoon. Continue to do this until there is no foam left and the butter is clear.
Add the remaining ingredients and cook for 15 minutes, stirring occasionally.
Allow to contents to cool slightly and the spices settle. Strain through a fine meshed sieve.
May be used right away or stored in the refrigerator for up to 3 weeks.
Notes
* Adapted from Marcus Samuelsson, The Soul of a New Cuisine
Ethiopian Chicken Stew (Doro We't)
Author:
Kathleen | Hapa Nom Nom
Prep time:
Cook time:
Total time:
Ingredients
4 eggs (optional)
2 pounds boneless, skinless chicken thighs cut into 1-inch pieces
kosher salt
freshly ground black pepper
¼ cup spiced butter (niter kibbeh)*
2 tablespoons berbere
1 large red onion, diced
4 garlic cloves, minced
1 inch fresh ginger, grated
1 cup chicken stock
¼ cup dry red wine
2 tablespoons fresh lime juice
cilantro, garnish
Instructions
Bring a large saucepan filled halfway with water to a boil. Decrease the heat to a simmer. Quickly and gently lower the eggs into the water one at a time, using a spoon. Cook for exactly 5 minutes and 30 seconds for a creamy yolk. Remove the eggs as soon as they are done and rest on the counter. Once cool enough to handle, gently peel the eggs (the yolks will be soft, so the eggs will be a bit delicate). Set them aside, don't slice them until you're just about to serve.
To make the Doro We't - add the chicken to a bowl and liberally season with salt and pepper. Toss to combine.
In a large heavy-bottomed dutch oven or pot melt the niter kibbeh (spiced butter) over medium-low heat. Add the berbere to form a paste. Stir for 2-3 minutes to heat through.
Add the onions and cook for 20 minutes to lightly caramelize. Increase the heat to medium and add the garlic and ginger, cooking for 2 - 3 minutes more.
Pour in the chicken stock and wine. Bring the contents to a boil and then reduce to a gentle simmer, add the chicken, and cook for 10-15 minutes. Taste and add more salt, if needed.
Once the stew is done cooking (it should be loose), turn off the heat and stir in the lime juice. Serve and immediately top with the soft boiled eggs. Garnish with torn cilantro and enjoy!
Notes
* I highly recommend making and using the Niter Kibbeh (spiced butter) as it really adds another wonderful layer of flavor to the dish. However, if you don't want to make it, you can use 2 Tbs unsalted butter + 2 Tbs vegetable oil en lieu of the spiced butter.

* Adapted from Marcus Samuelsson, The Soul of a New Cuisine